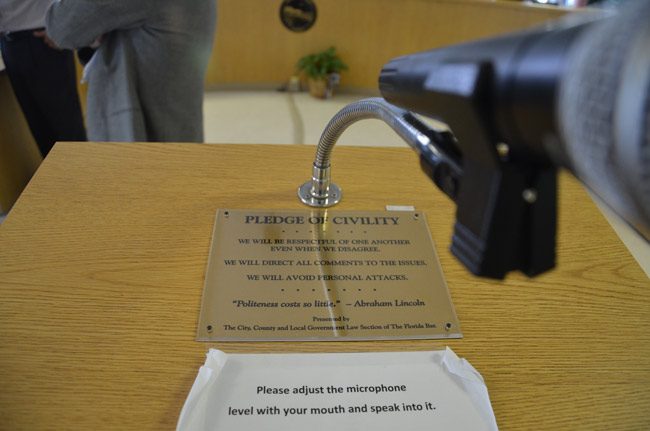 The U.S. Supreme Court on Monday agreed to take up a First Amendment case stemming from the arrest of a frequent government critic as he spoke during a South Florida city council meeting.
Justices will hear an appeal by Fane Lozman, who filed a lawsuit against the city of Riviera Beach after his arrest in 2006. Lozman alleged that the city had violated his First Amendment rights by retaliating against him for his outspoken criticism and for another lawsuit alleging Sunshine Law violations.
Lower courts sided with the city, which argued that a police officer had "probable cause" to arrest Lozman, who had refused to comply with directions from a council member. The case focuses on whether probable cause "defeats" the First Amendment retaliation claim, according to documents filed by both sides.
Attorneys for Lozman argued in a June petition to the Supreme Court that the city's position could have broader implications on free speech.
"The prospect of being arrested will deter many individuals from exercising their First Amendment rights at all, particularly when it comes to criticizing government," said the petition, posted on the website SCOTUSblog. "A Riviera Beach resident of `ordinary firmness' who attended the council meeting or saw the video of petitioner (Lozman) being arrested, handcuffed and manhandled out of the city council chambers would surely think twice before speaking his or her mind about the city's policies."
But attorneys for the city said police commonly consider what suspects say in deciding whether to make arrests, and Lozman's position could open the door to civil lawsuits. As an example, the attorneys wrote in a brief last month that police might consider whether a drunk is making aggressive statements in deciding whether to make a public-intoxication arrest.
"It is thus easy to imagine myriad circumstances in which officers perform arrests that they would not have performed but for the arrestee's speech," the brief said. "Under Lozman's proposed rule, every one of them would be unconstitutional."
Court documents make clear that Lozman was an outspoken critic of the Riviera Beach city government, including over plans by the city to use eminent domain as part of redevelopment efforts. That criticism included filing a lawsuit alleging Sunshine Law violations about the approval of an agreement with developers.
The arrest happened in November 2006, as Lozman addressed the city council during a public-comment period. During his comments, Lozman spoke about the arrest of a former Palm Beach County commissioner on corruption charges, according to details included in an 11th U.S. Circuit Court of Appeals ruling early this year.
A city council member interjected, but Lozman refused to stop speaking, subsequently leading to his arrest on charges of disorderly conduct and resisting arrest without violence. The city's brief at the Supreme Court contends the council member did not try to stop Lozman from speaking but sought to "redirect him" from talking about the Palm Beach County Commission issue.
The State Attorney's Office said probable cause existed for Lozman's arrest but decided against prosecuting the case, according to the appeals-court ruling. In 2008, Lozman filed the civil lawsuit alleging retaliation in the arrest.