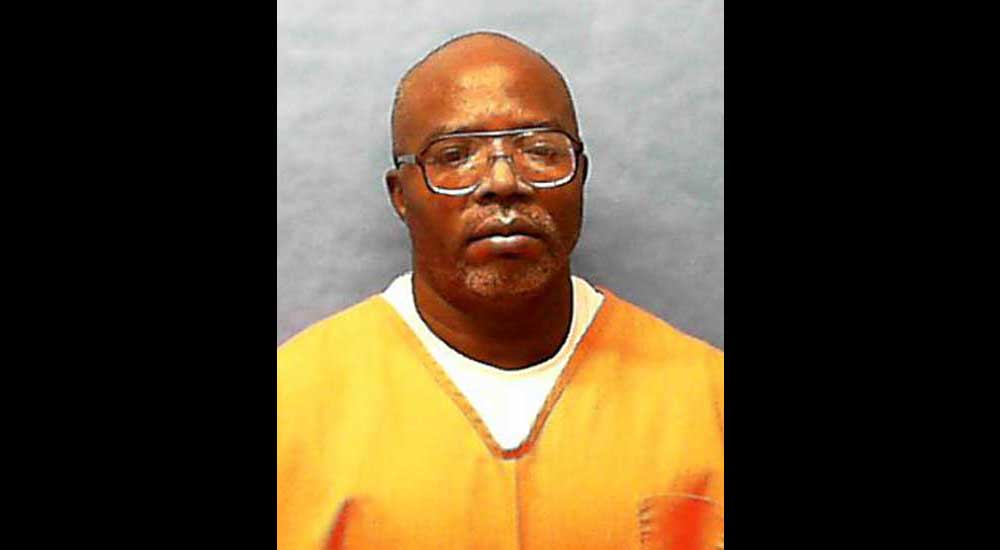 Flagler County has an unusual distinction among Florida's 67 counties. Though several people who committed murders in Flagler have been condemned to death row since the state resumed the death penalty 50 years ago, none has been put to death by the state.
That record is set to fall at 6 p.m. April 12 when, absent last-minute stays, Florida will kill Louis Gaskin, a murderer known as the "Ninja Killer." He was wearing a ninja disguise the night of Dec. 20, 1989, when he murdered 56-year-old Robert Sturmfels and 55-year-old Georgette Sturmfels at 10 Ripley Place in Palm Coast, then went to 1 Ricker Place and shot another couple, critically wounding the husband. The couple escaped and survived. The crimes were random.
Gaskin was 22 at the time. He marked his 56th birthday Saturday, two days before Gov. Ron DeSantis signed his death warrant on Monday. In his statements to police, Gaskin spoke of his desire to kill, and confessed to murdering another man three years before, in 1986–Charles Martin, also to rob him of what he thought was several hundred dollars.
The Gaskin death warrant is only the second signed by DeSantis. Florida has executed an inmate only once since 2019–Donald Dillbeck, of Leon County, on Feb. 23, after he spent 32 years on death row. Gaskin has been on death row for 33 year. He exhausted all his appeals, in state and federal court, by 2020.




Three other men have been sentenced to die in Flagler County–Cornelius Baker, William Gregory and David Snelgrove. All three sentences were commuted to life in prison after the state Supreme Court ruled that convictions based on non-unanimous verdicts had been invalid. The Legislature is currently considering a bill that would restore courts' power to impose death sentences without unanimous verdicts.
Louis Bernard Gaskin lived at 803 Hymon Circle in Bunnell at the time of the Sturmfels murders. Jon Tanner was the state attorney. He tried the case with Assistant State Attorney Stephen Nelson before Circuit Judge Kim Hammond, in 1990.
"The best evidence in this case surely is Mr. Gaskin's own statement that was tape-recorded," Tanner told the jury. "That statement contains within it ail of the elements of every crime with which Mr. Gaskins is charged." Tanner then paraphrased the statement: "He went to his car that night and obtained the gun, the camouflaged jacket, the goggles, hood and scarf, and then went to his car and began his hunt. He parked in the woods, concealed his vehicle, and he found the Sturmfels sitting in their little den, TV room. […] He walked around the house five times deciding whether or not and building up the courage to pull the trigger. Then he walked back to where they were, he aimed at the gentleman and pulled the trigger, but the gun didn't fire." There was an unfired cartridge in the vicinity of where he'd stood.




"He went back around the house again, he cocked it, put another shell in, and made sure it was right this time. He hesitated for about five minutes. He walked around the house again and did this about two times. Seven times around that house. Five minute delay in reloading the gun. Then he went back and said, 'I guess I had it in me. I aimed at him, pulled the trigger, and he was shot.'" Robert Strumfels's wife thought he was having a heart attack. She leaped up from the couch. He shot her. "She turned and tried to run — tried to run, and he jumped up and was shot again."
She tried to crawl away. He shot her again. She kept crawling. "She made it around the corner," Tanner told the jury. "So, he went around to the other doorway and looked down that hallway, kind of around and through that Christmas tree, and he saw her sitting there holding her head and looking at the blood. So, he shot her again." He then went back to Robert and shot him in the head at point-blank range. "Cold blooded, premeditated, inexcusable, unjustified murder in the first degree," Tanner said.
He then carried out his robbery, lit a cigar, and went to 1 Ricker Place, home of Mary and Joseph Rector. He was a ceramic tile setter. She worked at Publix. "That special night, one of those few special nights young parents get, the kids aren't in the house," Tanner told the jury. Their children were 7 and 8, they'd been sent to their grandparents' house. Gaskin laid his cigar on the electric box outside their home and cut the wires to their phone line. He tried to lure Joseph outside so he could shoot him, throwing logs on the roof and making other noises. It didn't work.
Gaskin in his confession said: "He stood up quiet in the vicinity I thought he was, which I had seen him about two seconds earlier. And I was pretty accurate because I did hit him. He hollered, 'I've been shot. I've been hit. The mother fuckers are trying to kill me. I have been shot in the heart, son of a bitch.' So, then I was running around the house trying to get a better shot at him again, but I couldn't, so I waited." There was a hail of bullets. Joseph Rector had been shot in the chest, the bullet lodging near the spine.




In a deposition three months later, Rector, who never saw Gaskin, recalls how he went to the front door on his hands and knees after he was shot, "and I opened the front door slightly and hollered out through the open door… I just hollered that whoever was playing with guns, that they had hit me and they had probably killed me. At that point I thought I was dead." He was able to make it to his wife's Pontiac Firebird with his wife–even as Gaskin kept shooting and hitting the car. "It's a very fast car. It got us the hell out of there, that's for sure." They went to Memorial Hospital in Bunnell.
Gaskin proceeded to ransack their house. He then went to a friend's house and bragged: "Hey, man, I shot somebody." His friend didn't believe him. "I jacked them. They're good and stiff. If you don't believe me, just watch the news," he told him.
"He said it all. There really isn't much more that I can say," Tanner told the jury. "Perhaps what he told his girlfriend, Miss Gilyard, is most appropriate: I did the crime, now I've got to do the time." The jury voted 8-4 to recommend death.
Reader Interactions