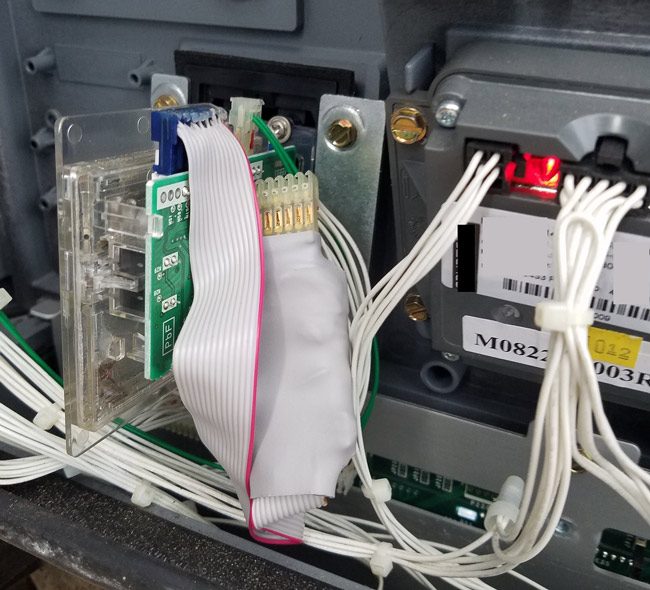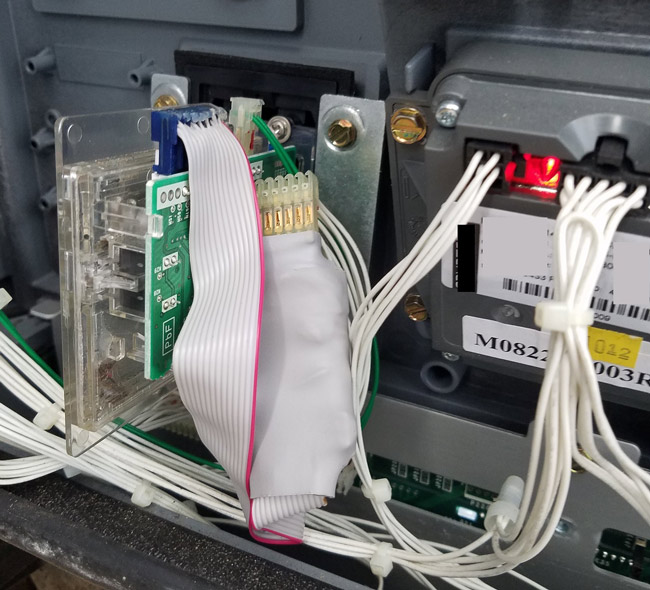 In the span of 48 hours authorities have discovered credit card "skimmers" at four separate Palm Coast gas stations. Skimmers are portable scanning devices inserted into pumps or ATM machines. The devices read credit card information, leading to fraud off the credit cards being read. The problem has been intensifying recently as skimmers have become easier and smaller to produce–and as gas stations have until October to update pumps with card readers that accommodate chip technology, which is harder to defraud.
No suspects have been found, and as of Thursday afternoon, "we do not yet have surveillance video from any of the stores," a sheriff's spokesperson said. "They are working on trying to get some."
Joseph Scobbo Jr., a state Agriculture and Consumer Protection specialist, told a deputy he'd received a report that a customer used the fuel pump at the Kangaroo location on at 1201 Palm Harbor Parkway on May 31 and again on July 13. The customer then noticed that immediately after those transactions, someone defrauded her credit card.
That was the telltale sign of a skimmer. When Scobbo got to the Kangaroo station, he noticed that the security tape on all of the fuel pumps were broken. Further inspecting the pumps, he detected two credit card bluetooth skimming devices, one on Pump #1, one on Pump #2.
The skimming devices were removed and seized and logged into the sheriff's evidence. An employee at the store told a deputy she had no knowledge of the skimming devices, and that a manager on duty usually checks the security tape. She was unclear whether surveillance video would be available.
The next day, on July 19, similar reports of skimming emerged at three more Palm Coast gas stations as Scobbo continued his inspections.
One was at the 7-Eleven at 220 Palm Coast Parkway. A skimmer was found at gas Pump #8. (Scobbo himself, not being a law enforcement officer, requested a deputy to remove the device and place it into evidence.)
A few hours later, another skimming device was detected at the BP station at 1755 Palm Harbor Parkway. The same style of skimmer found previously was found on Pump #7. A store clerk told a sheriff's deputy "she would review the security video for any suspicious activity at that pump, but due to the time delay since the pumps were last checked it could take some time."
The third skimmer that day was detected at the Shell station at 320 Palm Coast Parkway, on pumps #3 and #4.The last time Scobbo had inspected the pumps there was in February 2017. The clerk informed a deputy that there are no security cameras in the area of the gas pumps.
"If you have utilized any of these four gas stations in Palm Coast, or any gas station, it is imperative that you check you bank card or credit card statement to make sure you do not have fraudulent charges on your account," Sheriff Rick Staly was quoted as saying in a release his office issued this afternoon. "If you notice anything suspicious, you should contact your bank or credit card company immediately."
The Sheriff's Office's advice: In order to prevent being the victim of credit card skimming, take a close look at the gas pump before inserting a credit card. If anything looks loose or cracked, or like a device has been added to the card reader, do not use that pump. Choose the pumps closest to the store when possible. Crooks often choose pumps that aren't in the direct line of sight to the gas station's employees. Use credit cards rather than debit cards that require a PIN number. Credit cards have better fraud protection, and the money is not deducted immediately from an account. And, for the most protection, pay cash inside of the store.