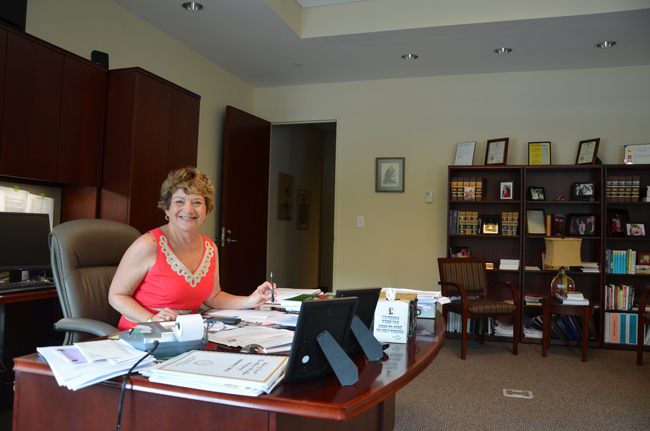 For the second straight year, Flagler County Clerk of Court Gail Wadsworth's presentation of her annual budget to the County Commission took on shades of an inquisition, and provoked a politely resentful reaction from the clerk, who put it plainly to commissioners: "I would think sometimes at these meetings you would say, thank you, Gail."
Like other constitutional officers, Wadsworth has to submit her budget for review to the commission, whose responsibility it is to probe, question, and at times reject budget increases—or, as they did last year, actually grant Wadsworth a $120,000 increase in a year when other constitutional officers abided by the county administration's request to keep budgets flat. Wadsworth had also cut 10 positions since 2007, the peak of the housing bubble that swamped her office (which handles all recordings).
There is no projected increase in Wadsworth's proposed budget for next year. The $1.63 million budget is slightly lower than the current $1.67 million, though the cost to the county's general revenue fund is $26,600 higher than the current $1.08 million. The difference is due to the revenue the clerk's own services generate. That revenue is dropping by a projected $36,000 this coming year. Wadsworth is projecting another drop in real estate recording fees.
Alan Peterson questioned why there was no reduction in personnel costs to reflect the 3 percent that employees are now contributing to their retirement fund: the clerk's overall personnel costs this year are $1.775 million. The proposed budget calls for $1.778 million, even though the clerk should have realized a 3 percent windfall from retirement contributions it is no longer required to make.
"I don't know where you're going," Wadsworth said.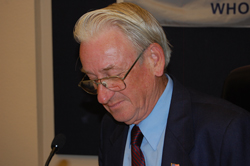 "I think what Alan is trying to say, Gail, is that if you haven't hired anybody knew or added any new positions and you haven't given any raises, so everything is across the board the same, we should be seeing a reduction in that line item for the retirement," Commissioner Barbara Revels said.
Craig Coffey, the county administrator, suggested an explanation: a position was added mid-year, and approved by the commission, but the $90,000 cost wasn't reflected in the budget numbers. "We're going to have to check back into that," Coffey said.
"The only other question I have," Peterson said, "are travel expenses. A year ago, we tripled them. I don't remember now why we did, but obviously we felt we needed to. But why so we have to continue at such a very high level?"
In 2008-09, the clerk's travel expenses were at $4,928, and at $6,051 the following year. Last year that jumped to $21,800. The proposal for next year: $22,800.
It's a matter of certifications, Wadsworth said: those certifications have to be renewed. "All of us must maintain our certifications or we're not valuable to you and the function we provide you," she said. There are five clerk of court seminars Wadsworth goes to annually for certification, for example. "This amount of money encompasses the have-tos, for us."
Peterson wasn't convinced. If that's the case, what about previous years, when travel expenses were so much lower? Revels added: "We've also jumped the educational conferences in addition to that," she said. "You're saying that travel is for educational conferences, but we've also got $10,000 in for that, so you're up to $32,000 for travel and educational conferences. Actually $33,000." (The cost for educational conferences jumped from about $3,100 two years ago to $8,700 this year and $10,200 for the coming year.)
Jennifer Barker, director of finances for the Clerk, explained: "The education and conferences are the actual registration fees for all the different people. The travel expense that's included in there is for hotels and such. The bulk of it is for the clerk, she does a lot of legislative travel."
Peterson asked how many employees require certifications. Three, including herself, Wadsworth said (she would later amend that to seven), detailing some of her responsibilities in keeping up with changes in the law, and documenting those changes. It was then that she lost patience with the line of questioning.
Wadsworth paused. Then she said: "Let me ask you to recognize something. I am not ever going to criticize you, your budget or any other constitutional officer. But if you have your historic budget books, you might want to take the opportunity [to see] that the clerk's office has the same number of FTEs"–the equivalent of full-time employees–"as tax collector and the property appraiser and we do the job we do for Flagler County for a half million dollars less. I would think sometimes at these meetings you would say, thank you, Gail, for being efficient, working smarter, and not asking for more than we ask for as we could, to provide the people who work for us a stronger wage for their level of expertise."
"I will thank you for reducing your staffing over the past four years," Peterson said after a long pause, "but you must admit that your travel and conference expenses have mushroomed substantially."
Peterson wasn't entirely joking when, with Wadsworth's turn over for the year, he said: "The next victim is the tax collector."
Suzanne Johnston, the tax collector, had an easier time of it: she did not have her final budget proposal ready for review.