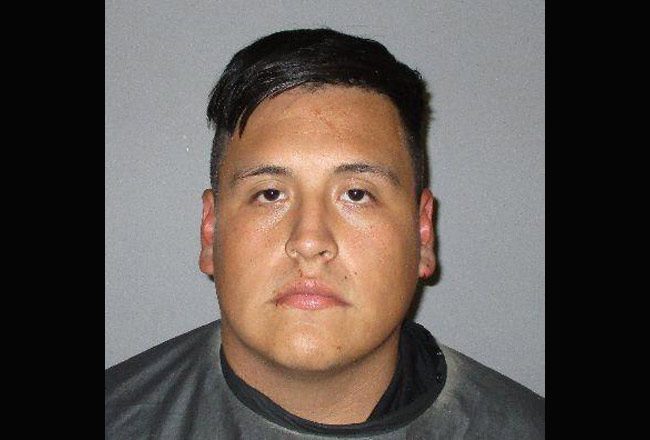 Fredie Jiles Leon, who goes by the name of Fredie Leon, an 18-year-old resident of 5 Whittier Lane in Palm Coast, was arrested Thursday (May 11) on two counts of raping a 13-year-old girl after allegedly drugging her.
Leon, who attended Flagler Palm Coast High School, almost immediately posted bail on $101,000 bond and was released. The Flagler County Sheriff's detective who conducted the investigation reported getting a recorded confession to all three charges against Leon.
The allegation is that in the last few weeks, between April and early May, Leon, "in order to facilitate the acts" against the child, offered her marijuana. The arrest report lists "no less than two" cases of alleged rape, orally and vaginally. The alleged victim corroborated the acts in an interview with the First Coast Child Protection Team and law enforcement.
The incidents, Leon's arrest report notes, are also "documented in text messages and Facebook messages between [the victim] and the suspect." The detective interviewed Leon on May 10, an interview "in which he confessed to all three" of the allegations, the detective reports.
Leon was arrested on May 11 at the Whittier Lane address on a warrant issued by Judge Dennis Craig the same day. The clerk of court's website lists the rape charges as second-degree felonies. But the felony warrant lists the first two counts–sexual battery, or rape, on a child younger than 18 but older than 12– as first-degree felonies. The third charge, associated with the pot, is a first-degree misdemeanor: contributing to the delinquency of a minor.

If you are the victim of physical or sexual abuse, these resources will help:
The Family Life Center in Flagler County has a 24-hour Crisis Helpline at 386/437-3505. The helpline provides immediate telephone crisis intervention services, which are available and accessible to all primary and secondary victims of sexual violence within Flagler County. The center also has support groups. Details here.
Victim Advocate at the State Attorney's Office, (386) 313-4334, 1769 East Moody Blvd., Building 1, 3rd Floor, Bunnell.
Victim Advoicate at the Flagler County Sheriff's Office, Monday-Friday, 8 a.m. to 4 p.m., on-call 24 hours a day, seven days a week. Contact: Victim Services Unit Teresa Shaw at 386/586.4847, Linda Blum at 386.586.4848 or Kathryn Vazquez at 386.586.4846.
Betty Griffin House, 1375 Arapaho Avenue, St. Augustine. The House has a 24-hour hotline at (904) 824-1555, information and referral, crisis intervention, advocacy and accompaniment: general, medical and legal, support groups, therapy: individual, group and secondary victims, prevention education and training, medical referrals and follow-up, victim/survivor follow-up and shelter. Contact Joyce Mahr at 904/808-8544.