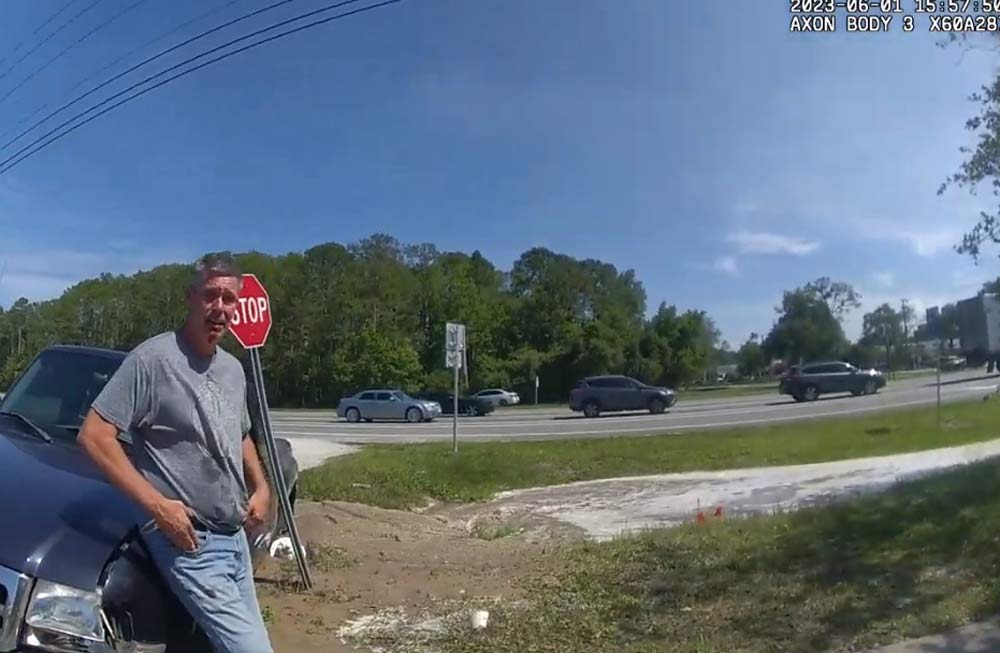 Frank Clement Jr. crashed his truck against a fire hydrant near the RaceTrac gas station at the corner of State Road 100 and Old Kings Road Thursday afternoon. Clement was drunk. Water gushed out of the hydrant into a ditch, the back wheels of the truck sinking deep into the mud.
It might have ended there had Clement not allegedly attacked a Flagler County Sheriff's deputy, and done so with a ballseyness he will surely regret. He now faces a charge of aggravated battery on a law enforcement officer, a first degree felony that carries a maximum penalty of 30 years in prison. He also faces a drunk driving charge and a charge of resisting arrest with violence, also a felony.




Initially, Clement had just slumped over after crashing into the hydrant. Seeing the crash, a driver passing by stopped to help Clement out of his truck. Clement begged the Samaritan not to call 911, and described himself as "fucked up." He might also have recalled that he was on probation.
Law enforcement officers were soon on the scene. Clement, 52, a resident of Raemoor Drive in Palm Coast, immediately conceded that he'd been drinking, and repeated to a deputy how sorry he was before crying. Clement's dog was running around. But then Clement, who was slurring and incoherent, inexplicably approached one of the deputies. The deputy told him to move back. Clement didn't.
The deputy put a hand on Clement's torso to push him back, and Clement seemed offended. "Fuck that," he said. A scuffle took place as deputies took him down and handcuffed him, but not before Clement repeatedly reached or attempted to strike the deputies, according to his arrest report, mixing insults with apologies.
At one point Clement reached for one of the deputies' crotch and grabbed it, hurling more insults as he "began squeezing and twisting" the deputy's testicles, causing the deputy "extreme pain." That's what resulted in the aggravated battery charge.




At that point the deputy struck Clement in the face three times, causing a gash over Clement's eye before Clement desisted. The witness who had stopped to help Clement told deputies that "he witnessed the man try to strike" the deputy and "it appeared that the man was going for [the deputy's] firearm."
Clement was too drunk to allow for field sobriety exercises. Paramedics tended to him and took him to AdventHealth Palm Coast for treatment: his right hand was bruised and was swelling. He was released a few hours later and booked at the county jail.
Clement had been in an almost identical crash not far from that location–on Seminole Woods Boulevard–only last July. He'd driven his truck into the woods. Deputies similarly found him to be intoxicated. He was arrested on a drunk driving charge and a charge of possessing prescription drugs without a prescription. The felony count was dropped. He was sentenced to six months on probation on the DUI charge–probation he has now violated.
"Getting drunk, driving a vehicle, and crashing is bad enough but then attacking a Deputy Sheriff will only land you in jail with even more charges, including felony charges," Sheriff Rick Staly said.




"Being drunk makes you do stupid things. This time he gets to sit in jail and think about his actions. Fortunately, our deputy was not seriously hurt defending himself from his attacker."
John's Towing towed the pick-up truck, and an animal control officer claimed the dog. Clement is being held at the jail on no bond on the probation violation, and on $30,000 bond on the other charges.