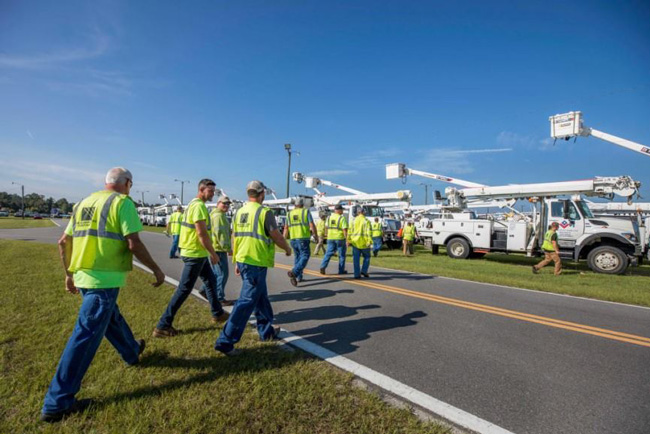 Widespread and prolonged power outages will become part of life for most Floridians over the next few days as Hurricane Irma has started to make an anticipated northern turn that will result in a destructive run through the state starting today.
Florida Power & Light has projected that more than 80 percent of its 10 million customers across Florida — 4.1 million of its 5 million customer accounts — may experience power outages as the storm crosses the state.
The estimate for Flagler County was that 10 percent of customers would lose power. As of 2 p.m. in Flagler Sunday, 760 customers had experienced power cuts, but 360 had seen their power restored, and 400 were still without power. Many cuts were affecting the barrier island.
"They will use local crews to begin with and then bring in outside crews as needed depending on how widespread the outages are," Jason Wheeler, speaking for FPL and Flagler County Emergency Management this morning, said. "Crews are prioritized to get to the largest areas of outages to smallest. For the timeframe, they cannot peg that right now but it is not expected to be a very long period since the storm track has moved west."
By Sunday at 11 a.m., Rob Gould, vice president for communications at Florida Power and Light (which provides power to 58,000 customers in Flagler County) was reporting that nearly 2 million people had experienced power cuts in the state.
"This will be a massive storm but we are prepared to restore power," he said. "If there is any good news at this point, we've restored about 320,000 of these customers thus far." He said the lion's share of the restorations are taking place by automation. "We're more prepared for this storm than we've ever been for a storm in our history."
Thousands of utility workers are deployed or preparing to deploy in the state to help with repairs, and have massed at various points in the state. Crews are getting out and doing repairs between feeder bands.
---
Watch FPL's Bob Gould's Briefing Today on FPL Repairs
"We are already responding to Hurricane Irma with the largest pre-storm restoration workforce ever assembled, not just in our company's history, but in U.S. history," Florida Power & Light President and CEO Eric Silagy said in a prepared statement. "We have an army of more than 16,000 hardworking men and women committed to restoring power as the first bands of severe weather impact our service territory, and they will work continuously before, during and after the storm clears until all customers have power again." Gould placed the number of line workers at nearly 17,000.
The "restoration army," as Gould described it, is made up of workers from 30 states, three times the size of FPL's everyday restoration team, and 25 percent larger than the number of crews in place ahead of Hurricane Matthew last October.
But very large segments of the electrical grid will have to be rebuilt. "We expect that despite the strength of our system going into the storm," Gould said, "our crews will still need to set up hundreds of new poles, string thousands of miles of new line, install new transformers and put in place transmission and even substation equipment. Even our underground power lines may be damaged by the effects of the surge that we're seeing" in Miami and elsewhere, and by flooding.
Gould warned: "Do not venture out in the dark, into water. You may not see a power line, and that can be energized, and that can be deadly," Gould said. "The fact is that most fatalities in storms like this do occur at the end of the storm itself, once the storm has cleared and people start to venture out, that is the most dangerous time and that's when we see the greatest number of fatalities."
The storm is on a more western track than earlier in the week and is expected to bring storm surges of up to 8 feet in Tampa and 15 feet in Southwest Florida.
The powerful storm, which left fatalities in its march through the Caribbean, at least three so far in Florida, and is headed toward the Keys, has utility crews already laboring — mostly in South Florida — with more than 76,000 customers in the dark Saturday afternoon.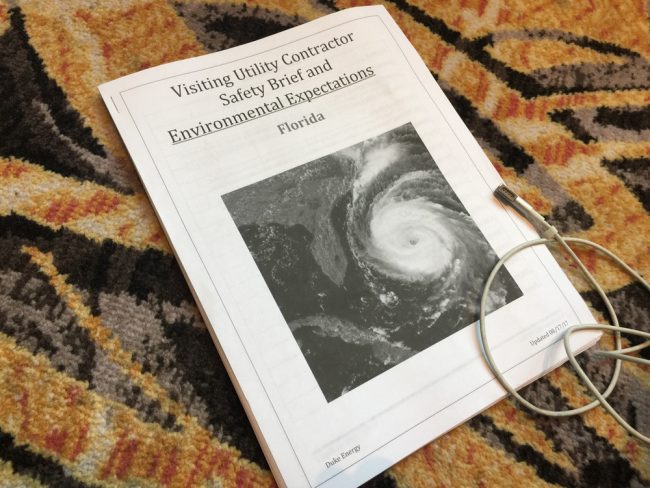 Duke Energy Florida is also anticipating "significant, widespread power outages" for its 1.8 million customers in Florida.
Duke said it has about 7,000 line workers, tree professionals and damage-assessment crews set up for Irma, with additional assistance on the way from the Midwest.
With weather deteriorating in South Florida, major hurricane-force winds are expected to be over the Florida Keys at daybreak Sunday, according to the National Hurricane Center.
Hurricane warnings are in place for most of the Florida Peninsula.
"If you have been ordered to evacuate, you need to leave now," Gov. Rick Scott warned Saturday while at the State Emergency Operations Center in Tallahassee. "This is your last chance to make a good decision."
Scott has been crisscrossing the state this week telling people to prepare and not delay evacuation plans as the state struggled to keep up with water and fuel demands created by people rushing to prepare for the storm.
Public schools, state colleges and universities and state government offices have been closed for Monday. The state Senate extended its closure to Tuesday.
"South Florida is already experiencing tropical storm force winds and dangerous seas," Scott said. "The center (of the storm) is getting better organized and will intensify as it approaches Florida."
Silagy advised FPL customers not to become complacent because Irma's predicted track has shifted west.
"This is a deadly and devastating hurricane, and every part of Florida will feel the wrath of this storm," Silagy said. "Florida's peninsula is only approximately 160 miles wide and this storm stretches more than 300 miles, so we expect storm surge and tropical storm-force winds or higher across our entire service territory."
More than 6.5 million people have been told to evacuate. Leon County, which includes Tallahassee, issued a voluntary countywide evacuation order on Saturday.
The Florida Department of Transportation on Saturday started to close turnpike service plazas in South Florida, with the Fort Pierce and Fort Drum plazas shutting down Saturday night.
Among other state preparations:
— The Office of Agricultural Law Enforcement is staging in Orlando to conduct damage assessment and search-and-rescue missions in the Florida Keys when the storm passes.
— The Florida Forest Service has reached out to Alabama, Georgia and Mississippi for additional post-storm crews to help clear roads and remove debris.
— The Division of Animal Industry is coordinating with neighboring states and federal officials to have veterinary teams on standby for after the storm.
–FlaglerLive and the News Service of Florida