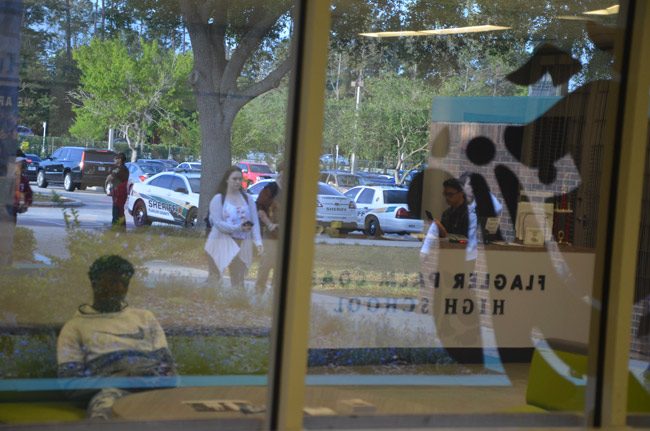 Last Updated: 10:11 a.m.
You could hardly look anywhere at the front end of the Flagler Palm Coast High School campus this morning and not see a Flagler County Sheriff's deputy or a sheriff's patrol car as students were coming in. The front desk was fielding call after call that elicited the same response, time after time: "We had an unfounded threat." "Everything was taken care of." "Unfounded." "We have extra deputies on campus." Parents would ask whether they could send their children to school. "That's up to your discretion."
All else was normal: thick traffic in the parking lot, students walking in, jamming the cafeteria under the gaze of a few administrators and, it so happened, Superintendent Jim Tager, who'd stopped in to be part of an unrelated, previously scheduled "walk-in" by the teachers' and service employees' unions just before school. "All I heard was that it was unfounded," Tager said.
FPC Principal Robert Wallace this morning issued a brief statement about information received late Tuesday night "regarding another threat of violence toward our school," promoting the notification to law enforcement and the investigation.
"Just additional presence here because of rumors that were discovered last night," Cmdr. Phil Reynolds said as he'd positioned his patrol SUV, lights flashing, at the entrance to the school. He said the rumors were "about possible retaliation issues" related to the shooting death of FPC student Curtis Gray Saturday. Deputies were made aware of a "conversation" on social media involving a student from FPC and someone from outside the school.
"There's no credible or immediate threat, but we have conducted a follow-up report and we're going to have extra security and extra presence on campus," Reynolds said. "Any rumor we become aware of we will do a thorough investigation and follow-up, and interview any parties involved," he said.
No one was arrested as a result of the investigation, though the student involved, a 16-year-old girl in Flagler County who attends school at Seabreeze High School, was interviewed.
The girl drew attention from a Snapchat exchange that a faculty member at FPC had been made aware of. (Wallace in his message to faculty this morning thanked whoever had provided the tip.) The exchange, the sheriff's office believes, is between the 16-year-old Seabreeze student and a 15-year-old FPC student, also a girl. It was transcribed without the identifying names or screen names, in the following syntax and spelling:
Was there a shooting
Nope ‐ Wait ‐ A kid got shot but not on campus
Because I saw on someone's Snapchat that they were going to shoot up FPC
Who's? ‐ Can you send it to me ‐ Please ‐ For my safety
I blocked them
Shoot ‐ Who was it
I don't know the names but I had a few conversations with them and they seemed off
Shoot ‐ You sure you don't know? ‐ Like I wanna see if I have them added ‐ So I can check their story
I don't have them anymore. I really do not want to be racist or anything, but I think they were all black
You can check who you've blocked
I can see, but I can not guarantee
Okay ‐ Any luck?
No. I am really sorry
It's okay ‐ Did he make the threat to shoot up the school today or to shoot it up tomorrow?
Anytime this week. He did not say anything specific
Wow ‐ If you ever figure out who it was. Let me know please.
It was supposed to be yesterday but I guess it never happened. I had one last conversation with him earlier Monday and he said, "This week or before next Wednesday"
I wonder what's next Wednesday
Supposed to be the shooting. Idk
If you were having a whole conversation how do you not remember his name?
I don't pay attention to names that much
Oh
Yeah ‐ Good ‐ I saw you screen recorded
Yeah? ‐ My friend has like 500+ people from our school on her snap. I was gonna ask her about it if she saw
Ok
Thanks bud
Of course
The Seabreeze student was then interviewed by a deputy. She told the deputy that on April 12, she'd "she made contact with an unknown male on snapchat after seeing him on someone else's story," according to an incident report. "The unidentified male told [the girl] that he is a student at FPC. On Sunday, April 14, the same male sent a message that stated he wanted to shoot up a school. [the girl's] mother and Sgt. Breckwoldt attempted to identify the male but were unsuccessful. [The girl] stated she did not know the identity of the male and after looking at her snapchat account did not see anything to confirm that story. It is unknown if [the girl] even made contact with a male or fabricated the story for attention."
The rumors and social media chatter reflect continuing concern by law enforcement and the school district over further consequences from the shooting. Tuesday morning the Sheriff's Office had issued a statement about the continuing investigation in the Gray shooting–in which 17-year-old Marion Gavins was arrested and charged with first-degree murder–but also noted: "There have been reports of threats of retaliation against witnesses. Let it be known that each of those instances will be investigated fully by FCSO and those engaged in such threats could potentially face charges for either written threats to kill or witness tampering. Both crimes are felonies under Florida Law.
"Learn from the mistakes of others that violence is not going to solve your problems," Sheriff Rick Staly said. "Don't let another life be ruined or lost to senseless violence."
Asked about any tensions at school, Reynolds said "the school resource deputies are on their toes, they keep a good working relationship with the students. We want to encourage the students that if they have any information on any potential threat or retaliation or rumors, to please let a teacher or SRD know about it so we can investigate it thoroughly."
The FCSO encourages anyone with information in this investigation to call FCSO at 386-313-4911 or email tips to [email protected] Anyone who feels they are being threatened or that someone is attempting to influence their testimony should report that to the FCSO by calling 911 in an emergency, or 386-313-4911 in a non-emergency.