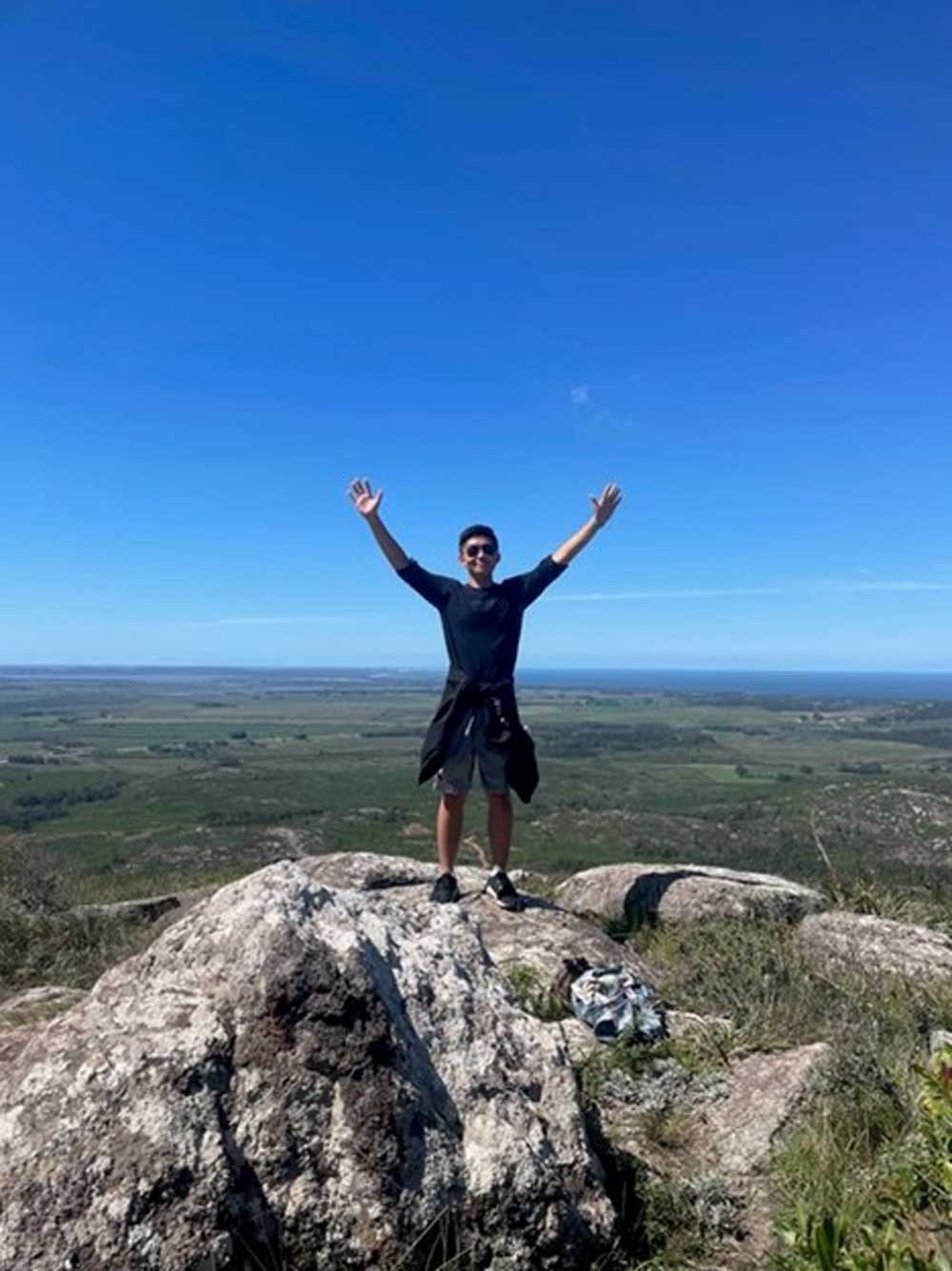 "Mesmerizing." "Spectacular." "Incredible." "Stunning."
Those were some of the words the nine International Baccalaureate students at Flagler Palm Coast High School used to describe their immersive 10-day trip to Argentina and Uruguay over spring break, timed just before their oral IB exam. They went with Spanish teacher, coach and storied traveler Per Berg, who organizes these trips annually and has logged more travels around the world than Phileas Fogg.



The IB is highly prized by college admission panels. It is also the most rigorous, demanding program of study in high school. Going on what looks like a vacation right before the exam might seem counterintuitive. But it is right in line with the IB's philosophy–and it prepares the students for their exams better than sitting behind a desk, as Berg's experience has shown.
"I can't express how much international travel broadens the horizons of the students. I always take the kids during spring break and the IB exams ( orals) are right after spring break," Berg said. "Their confidence after the trips is visible. They definitely score higher even with so little immersion."
Every year he takes his students to different countries. The trip to Argentina and Uruguay was a first.
"Having the ability to finally go to Uruguay, especially with a big group of people, was a spectacular experience," April Bonilla, one of the students, said. (The group included students in all four high school grades.) It was especially rewarding to Bonilla because the journey allowed her to tap into her ancestry. "From the first day that we landed in Uruguay, I could tell it was going to be an amazing place to see and further my understanding of cultural differences. From climbing Pan de Azucar to playing futbol on the beaches of Piriápolis, Uruguay has many activities to offer for travelers like us. Exploring my cultural heritage and visiting family while on the trip was something I had wished to do for such a long time."




Berg organized and chaperoned the tip with Heather Lalonde. The group landed in Montevideo, the Uruguayan capital, and visited Piriopolis and Punta del Este, two resort towns on the Atlantic. They climbed Pan de Azucar (Sugarloaf Hill in Uruguay, which rises rockily and challengingly to any pair of ankles to 1,390 feet, not its mightier, even steeper sister in Brazil), with its giant, 115-ft concrete cross at the top.
They went to museums, animal parks, and, being Flagler County residents through and through, to several beaches as well, doing early morning yoga and playing soccer with the locals: soccer is the principal religion there, with Montevideo hosting the very first World Cup in 1930 and Uruguay winning the first of its two World Cups. Then it was off to Buenos Aires, the Argentine capital, by ferry, where the group toured the city and went to an estancia–a cattle ranch–where they rode horses, saw a horse whisperer show (performed by a gaucho, as Cormac McCarthy prefers to call cowboys) and ate the meats of the famous argentine asado, a dish often associated with Philippino cuisine that The New York Times describes as "a complex, salty-sour dish of pork shoulder slowly cooked in tomato sauce flavored with garlic, soy sauce and calamansi (a small citrus fruit)." As you can tell, Berg's multilingualism helped a great deal in the writing of this paragraph.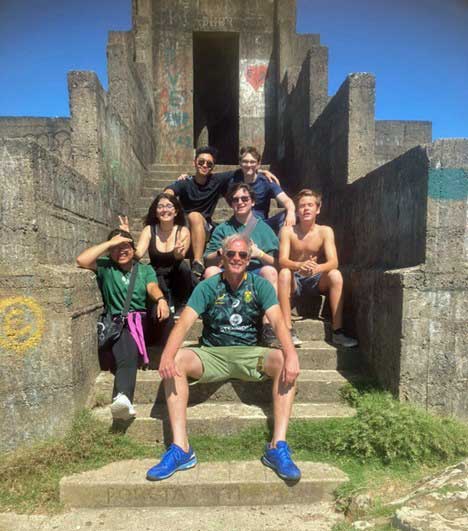 "There was time for shopping and all agreed the dining was superb," he said.
It was "nothing short of incredible," student Liam Lafferty said. "From the bustling streets of Buenos Aires to the stunning beaches of Punta del Este, we had an opportunity to explore so many incredible places and meet so many wonderful people. I am so grateful to have had this experience which opened up my horizons in so many ways."
It wasn't cheap, costing each student $3,500, which the students had to raise or pay for on their own. But the cost pales compared to the experience.




"I believe that nothing humbles a person more than experiencing another culture, language and lifestyle," Bobby Bossardet, FPC's principal, said, crediting Berg's passion for extending "far beyond the classroom" and exemplifying the sort of relationships staff and faculty foster with students to introduce them to different cultures. "From the way we share a meal, to the way we celebrate, to the way we learn, culture is what makes us unique but also keeps us rooted."
Berg has done almost a dozen trips abroad. He grew up overseas and lived abroad for 19 years–in South America, South Africa, Israel and Thailand. He taught at an international school in South Africa for eight years, taking students there on trips around South Africa. "I took my basketball team to Zimbabwe and my softball team to Swaziland. Since returning to the States I have taken kids to Spain and Costa Rica. I also went with the German teacher to Germany with her students." Next year, he plans to take students to Spain, including some of the students who went to Latin America earlier this month. (He's also coached the bridge and tennis teams.)
"I know how valuable it is to have an international perspective of the world and try to introduce that to my students," Berg said. "It is probably more important than the actual language acquisition."
Bossardet put it this way: "Exposing our students to a completely new culture not only represents the "international" aspect of the IB Program, but also serves as the best practice they can have for their upcoming entry into a diverse college or workplace. My hope is that once our Bulldogs have connected with other parts of the world, they'll know that their responsibility reaches so much further than their immediate surroundings." FPC, he said, "prides itself on the diversity of the kids and community we serve … It's Who We Are. Connecting with people that are different than ourselves is a great way to prepare our students for the real world."




The students on the trip were Bonilla, Isabella Pancrazio, Glyniss Gong, Greyson Peugh, Brendan Wang, Daniel Belkin, Liam and Aiden Lafferty and Shaun Rabatin. ("In order to continue to expand this opportunity to a wider variety of students, we would greatly appreciate a sponsor or any kind of donation," Bonilla noted. That support can be channeled through Berg's email here.)
"My time in Uruguay and Argentina was mesmerizing," Belkin said. "I visited many areas and had the opportunity to see new things that I had never seen before. Making new friends during the trip was fun, it's helped me get along with new people and that's a good thing. Going to new places is always exciting and fun because it's great to have a unique time and traveling allows us to enjoy an unforgettable experience when flying to new areas."