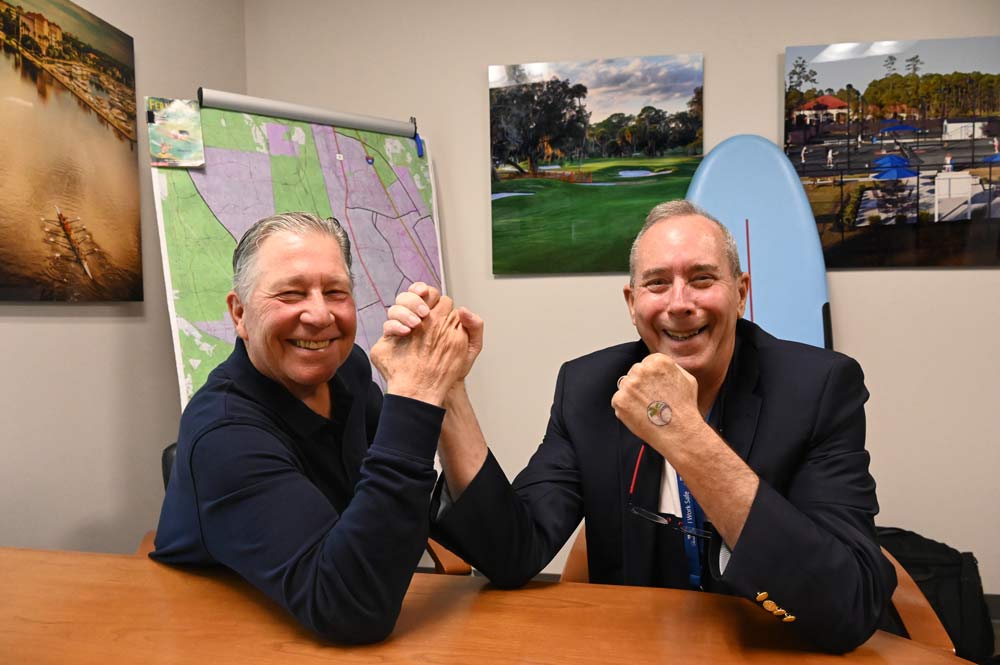 To donate to the 2023 Food-a-Thon, go here or see below.
The question is: Why is Palm Coast Mayor David Alfin trash-talking Dr. Stephen Bickel, the medical director at the Flagler County Health Department?
"I have been curling my fingers, my wrist, my elbow, so I'm getting myself in good shape to beat the crap out of you at the arm wrestling table," Alfin tells Bickel, live, on the air, for everyone top hear. "Now the real question is going to be what will the winner have to do? And what will the loser has to do? So what are you willing to do after I beat you?"




"The heaviest thing I lifted in the last couple of years is a stethoscope," Bickel says. His expected penance, which he sees more as an honorable loss and eager gift: pledging a significant sum if or when he loses.
"I'll tell you what. I'll even use my left hand if necessary," Alfin said, "and I'm sure the winner would match the loser as well."
So the first few thousand dollars have been pledged in the coming July 14 Food-A-Thon organized by Flagler Broadcasting David Ayres, when Flagler Broadcasting's radio stations will seek to raise $200,000 in six hours, from 9 a.m. to 3 p.m., to benefit Flagler County's Grace Community Food Pantry. Because each dollar is leveraged into a $5 food purchase, it's the equivalent of a $1 million Food-A-Thon.
As a warm-up act, Alfin and Bickel will be in WNZF's studio on this Friday morning a little after 9 a.m. for their best-of-three arm-wrestling match. Ayres will do the play-by-play in Vin Scully fashion, the event will be broadcast live on WNZF's Facebook page, and Bickel will be on hand, assuming he has hands left, to tend to himself after the match–or tend to Alfin, whose trash-talking may be hiding a surprise vulnerability. (Ayres tried to get County Judge Andrea Totten to arbitrate the match, but a state law bars judge from participating in such events.)




Meanwhile, Alfin has been channeling his inner Rocky. "I have six horses and four dogs. So I'm walking them slowly so that they can pull on both of my biceps to make sure that I'm very well ready, willing and able for this match," he said. (Update: Bickel won, though with a little help from Alfin.)
Bickel seeded last year's Food-a-Thon, the first, with a $5,000 donation. The amount raised in six hours was a startling $125,000. It may have fallen short of the $200,000 goal, but it was still enough to equate to $625,000 in food. It helped the pantry buy a refrigerated truck.
The arm-wrestling challenge from Alfin "came to me out of the blue," Bickel said. "But I thought was a great promo idea." (Bickel last year became the county's leading philanthropist with a $10 million pledge to Flagler Cares, the non-profit focused on health and social services. See: "Doctor's $1 Million-a-Year Endowment, Largest of Its Kind, Launches Flagler Cares Initiatives for Neediest.")
Bickel sees the needs in the community first-hand through his ongoing clinical responsibilities. "People don't realize how hard it is to get help if you need help," he said. He sees older individuals who forego Medicare Part B because they can't afford the premium. In a conversation with Alfin at City Hall last week, Bickel and the mayor spoke of fixed-income needs in Grand Haven, where reluctance and stigma end up keeping people shut-in rather than seeking help. (Yes, even at Grand Haven.)
"I don't think the average person realizes what your life is like if you start slipping through the cracks," Bickel said. "All the things that kind of kept you together are now working against you. And you're swimming upstream and and you start getting depressed."




As Alfin and Bickel spoke across from Alfin's desk, every once in a while Alfin would taunt him about the coming challenge, though Bickel isn't the sort to get ruffled. "In my sporting career, I've lost many a time. I've learned how to deal with it," he said, recalling his years playing hockey, rugby, tennis. These days it's golf, periodically with Ayres and soon, it appears, with Alfin.
The two clutched hands for a photo shoot. Hard grip. "He's testing me. So he's no slouch over her," a slightly surprised Alfin says. He quickly returns to form. "So you never did any surgery, right?" He asks the doctor. Another taunt. "Because I want to make sure if you need to take out a policy or something, before we actually get into match in case I don't want to ruin your hands for future medical assistance you're going to provide."
And so it went.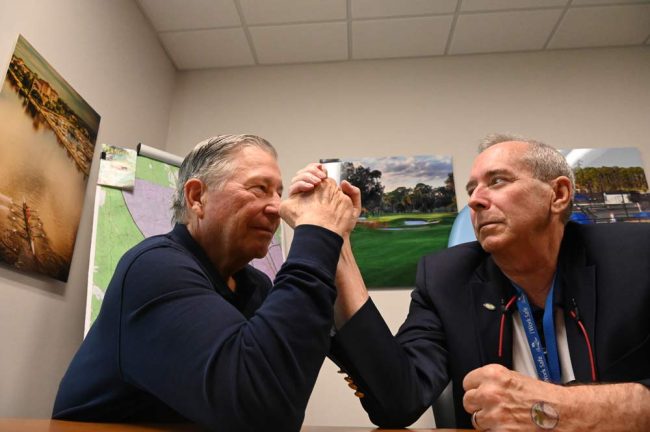 "This is what the community wants to see. This is what makes it interesting," Alfin said. "And this literally is what gets everybody involved because it's not only just about raising the money. That's vitally important, but if we can get, twice as many people to be involved with the event as last year, I think we have a huge success on our hands."
It's playing right into Ayres's (unchallenged) hands. "We're on a pretty good roll. We have some big players and a whole lot of little players," Ayres said, recalling some of the stories from last year. "Probably the one that moved me the most was, Jeff Douglas had called in and started telling his story, how he grew up where they didn't have food in the house and everything, and here he is now a very successful developer," Ayres recalled, "but he started choking up, telling the story. So Jeff gave $5,000.
"And and so Joe Wright said he was driving his truck, listening to Jeff Douglas," Wright being the owner of Quantum Electric, among several local businesses, and the current president of the Flagler Education Foundation. "And he started in the truck tearing up and everything, and so he called in to match that $5,000. It was such a moving story."




It doesn't have to be big huge pledges. "I like telling the story last year," Ayres said, "we had Senator Hudson on the phone getting ready to make a donation and a little girl walks in with a $5 bill, which was her allowance. They were listening to the radio. It was amazing. And and so it really upstaged Senator Hudson." Anybody who walks into the station to make a pledge will get to be on the air.
Every dollar, without exception, will go to Grace Community Food Pantry, Ayres said. This year it's not just for food: the pantry is also assisting families with hygiene products, and pantry services extend in some cases to housing and transportation assistance. "There's a lot more than just the food need," Pastor Charles Silano, who runs the pantry, said. In the past year, and in an echo of what Alfin and Bickel have observed through their work, the biggest demand on the food pantry has come from people on fixed incomes.
"We typically on a weekend will register up to 50 new families," Silano said. "It's catching up with the middle class people, it's catching up to people in general. You can only live off your credit card for a while. Things have a way of steamrolling. And then if you have a hiccup here or there, whether it's medical or mechanical, whatever it is, then that that's very troubling. That sets you back. It's certainly a discouragement to you because you're wondering, when is this ever going to get better? So, what we do is we try to bring a little joy into it, take a little pressure off, and just communicate to them that we're here if you need us. Just keep coming as long as you have to know not a problem."
Silano's story is itself emerged out of hardship and crime. He grew up in poverty, turned to drug-dealing when he was 20, "doing bad things, but it made me feel better about me," he said. "I felt that's where I was getting my significance from. So you know, that all came crashing down." He was arrested and imprisoned. "I saw a lot of things in prison that affected other people's decisions, and they had one thing in common: poverty. Maybe was a lack of education for one, maybe it was a number of factors that you were born into. Whatever it was, what was common about it is that everybody wanted out of that particular world that they were in. So it drove them to do desperate things."
"Maybe," he says of Grace Community Food Pantry, "this will prevent somebody from doing something smarter than the decision that I made in order to get out of poverty."




The pantry is an outgrowth of Grace Tabernacle Ministries, which Silano founded, first as a very small venture, helping maybe 30 families a month. Around 2006, when the housing crash began, Silano approached Bill Delbrugge, the superintendent at the time, who gave him space in the school district to run the operation at no cost. "It just exploded," Silano said. "It was up to 300 a month, and then from there it went to 600 a month, and he moved us to a different facility," the bus depot on Education Way, off U.S. 1, "We're up to about 4,700 families a month now."
Ayres described the pantry's operations as a "Walmart distribution center." It is alimented through three large food banks plus some pick-ups from local stores and straight donations. Volunteers sort it all out, refrigerate what needs refrigerated and prepare the weekly food distributions. There are volunteer teams of a dozen at the facility every day, and two dozen volunteers on Saturdays and Sundays, the days of the big distribution. The pantry also makes three to our distributions during the week for people who can't drive to the facility.
"They love coming, they love doing it," Silano said of the volunteers. "They love giving back. They form little families in there they we have husband and wife team leaders now. So it's evolving even better than it ever was."

The July 14, 2023 Food-a-Thon: Flagler Radio and the Grace Community Food Pantry are partnering to raise $200,000 so the food pantry can buy over$1 Million dollars in food for families in need in Flagler County, with the Food-a-Thon broadcasting across Flagler Broadcasting's radio stations from 9 a.m. to 3 p.m. Stop into the radio station and drop off your donation, take a tour, come say something on the air and help raise $200,000 for the Grace Community Food Pantry.
Ways to get Involved:
Online: gracecommunityfoodpantry.com and click "donate"
Text: Your name and Pledge amount to 386-361-4227
Call In: 386-283-6770 or 386-627-5529
Stop By: Flagler Studios at 2405 E Moody Blvd, Bunnell, FL 32110 with your cash, check or card donation.
Check out Facebook for more information:
https://www.facebook.com/FlaglerFoodAThon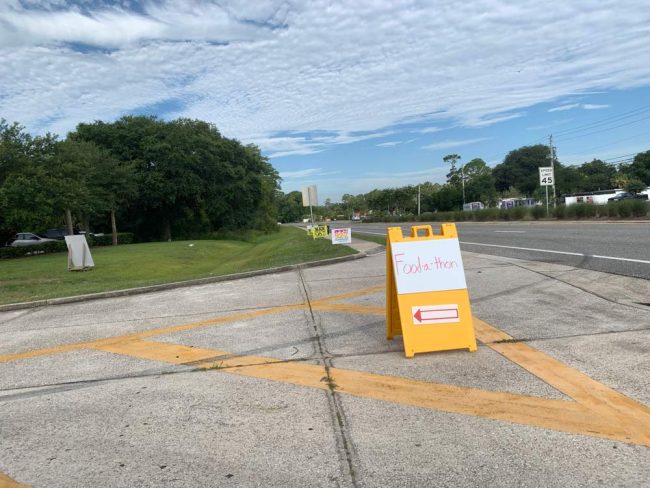 [originally published on July 5, 2023.]