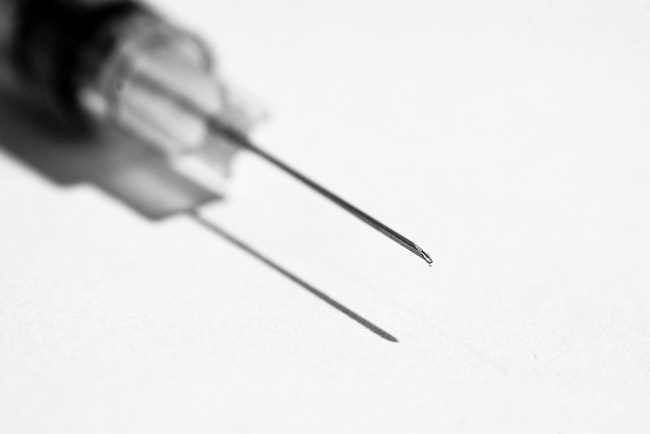 Downer of the day: based on estimates from the Center for Disease Control, the 2017-18 flu season killed and hospitalized more people in the United States last winter than any seasonal influenza in decades.
The respiratory virus made millions of people sick and overwhelmed hospitals throughout the country. The CDC reported that influenza or flu-related complications killed an estimated 80,000 people last flu season, exceeding the 56,000 deaths recorded in 2012-13. Ninety percent of the deaths were of people 65 and older, a number that should have great implications for regions with large proportions of older residents, such as Flagler-Palm Coast, where 30 percent of residents are 65 and older, according to the Census Bureau. Pregnant women and young children are also vulnerable: 180 children died last year from the flu, with some 80 percent of them un-vaccinated.
The numbers are still a far cry from the 1918 flu pandemic–a grim centennial–which caused the death of 675,000 Americans and 50 million people worldwide. But while science and surveillance improve preparedness, the CDC says, "seasonal and pandemic influenza viruses continue to pose a unique public health challenge as influenza viruses are constantly changing."
As a new flu season gets underway, the 2017-18 numbers reinforce why it's important to get a flu shot each year, the Florida Department of Health in Flagler stresses, recommending everyone age 6 months or older get a flu vaccine before Halloween and the official start of flu season in November.
"We encourage everyone to take flu seriously and take precaution by getting vaccinated," says Robert Snyder, who heads the Flagler Department of Health. "Since our health department sees patients here every day, our staff wants to set an example by protecting ourselves, our coworkers and the clients we serve from flu infection. That's why we are offering free flu shots to employees at our all-staff meeting this week."
Stephen Bickel, a medical doctor and a colleague of Snyder's, says getting vaccinated also can reduce the seriousness of an infection in the event you actually catch one.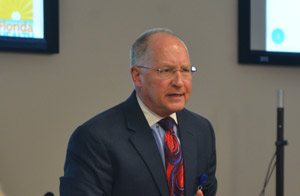 "Many studies show that vaccination can reduce the severity of illness in people who get sick," Bickel said. "This means less flu-associated hospitalizations and fewer missed days from school or work. I can't emphasize enough how important it is for those who have or come into contact with individuals with higher risk of flu complications — children under age 5, pregnant women, people 65 and older and those with asthma, diabetes, heart disease and lung disease — to get flu shots every year."
The CDC estimates that between 15 and 40 percent of the US population will develop influenza each year, with an annual average of 36,000 people dying from the infection, and approximately 114,000 will be hospitalized.
Health officials also stress that residents should not be taken in by myths, such as the recurring–and false–claum that the flu vaccine causes the flu. "No, flu vaccines cannot cause flu illness. Flu vaccines given with a needle (i.e., flu shots) are currently made in two ways: the vaccine is made either with a) flu viruses that have been 'inactivated' (killed) and that therefore are not infectious, or b) using only a single gene from a flu virus (as opposed to the full virus) in order to produce an immune response without causing infection."
Officials are underscoring the importance of flu shots for healthier people.
"I gotta tell you, I'm tired of hearing people say, 'Well, I didn't get sick and I didn't get the flu shot,' or, 'I don't like it, my arm hurts,' or, 'It makes me feel a little bit uncomfortable,'" said U.S. Surgeon General Jerome Adams at a news conference on Sept. 27. "Getting the flu shot isn't just about keeping you safe and healthy. Getting the flu shot is about community; it's about everyone else around you. Those 80,000 people who died last year from the flu, guess what? They got the flu from someone. Someone passed it along to them. So it's critically important that we impress upon folks that it is not just for them; it's their social responsibility to get vaccinated."
It takes about two weeks after vaccination for your body to develop protection against the flu, and properly and frequently washing your hands also helps prevent flu from spreading. Other recommendations to prevent spreading germs include coughing or sneezing into a tissue or your elbow and avoiding touching your face.
"Put the flu vaccine between you and the disease this year by receiving your vaccination today," the Flagler health department concluded in a release. The Flagler Department of Health is offering free flu shots effective immediately for children age 18 and under, adults on Medicaid, and adults on Medicare non-HMO Monday through Friday from 8 to 11 a.m. Individuals age 19 and older can get the vaccine for $15. No appointment is necessary. The Department of Health is at 301 Dr Carter Blvd, Bunnell.

Watch the Sept. 27 new conference by the National Foundation for Infectious Diseases:
https://www.youtube.com/watch?time_continue=1044&v=6RbhgbZkM7k