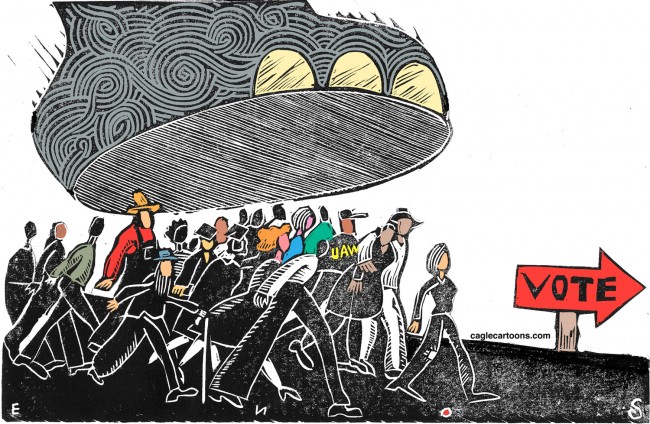 Florida is poised to be a deciding factor in a national election yet again. As partisan wisdom has it, the state's more heavily Democratic ranks could tip the state Barack Obama's way–unless enough Democrats are discouraged from making it to the polls by Nov. 6. In a state of razor-thin margins, it doesn't take big numbers to make a difference. Just a few well-calibrated skims here and there. So the GOP-dominated Florida Legislature is going out of its way to make voting more of a privilege than an absolute right. It's giving the poll tax–a Florida invention dating back to 1889–a retro makeover.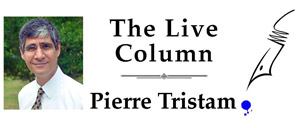 Most Old South methods of barring people from voting don't work so well anymore, at least not overtly. It takes the gall of legalized chicanery. That, too, has been a Florida tradition. The state does an excellent job of disenfranchising more than 800,000 ex-felons, for example, even though they've paid their debt. A disproportionate number of felons are minorities. By every demonstrable measure, minorities haven't been Republicans' best friends. So denying swaths of minorities the right to vote is an easy way to ensure that a large block of Democratic leaners never make it to the polls. And like the poor, it's not as if ex-criminals can call on powerful constituencies to speak up for them.
But like a well-laundered bandit's portfolio, voter suppression pays dividends only when it's diversified.
So the Legislature reduced the number of early voting days from 14 to eight, even though a fifth of all ballots were cast that way in the 2010 election. It also turned voting registration rules into an obstacle course designed to keep third-party registration organizations like the League of Women Voters, which routinely register more Democrats than Republicans, from doing their job. For a while, it worked. Those organizations quit registering because the threat of punishing fines was too high. But a federal judge threw out the restrictions in late August, calling them harsh and impractical.
Finally the Legislature came up with its strangest voter-suppression scheme yet. Knowing that Americans hate to read, it turned the November ballot into a half-hour reading chore worthy of the dullest FCAT test. The ballot you'll see on November 6 is the longest in history. It'll stretch to four pages, much of it in the sort of fine print you see at the bottom of used car sales contracts in language approximating semi-literate Medieval English. That's because the Legislature decided to include the full wording of every one of the 11 proposed constitutional amendments it's throwing at voters.
Florida law requires that the amendments be summarized. But those summaries must pass the Supreme Court's smell test. Several of them did not. The Supreme Court called them deceiving. So legislators, also called, with no hint of irony, lawmakers, exempted themselves from the law and forced supervisors of elections to publish the entire language of their proposals. It'll almost certainly lengthen lines on election day and possibly discourage some voters who'll grow tired of waiting, again achieving what lawmakers have been after all along: a lower voter turnout.
This is not to excuse lazy voters. If we Americans can shop for an average of 43 minutes a day–as we do, says the Bureau of Labor Statistics–we can certainly carve out 43 minutes every four years to vote. But there's never a better time to get government out of the way than on Election Day. In Florida, state government is just about the only problem on that day.
There's an easy way around the Legislature's schemes. You can vote by absentee ballot even now. You can vote early beginning October 27. And the best thing you can do is learn about those 11 amendments ahead of time. You'll discover that they're all brazen attempts to undermine local government, channel public money to religious schools, or supposedly keep Obamacare from being enforced here, though that amendment itself would not be enforceable. The best thing to do is to vote no on all 11 amendments. It'll take 30 seconds.
And the only thing you'll be suppressing is the Legislature's mania for bad laws and ideological tantrums.

Pierre Tristam is FlaglerLive's editor. Reach him by email here or follow him on Twitter.