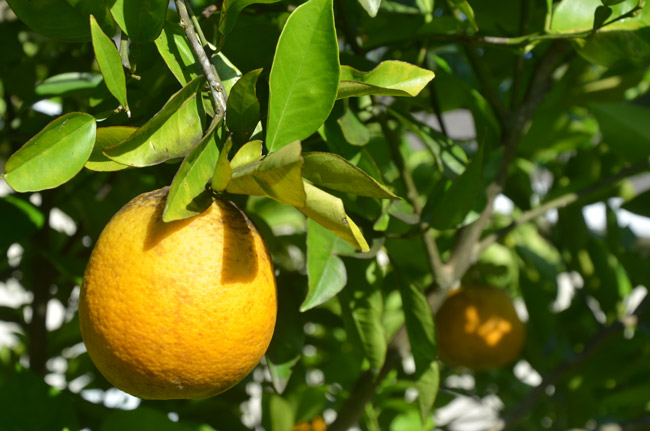 Orange production, Florida's signature crop, has fallen to a "new low," Agriculture Commissioner Adam Putnam said Friday.
The final report of the growing season by the National Agricultural Statistics Service of the U.S. Department of Agriculture put Florida orange production for the 2014-15 season at 96.7 million boxes, a drop of 4 percent from last year.
Florida grapefruit production came in at 12.95 million boxes, according to the report released Friday.
Each box represents about 90 pounds of citrus.
As the season started last October, the outlook was for Florida to produce 108 million boxes of oranges, a 3 percent increase from the 2013-14 season. Grapefruit was predicted to generate 15 million boxes, a drop of 4 percent from the prior season.
"The 2014-2015 citrus season represents a new low for Florida's citrus industry and our state's signature crop," Putnam said in a prepared statement. "We cannot overstate the challenges facing Florida citrus, but we will continue to fight to save the industry, its more than $10.7 billion economic impact and the more than 64,000 jobs it supports."
The industry has been steadily trying to fend off a decrease in agricultural land from development and losses from the spread of citrus diseases.
Putnam, who grew up in the citrus and cattle industry in Polk County, noted that the state's orange production has declined more than 60 percent since a peak of 244 million boxes in the 1997-1998 season.
Florida Department of Citrus Executive Director Doug Ackerman said the federal report "provides us with some closure on a difficult year."
"While we certainly expect continued challenges ahead, we look forward to the opportunities a new season brings and are fully focused on delivering programs that will protect and promote the interests of Florida citrus," Ackerman said in a prepared statement.
Putnam asked lawmakers for $18 million this year to fund research, grow clean citrus stock and plant new trees where diseased trees had been removed.
Legislators gave him $8 million, which is an increase from the $4 million in the recently completed fiscal year, for citrus-disease research, in-state citrus-breeding programs and to develop and acquire new citrus varieties.
Gov. Rick Scott vetoed another $1.25 million that was budgeted for the Department of Citrus to continue consumer awareness programs, conduct in-state citrus breeding,and to provide free orange juice to travelers at state welcome centers on Interstates 10, 75 and 95 and U.S. 231.
In his veto message, Scott said he cut the funding because the services are already paid for through the separate budgets of the Citrus and Agriculture departments.
The Florida Department of Citrus, which has a $32.9 million budget for the current fiscal year, funds itself from citrus revenue. The department is continuing to provide free orange juice at the welcome centers.
–Jim Turner, News Service of Florida