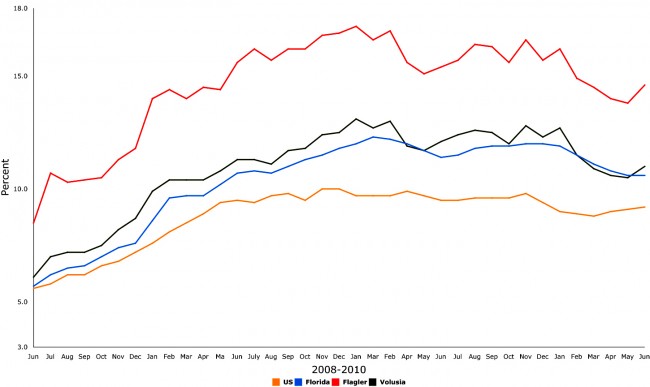 Flagler's and Florida's belated and minimal jobs recovery of the last two months is stalling as unemployment in June rose again almost a full percentage point in Flagler County, to 14.6 percent, and held at 10.6 percent in the state, where job creation was a statistically insignificant 4,300. Close to 1 million Floridians remain unemployed in the state, where a mere 85,500 new jobs have been created in the past six months.
The number of unemployed people in Flagler County jumped from 4,526 in May to 4,779 in June, a 5.3 percent increase, while the labor force again shrank. There were 767 fewer people in the county workforce in June than at the same time last year, a 2.3 percent decline that suggests the county's population is either stalled or declining.
On the slightly brighter side, for the first time in months, Flagler County is not at the top of the chart as the county with the highest unemployment rate. Hendry County, which has hovered at the top alongside Flagler, is now occupying that spot, with an unemployment rate of 16.2 percent, and with Miami-Dade in third, at 13.9 percent. But in terms of the more relevant Metropolitan Statistical Areas (MSAs), Palm Coast still ranks at the top of the state's chart, its 14.6 percent rate well ahead of Miami-Miami Beach Kendall's 13.9 percent. Monroe County had the state's lowest unemployment rate, at 6.6 percent.
No industry gained significant jobs over the month. The best performer, in a reversal from previous months, was local government, which gained 0.7 percent, or 5,000 jobs. Also gaining 0.5 percent were transportation, warehousing and utilities, and information industries. Construction added 900 jobs, a positive notch for one of the longest-suffering industries in the state. Manufacturing added 1,000 jobs.
At the losing end, Education and health services lost 2,900 jobs, or 1.9 percent, while wholesale trade and retail lost a combined 3,100 jobs.
In an effort to lower the state's unemployment rate, which does not necessarily reflect the number of people who are actually unemployed, but only those who are actively seeking work–as opposed to those who have become discouraged and stopped looking–Florida is instituting a more stringent unemployment-compensation application process, requiring applicants to fill out a "skills review" application online and certifying weekly that they have contacted at least five potential employers (up from two). Absent that certification, benefits may be denied.
Florida, already one of the stingiest states when it comes to unemployment checks, is also among the several states that have scaled back the length of jobless benefits. Lawmakers approved those changes in the last legislative session.