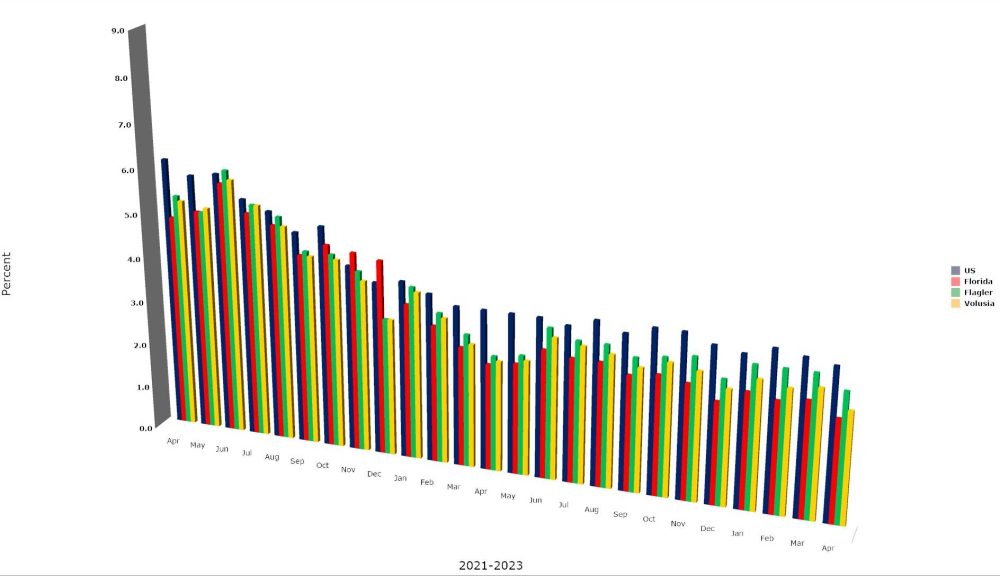 For 13 months running, Flagler County's unemployment rate has remained steady, fluctuating by a few decimal points between 2.6 and 3.4 percent. In April, it was 2.9 percent in the seasonally unadjusted calculation the state's labor department released today, compared to 2.3 percent in Florida and 2.9 percent in Volusia County.
More significantly, the county's employed workforce went past 50,000 for the first time in its history in March, with a total labor force of 52,000. The figure doesn't reflect the number of jobs in the county, but the number of county residents who hold at least one job, in or out of the county (or through telecommuting), part-time or full-time.
According to the federal government's alternative measure of unemployment, which accounts for the discouraged, those who have dropped out of the workforce and the under-employed, the actual rate of unemployment and under-employment is 5.9 percent in Florida–still healthy by historical standards. It is 6.8 percent in the country.
While healthy, the figure is also a reflection of how small, relative to the nation as a whole, the local working labor force happens to be: it represents roughly 40 percent of the population, compared to close to 50 percent for the country. More than a third of the county's population is past retirement age.
There were fewer than 1,500 people without jobs in Flagler in March. In Florida, the number of unemployed person stood at 281,000, though that's not reflective of discouraged workers who have stopped looking for work or are not complying with the state's rigorous requirements to qualify for unemployment checks–or those who have stopped receiving checks.
The state has the stingiest unemployment benefit, halting after 12 weeks. It pays $275 a week, a bit more than Mississippi and as much as in Louisiana and Tennessee, but benefits last longer in those states. Florida last raised the unemployment benefit in 1999. If the state had indexed the benefit to inflation, it would have been $494 a week today.
Lobbying groups such as Associated Industries of Florida and chambers of commerce have resisted higher unemployment benefits and pressured the governor to end federal Covid-related supplemental benefits early, in June 2021, instead of that September.
Rep. Paul Renner has claimed, inaccurately, that higher unemployment benefits would encourage workers to stay on the dole instead of returning to the workforce. In fact, the three states with the lowest unemployment rates in the country offer significantly higher unemployment benefits: South Dakota's unemployment rate is  1.9 percent. Its weekly benefit is $487. Nebraska's unemployment rate is 2 percent, its maximum weekly unemployment benefit is $456. New Hampshire's unemployment rate is 2.1 percent. Its weekly benefit is $427.
Statewide, the unemployment rate remained unchanged for a third straight month, with new jobs continuing in the fields of professional services, education and health, and hospitality. Construction jobs declined for a fourth consecutive month as rising mortgage rates diminished the demand for new residential homes.
Friday's release also included first-quarter tourism results from Visit Florida. The report indicated an estimated 37.9 million domestic and international travelers into the state during the first quarter of 2023, up from 35.528 million in the first three months of 2022.
Jimmy Heckman, the Department of Economic Opportunity's chief of workforce statistics and economic research, credited the April job numbers to growth in "a lot of different areas in Florida."
"I think this month the fastest growing industry was professional and business services, which have a lot of high wage, high skill jobs in those sectors," Heckman told reports during a conference call Friday.
From March to April, the professional and business services sector added 10,900 jobs, while education and health services added 7,100 jobs.
Jobs involving accommodations and food services also gained, increasing by 3,400 from March.
Meanwhile, positions involving transportation, warehousing, and utilities dropped by 4,800 and construction jobs declined by 1,300 in April, marking a fourth consecutive month of shrinking numbers.
Heckman attributed the drop in construction jobs on "rising mortgage rates that affects demand for new housing."
"We're seeing that play out in other metrics too … like new housing, construction permits and housing starts and things of that nature," Heckman said. "So really, we're really looking at the interest-rate environment that's driving that specific trend."
Another trend being watched is job openings.
The state currently lists 464,000 jobs posted online, a 12.3 percent decline from a year ago, Heckman said.
Since April 2022, when the unemployment rate was 3.0 percent, Florida's labor force has grown by 248,000 people and the number of people listed as unemployed has declined by 36,000.
The education and health-service sectors topped the past year's job growth, adding 90,600 positions from April 2022 to April 2023. Jobs in the leisure and hospitality industries followed, with 89,200 new jobs.
Meanwhile, jobs in the professional business sector grew by 50,200, manufacturing added 13,300 positions and construction added 8,600.
Among Florida's metropolitan-statistical areas, the lowest unemployment rate in April was 2 percent in the Crestview-Fort Walton Beach-Destin area.
The Miami-Fort Lauderdale-West Palm Beach, Naples-Immokalee-Marco Island and the Panama City regions were each at 2.1 percent. The Orlando-Kissimmee-Sanford, Tampa-St. Petersburg-Clearwater, Pensacola-Ferry Pass-Brent and Jacksonville areas were each at 2.3 percent.
The highest unemployment rates were in the Homosassa Springs area, at 3.4 percent; the Sebring area, at 3.3 percent; and the Villages, at 3.1 percent.
The statewide unemployment rate is seasonally adjusted, while the regional rates are not adjusted.
The full unemployment report is below.
–FlaglerLive and News Service of Florida