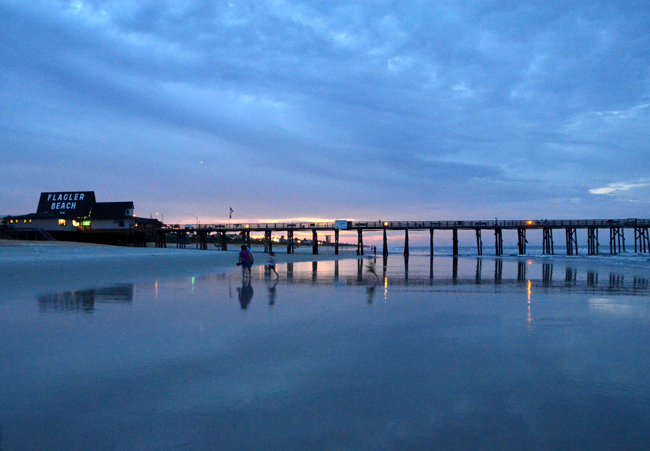 The Flagler County Tourist Development Council approved, with no changes but not without dissent, an $800,000 budget for the advertising and marketing portion of its operation for the coming year. The budget represent a 23 percent increase over last year's. The jump is driven by the county's bed tax, which went from 3 percent to 4 percent last fall. The bed tax, paid mostly by visitors, entirely funds the county's tourism operations.
Meeting on Aug. 18, the Tourist Development Council voted 6-1 to approve the budget proposal, with Bob DeVore dissenting over the salary portion. DeVore was objecting to a 7.7 percent raise Peggy Heiser, the TDC's chief executive, was requesting for herself (she makes $65,000, she was asking for $70,000), and 6 percent raises she was requesting for her staff of two, at a time when county and Palm Coast employees are going without raises for the third and second year in a row.
The council's decision is merely advisory. The Flagler County Commission must approve the budget. DeVore's objection, and a political climate toxic to most forms of increased government spending, suggest that the budget will likely face questions from county commissioners, three of whom are running for re-election next year. They'll be facing voters eager to bean-count their decisions. (Half the tourism council's members are not elected but appointed by the commission.) Milissa Holland, who chairs the council as the commission's representative, champions the raises—she's not up next year—though even one of the council members who voted with the majority raised a caution.
---
Audio: Heiser Presentation and TDC Discussion and Vote[media id=234 width=250 height=200]
"When you get this increase," Linda Mitchell told Heiser, "you need to realize that corporate America out there and people like us or your area, are lucky to get 3 percent right now. So you need to remember that. You're doing great work, but keep that in mind," she continued, that while the tourism numbers have been increasing, "this puts a real burden on keeping those increases coming."
Less than half the marketing budget money–$362,200—is to be spent on advertising Flagler County to prospective visitors, many of whom will presumably visit and spend on hotel rooms, restaurants and other local businesses, generating significant local economic activity. Holland says the tourism industry accounts for about 15 percent of Flagler's economy. Measured by the bed tax, visits to the county are up considerably, by 10 percent over last year.
Special events grants, distributed to local organizations that organize and advertise events with a significant draw of out-of-county visitors, account for $60,000 of the budget (7.5 percent). Research, strategic planning, website design and other incidentals account for about $105,000 of the budget. Salaries take up the rest: $239,000, or 30 percent. (See a breakdown of the budget in the chart below Heiser's powerpoint presentation.)
Heiser is the Flagler County Chamber of Commerce's vice president for tourism development. The tourism council contracts with the chamber to administer the county's tourism operations. One of her staffers makes $35,000 a year. Heiser was asking for $37,100. A third staffer makes $25,000. She was asking for a $1,500 raise on that staffer's behalf. The figures don't include benefits (when that figure is included, Heiser's raise is actually a 10 percent increase), nor a proposed additional position. That new staffer would work 15 hours a week from Friday through Sunday at the Flagler Beach Museum, to ensure that the museum is a seven-day-a-week visitors' center.
"I cannot support—as good a job as you've all done—a 10 percent raise. So I won't support that," DeVore said. "I might support 2 percent." DeVore said. "But I'm supportive of the museum and adding the additional person and I'm supportive of some compensation, but, you know, times are tough, and I think we're sending the wrong signal. I know I don't think city and county employees aren't getting any raises. I know I have not had any raises, so I just think, even though you've done a wonderful job, I just can't support that much of an increase."
Heiser defended the raises, saying salary comparisons of jobs similar to her operation place the Flagler County salary scale low, and that the numbers her office have been producing justify the raises. "Our indicators aren't just up," Heiser said. "They're far exceeding the expectations of your projections, and I'll tell you it's because of the hard work. And Bob I know you appreciate the hard work we do, but I don't know that council knows that Laura and I work well above the 40-hour mark that is required of us, and we're very passionate about it, so I would stand behind my staff, I think it's warranted."
Heiser got plenty of support from Holland. "I certainly understand your position Mr. DeVore, and know county employees are not receiving a salary increase," Holland said. "I look at tourism as sort of an entity that's grown tremendously that has not only been successful, but has been recognized for economic development initiatives, which we discuss at length all the time in this community." Repeatedly mentioning the increase in visitors and the TDC's planning, Holland justified the higher pay as a plug for economic development: "I want to make sure that we continue the momentum, so as far as the salary increases, in my mind, it's justifiable when you have measurable outcomes and indicators that continue to exceed our expectations, and to continue having an increase in our visitors in this community, to continue [to] support the economic drivers, is something in these economic times which in my opinion is quite substantial. You don't see this percentages anywhere in the entire region, and so in comparison, I think her team has done a tremendous job.
Jeff Conner, one of the council members and a representative of Bulow RV Resort, suggested that if anything, the raise Heiser was asking for was too little, and Steve Settle, the Flagler Beach city commissioner, told Heiser he "doesn't think there's anything more important for Flagler Beach than the job you guys are doing, and we need to acknowledge that."
DeVore was not convinced. "I agree they're doing a wonderful job, but, you know," he said, "I think they're adequately paid for a county of our size, and we're spending $238,600 to spend $500,000. Come on."
DeVore was proposing to spend the money on more advertising rather than salaries. He also objected to spending $27,600 on marketing research and revamping the council's strategic plan, which is entering its third and final year. Holland didn't buy the argument. "I can't think of a more appropriate time than when you're finishing at the end of one, to start anew," Holland said, "to start new goals and objectives, to continue with our focus and continue to spend our money well, so I'm in complete support of this."
The tourism council's budget is divided into three funds, each with restrictions on how the money in there may be spent. The three funds add up to $1.3 million. Fund 110 is for marketing and promotions. Fund 109 is for capital projects that improve the county's tourism profile, such as the recently approved $150,000 for new fields at the Indian Trails Sports Complex, $150,000 for refurbishing bathrooms at the Flagler Beach pier, and building a deck for the city's Pier Restaurant. The capital fund also—somewhat controversially—paid for the Marineland Marina, a mostly private enterprise that will devote a few boat slips to public use. Fund 111 is for beach restoration projects.
Below is Heiser's presentation to the council, highlighting the so-called Fund 110 marketing budget.


Proposed Tourist Development Council Marketing Fund Budget for 2012
Total Marketing Fund

2011 Budget

$650,000

Approved 2012 Budget
$790,700

(*)
Salaries
$211,508
$229,300 (*)
Special Events Grants
$60,000
$60,000
Paid Advertising
$304,686 / 46.9%
$362,210 / 45.3%
Online
$80,000
$108,000
Print
$80,000
$103,500
VF Coop
$41,500
$49,000
FFCG
$35,800
$33,600
Outdoors
$35,000
$26,100
TV
$20,025
$$27,010
Radio
$12,000
$14,500
Product Development/Tourism Asset Education
$15,140 / 2.3%
$11,790 / 1.5%
Tradeshows
$7,500
$8,590
Media
$9,024
Media/PR $3,200
Research
$3,785 / 1%
$31,400 / 6%
Research Resource
$3,800
Marketing and Economic Impact Study
$27,600
Multi Media Development and Production
$54,881 / 8.4%
$96,000 / 12%
Web Resources
$21,872
$43,000
Graphic Design, paid to the Chamber of Commerce
$3,000
$3,500
Print Materials
$29,379
$17,750
Video Production Brochure Distribution
$572
$1,850
Video Productions
$12,000
Strategic Planning
$12,500
Book Direct Engine
$5,400
(*) Both figures had been $9,300 higher, a reflection of the initial proposal to award Peggy Heiser a 7.7 percent raise and her two staffers 6 percent raises. The Tourist Council approved those raises in August. The Flagler County Commission rejected them on Sept. 7, approving the slightly smaller overall budget of $790,700.