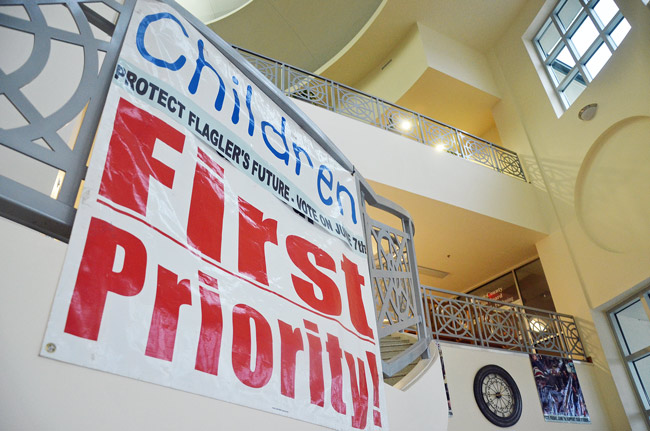 The discussion at the very end of the Flagler County Commission's budget session this morning unintentionally summed up the theme of the previous three hours—that after a half dozen years of budget constraints and cutbacks, the machinery of government is beginning to break down.
County Administrator had earlier used the not entirely metaphorical image of a lawnmower no longer able to mow. Commissioner Barbara Revels seized on a more visible problem: what she termed the "nasty" look of the Government Services Building. "I just think that it's dirty, the elevator is always nasty on the floor, and the stairs going up. Carpets are stained. For a very expensive building that people call the Taj Mahal, it just is not kept clean," Revels said.
The county has just one full-time custodian assigned to clean the building. The school board has a part-timer. Facilities Director Heidi Petito had added a custodian to the coming budget. County Administrator Craig Coffey eliminated it, as the county is facing a $3.3 million budget gap going into next year, and an $8 million shortfall if all its immediate needs are calculated.
The result is a less than impeccable building—a publicly visible smear on government's quality that's emblematic of the challenges government is confronting generally. As custodian of public services, safety, insurance and the environment, it can only do so much anymore.
Almost three hours earlier, Coffey had told the commission that running county government as it's been run for the past several years is no longer sustainable.
"We're at the point now where we have to start making some adjustments to the way we're operating," because departments are running from emergency to emergency, unsustainably, Coffey said. "At some point you've got to breathe," he said. "I'm at a critical stage as a manager, I have already lost employees, I am losing more and more," with employees having trouble sticking with the county. "We're at that stage now where we may have to bite that bullet and do something."
The "something" he is proposing is a set of raises and promotions that amount to raises, as well as reinvestment in some capital and equipment, otherwise the functions of government would break down. Coffey told commissioners that it would be up to them to decide whether to go along with his proposals or start cutting services. So it came down to this: raises and re-investments, though with revenue the commission has yet to find, or program cuts.
Revels cut to the heart of the matter: However you look at it, she said, "we're looking at a tax increase."
No one else said a word. Not at this relatively early stage of the budget discussions. But Revels's conclusion is difficult to evade. This year, there are no reserves to dip into, as in previous years, and what few dollars are in the reserve pot, Coffey has already said should be off limits. There is no new revenue. Tax receipts are about even with last year's. And there are substantial new costs, especially in retirement expenses the county has no choice but to pay.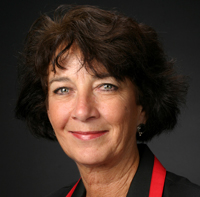 One by one, the commission and the administrator went through the county's various departments, examining their budgets sometimes line item by line item, and finding out that, for the most part, the budgets are going up, even when personnel may be cut. Fleet management is jumping by close to $400,000 as the sheriff's and the county's fleets have merged. Presumably, the sheriff's budget, which is funded by the same county general fund, will show a decrease close to that amount, but Coffey is not promising it: with sheriffs, you never know what comes out of their ledgers when budgets are submitted. The general services administration budget is going up 35 percent. Veterans services, up close to 6 percent (on a tiny budget, however). Human resources and community services would see a decline of more than 14 percent, but the finance department's budget would jump 6 percent, land management would go up 35 percent (driven in large part by the county's new and state-required manatee protection plan), the county attorney's four-person office's budget would increase by 10 percent, not including an additional attorney Al Hadeed, the county attorney, is seeking. The administration's budget would increase by close to 6 percent, and the board's budget by 13 percent.
It was after analyzing those numbers that Revels brought up the matter of the building's looks to Coffey.
"I just hear you coming forward with reclassification of positions, which are effectively raises, and senior management-level raises, and I'm not disagreeing with any of that, but then we have a building, our most public building, that looks terrible, and is only going to get worse," Revels said. If the interiors continue to deteriorate, the costs would be much greater in the long run.
"I think we can improve in some areas. I wouldn't say terrible," Coffey said.
"Again, are we cutting off our noses to spite our faces on some of these things?" Commission Chairman Nate McLaughlin asked, referring to the custodian's cut. "We need to be realistic and not depreciate an asset before its time. And low maintenance will depreciate an asset."
Coffey reminded them of the earlier discussion. "We talked about a $3.3 [million gap] start, and then you start adding on all those other things," he said. Then he spoke numbers: a tax increase of 50 cent per $1,000 in valuation (precisely what the school board is seeking in a  June 7 referendum) would raise $3 million for the county. A $1 increase would raise $6 million. "That's the challenges you're going to have."
Commissioner George Hanns was on Revels's side. "When I meet a person, I judge them by personal hygene. If someone looks like a slob, it's pretty obvious. This is our showcase, and when people come to your home you want to make an impression, and this is our home, and I would judge the occupants by the condition of the first impression I get when I walk in the building."
The extra custodian was added back in. But that did not address the larger issue. The commission agreed only to break for lunch.