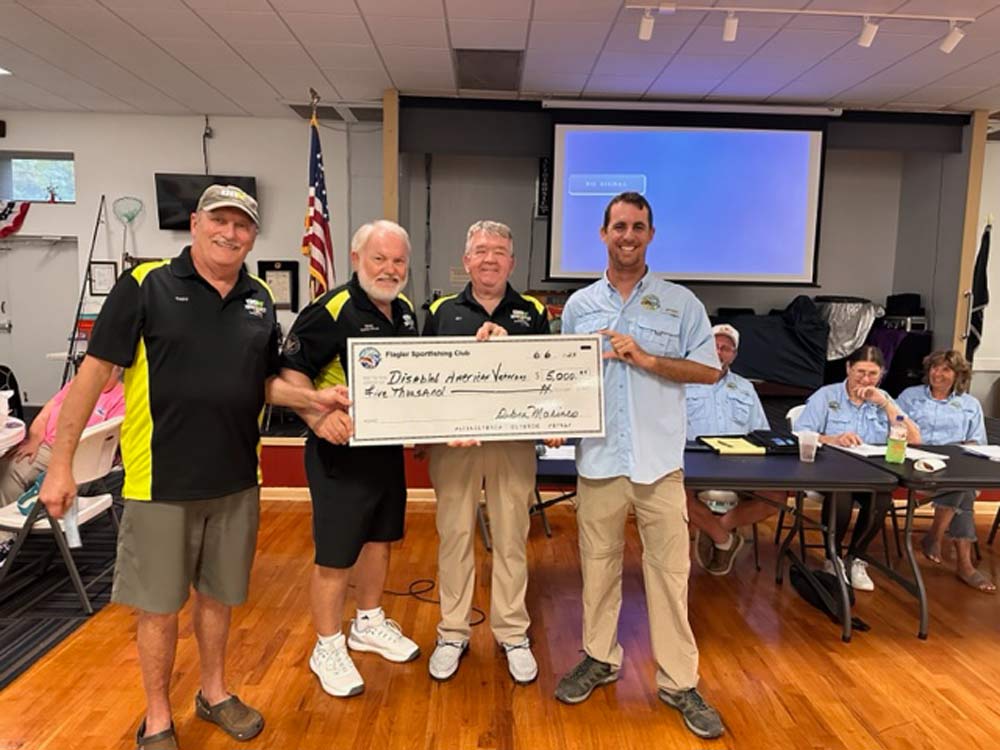 The Flagler Sportfishing Club is proud to announce its recent donation of $5000 to Disabled American Veterans (DAV), a renowned organization dedicated to assisting veterans in accessing the benefits they deserve. The generous contribution was made possible through the proceeds of the Flagler Sportfishing Club's highly successful Spring Classic Fishing Tournament.
The Flagler Sportfishing Club has long been committed to supporting the men and women who have served our nation in the armed forces. With the Spring Classic Fishing Tournament, the club aimed to unite fishing enthusiasts and provide an opportunity to give back to those who have sacrificed so much for our freedom. The resounding success of the tournament not only showcased the community's passion for sportfishing but also demonstrated their unwavering support for our veterans.




Disabled American Veterans is an esteemed organization that focuses on assisting veterans in navigating the complex process of filing claims with the Department of Veterans Affairs. The comprehensive support provided by DAV includes compensation, pension, healthcare, and other essential benefits that veterans are entitled to. Additionally, DAV offers guidance on state and local veteran benefits, burial benefits for qualified veterans and their spouses, as well as vocational readiness and employment benefits.
By making this significant donation, the Flagler Sportfishing Club aims to amplify DAV's crucial mission and extend a helping hand to veterans who may be facing challenges in accessing the benefits they rightfully deserve. The donation will directly contribute to DAV's ongoing efforts to provide comprehensive support to disabled veterans, enhance their quality of life, and empower them to reintegrate into civilian society successfully.
"We are incredibly proud to support the Disabled American Veterans through this donation," said Capt. Adam Morley, President of the Flagler Sportfishing Club. "Our club recognizes the immense sacrifices made by our veterans, and we are committed to standing alongside them in their journey towards reclaiming their well-deserved benefits. We believe that this contribution will make a meaningful impact on the lives of disabled veterans, helping them regain their independence and thrive in the communities they have fought to protect."
The Flagler Sportfishing Club encourages other local businesses and community organizations to join them in supporting DAV and its mission. By coming together, we can create a network of support that ensures our veterans receive the assistance they need and deserve.
For more information about the Flagler Sportfishing Club and their charitable initiatives, please visit www.flaglersportfishing.com