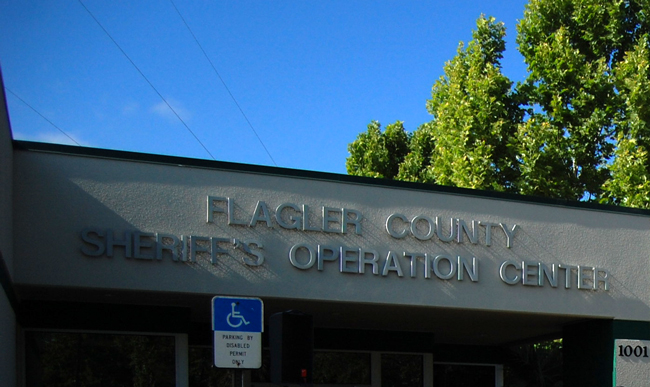 In October 2008, Matt Koenig, then a 38-year-old detective at the Flagler County Sheriff's Office, was evicted from the home he owned in Palm Coast. A week later, a private mortgage lender filed a robbery complaint against him, charging that Koenig, entered that home illegally. Koenig was placed on administrative leave and the Sheriff's Office launched an investigation. Days later, before the investigation was completed, the lender asked the Sheriff's Office to drop the charges. The office followed suit, and Koenig was reinstated.
This afternoon (Jan. 12), following a three-month investigation, Koenig, an evidence custodian at the Sheriff's Office, was arrested and jailed on on charges of grand theft and official misconduct in connection with missing funds from the agency's evidence room.
It started this past October. Sheriff's Office on Oct. 5 conducted a routine evidence review. During the review, according to a State Attorney's report, they discovered 12 evidence envelopes stuffed with paper napkins instead of seized currency. The envelopes, containing currency collected from 2004 to February 2010, had originally contained $4,847. The Sheriff's Office called in the State Attorney's office to assist with an investigation.
Four sheriff's employees with access to the evidence vault were asked to provide a DNA sample for forensic testing on the envelopes. Three employees complied voluntarily, but a search warrant had to be sought and served on Koenig for his DNA sample. That's not an indication of guilt: DNA testing is equivalent to a search under the Fourth Amendment; individuals have the right to decline such a search absent a warrant. But an analysis at the Florida Department of Law Enforcement's lab in Jacksonville matched Koenig's DNA with the evidence envelopes and the napkins inside, according to the State Attorney's report.
Koenig's financial records were then reviewed. Those showed several unexplained cash deposits in his personal checking account from 2009 to 2010. Earlier today, Koenig responded to the State Attorney's office, where he was arrested.
Koenig has been with the Flagler County Sheriff's Office since 1998. The cash was currency seized in criminal cases and was being held until the cases were disposed of in court. Koenig was able to access the evidence room property through his position as Evidence Technician, according to the Sheriff's Office.
Deputy Koenig was booked into the Flagler County Inmate Facility this afternoon. Bond was set at $2,000. He posted bond and was released. For the second time in a little over two years, he's been placed on unpaid administrative leave from the Sheriff's Office. As a result of the investigation, procedure modifications have been made to the Evidence Division, according to the office.