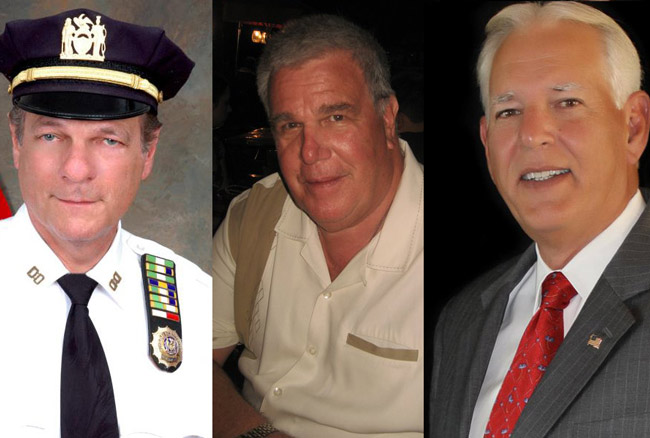 Election campaigns are a slog. For sheriff, they're something like the running of the bulls in Pamplona. Those campaigns, at least in Flagler County, draw out long lists of candidates (the $120,000 salary, highest of all the constitutional officers, has something to do with it), they stretch over 300 days instead of 900 yards, with primary melees thinning out the herd only to sharpen the horns.
When he first ran for sheriff in 2004, Don Fleming was one of four people hoping to beat Jim Manfre. Fleming, a Republican, beat two opponents in the primary and went on to beat Thomas Hutson (who'd beaten Manfre in the primary) with 56 percent of the vote. In 2008 seven challengers lined up to take on Fleming—two Republican, one independent and four Democrats, including Manfre, who ended up losing to Fleming by 836 votes. Ray Stevens, the independent, was a distant third.
It's 307 days from Election Day on Nov. 6, but two candidates have already filed to run against Fleming in what promises to be one of the most contested local races on a very lengthy ballot. Stevens, a former cop from Ossining, N.Y., is running again, this time as a Republican. So is newcomer John Pollinger, an ex-police chief in Middletown, N.J., a township with about the same population as Palm Coast. Middletown is 47 miles to the south of Little Ferry, where Fleming had been police chief in the 1990s, though he says he never crossed paths with Pollinger until the two met in Palm Coast.
Pollinger, who managed within a month to gather the 600-odd signatures necessary to qualify (rather than pay more than $7,000, absent petitions)  has scheduled a formal announcement to launch his campaign on Thursday, at the Supervisor of Elections' office in Bunnell. Stevens is more than half-way to his needed signatures, but he's already filed his first campaign finance report, with $2,500 in his treasure chest—a loan to himself. Fleming hasn't formally declared his candidacy, but will soon. "I'll probably be declaring within the next two to three weeks," he said earlier this week.
Fleming was not surprised by the early interest in the race and expects to see several more candidates join, though none from within the sheriff's office. Four years ago, Mark Carman, Fleming's Palm Coast precinct chief, ran against him as a Democrat, though at the time Carman had quit the Sheriff's Office to work for Palm Coast as its police liaison—and as a police chief in training at a time when Palm Coast was considering having a police department of its own. Those days are gone (for now), and Carman is back at the Sheriff's Office.
How They Say They'll Run
Fleming says he'll run on his record: declining crime, diminished gang activity, heightened neighborhood watch groups (42, up from around 20 in 2004), a new crime suppression team that targets particular high-crime areas and that's made 70 felony arrests since its creation last year, a flat budget for almost three years running and what he describes as a more professional law enforcement agency.
Pollinger, a Palm Coast resident for two and a half years (he bought his Grand Haven home in 2009) and a 32-year veteran of the Middletown Police Department, including almost eight as chief, demurs when asked what's compelling him to take on Fleming—what Fleming isn't doing that Pollinger can do better. "I'm not running against the sheriff," Pollinger said. "I'm running for sheriff. The difference I believe is, I'll defend my positions and my record in law enforcement, and I'll let the sheriff do the same."
Nevertheless, Pollinger says "it's time for a new vision and a change in the Flagler County Sheriff's Office." People have been telling him so as they've encouraged him to run. Why? "The fear of crime, the daily break-ins, burglaries, the car thefts. They're concerned about gangs, drugs and juveniles." Issues similar to those Stevens raises, though Stevens adds fiscal responsibility to the mix: he doesn't consider the sheriff's tenure as frugal as the sheriff makes it out to be. "My main issue is two-fold," Stevens says. "Number one is lack of fiscal responsibility, and secondly, his failure to deal not only with the crime problems but the quality of life issues." The moratorium on new pain clinics that the sheriff got every local government to impose, for example, treated "the symptom and not the cause," Stevens says, though it isn't quite in law enforcement purview to treat a cause doctors, politicians and sociologists can find intractable. Unlike Pollinger, Stevens—who led the Ossining Police Department's detective bureau and is also a 30-year police veteran—makes no pretense of playing nice with the sheriff: he is running against him.
Pollinger concedes that crime has declined locally. "It has fallen all across all categories across the United States," he says, "but I believe that I can do it better. I believe the Flagler County Sheriff's Office, with proper direction, can do more to reduce crime, and the concerns that people have of living in quote unquote bad neighborhoods. I've heard this about the P Section and the R Section, that you should stay away from there or not buy in there or rent in that section of Palm Coast, and I don't believe anybody anywhere should be living in any neighborhood that's considered a bad neighborhood. If there is a neighborhood like that or it is identified by public officials then they should be doing something about it, and I don't see that happening."
Pollinger's suggestions: target the areas using a partnership between policing and code enforcement, though he can be critical of code enforcement, too: "When you have people that are more concerned about the length of grass in somebody's front yard rather than crack houses or houses that are in disrepair, it reflects on the entire community as a whole, but also it creates an atmosphere that this is a crime-ridden neighborhood."
And he sees the wrong priorities, albeit based on anecdotal evidence and generalities—the lingua franca of most novice candidates for elected office. "The people who are talking to me," Pollinger says, "it's their belief that the deputies are focusing too much on minor traffic offenses rather than criminal activity within the community. And if the residents have that perception, then something must be wrong."
Fleming on Fleming
Fleming says perceptions are not keeping up with reality, which has changed on his watch. "The gang problem was an issue until we arrested all those Bloods," he says, referring to the arrest and conviction of Brandon Washington and several accomplices last year. "Once we arrested all the Bloods, the gang issue basically disappeared. We have gangs, but the gangs that we have are relatively juvenile related. They're not high-crime type of gangsters. They total pretty much less than about 70, 75 people."
Fleming adds: "The juvenile problem is something that should be paid attention to. I think the crime rate problems we have with juveniles are with burglaries and car break-ins, and we've been working with Judge Zambrano, work with probation and parole, so we have a listing of all the juveniles that are on home arrest, and we check them on a constant basis. What we're doing is on the path of being where we want to be. We want to focus on the type of crimes that are relevant to Flagler County. We want to focus types of prevention, and the way we do prevention is we have 42 neighborhood watch programs that we have in effect, we have the citizen's academy, we have the self-defense program for women, we try to focus people into our website so they take a look at our website and all the things that are there for the citizens of Flagler County to use."
A Race Looking for Direction
The effectiveness of any political campaign is defined by its clarity—and clarity of purpose. In the sheriff's race, that clarity is not yet apparent. There is no overriding issue candidates can use to attack Fleming, who reviles getting dragged into political controversies—whether it's getting caught in the middle of the county's debates over the future of the old courthouse (seen, on and off, as the future home of the sheriff's office) or in Bunnell's flirting with the notion of letting the sheriff take over policing in its streets.
Crime is down statistically. The Sheriff's Office's relations with Palm Coast, an occasional sore point in the past, are relatively good. The sheriff's finances, after he granted 10 percent raises a year to his  staff three years in a row (to raise the ranks from poverty wages, Fleming claims), show little evidence of splurges. Stevens criticizes the sheriff doer using drug-seizure money to buy advertising for himself or the department in the Palm Coast Observer, at the local movie theater, on FlaglerLive and in civic organizations' newsletters—what Stevens describes as taxpayer-funded campaign advertising. The sheriff says the same money in much larger amounts goes to innumerable civic and community programs. (The champion in use of drug-seizure money for self-advertisement is Lee County Sheriff Mike Scott, who spent $225,000 last year advertising himself and his department on television, including on national shows). And Flagler deputies, aside from the occasional cruiser crash, have generally steered clear of controversy—at least the sort of controversy that's brought to light.
Then again, 307 days will amount to an eighth of Fleming's tenure as sheriff: plenty of time for issues to arise, or clarity to sharpen. And for more clarity on the challengers' backgrounds, too.
Pollinger's Sunset in Middletown
Pollinger's tenure in Middletown was long and virtually spotless—until the end, when he had a run-in with the township administrator, Robert Czech, who had ordered him to post a cop at a particular location on election day 2004—a school that was still in session—because of a vague terrorist threat.  Pollinger refused to do so, ignoring the directive and saying that there was "no credible threat" to the school. Czech overrode him, placed an officer at the school and forced Pollinger to take a vacation until further notice—"without due process, without any hearing" as Pollinger put it at the time. He was incensed. Pollinger had actually announced his decision to retire by year's end months earlier, but he changed his mind after the run-in, and retired several months later, calling the administrator "morally corrupt" in his retirement letter.
Here's how Pollinger described the situation when asked about it this week: "After 9/11 we lost 37 of our residents in Middletown on 9/11, and I found my enthusiasm draining. I believe that anybody who sits behind a desk and just occupies space is no longer moving forward with any law enforcement agency, so I notified the town well in advance, in fact months in advance that I would retire at the end of the year. The unfortunate situation that occurred on election day was, the city administrator, who was a political appointee, was facing pressure to put police officers at polling –places on election day. The attorney general, the night before, the attorney general of New Jersey, who is the chief law enforcement officer of the state, ordered police officers not to be at polling places because of concerns of voter intimidation, and rightfully so. I followed the order from the attorney general."