Sheriff James L. Manfre welcomed 13 new deputies to the Flagler County Sheriff's Office on Monday, giving the Sheriff's Office a total of 191 deputies in law enforcement and detention. The large class of new recruits was cause for celebration at the sheriff's office Monday.
It is also a reflection of the high turnover rate at the department, which by the end of July had hired 95 full and part time employees, in an agency with 255 full-time and 30 part-time employees, total. That represents a turn-over rate of more than a third in three years. The deputies sworn in Monday, all but one of whom are road deputies, are not filling new positions, but existing, vacant positions.
In late July, the office had 11 open sheriff's deputy positions. The new budget, which begins on Oct. 1, calls for the addition of a handful of personnel at the jail, on road patrol and within the office's non-uniformed ranks. Those hires are yet to come.
Jim Troiano, the sheriff's chief spokesman, said the turnover is not unusual among law enforcement agencies as personnel look for better opportunities–to make more money or have better benefits or to have more opportunities for advancement in larger agencies. "We at times become a training ground," Troiano said, citing the way the Sheriff's Office has effectively turned the Bunnell Police Department into a training ground for its own ranks: seven or eight deputies, including one sworn in Monday–Austin Chewning–were hired out of Bunnell, as was Chief Deputy Jeff Hoffman. The 13 new recruits also include Crista Rainey, who'd been an officer at the Flagler Beach Police Department.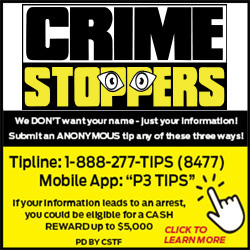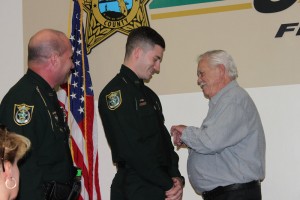 "When I was police chief I can tell you people left for better paying jobs," Troiano said of his time as police chief in High Springs, a small town at the northwestern edge of Alachua County. At the sheriff's office, he said, "we had some people leave to go make more money, some people that retired, some people that were terminated for inappropriate action, some people that separated in lieu of termination."
Troiano said he'd done an analytical comparison between the Manfre and Fleming administrations. The analysis will show similarities in turnover, he said, though the precise numbers were not yet available. He said the turn-over doesn't point to any one particular trend. The two outliers are the jail and the 911 center: turnover at the jail has been low compared to other areas of the agency. But at the communication center, "we're six positions short in a 22-position center," 23 with the manager.
Several deputies never made it through the field training portion of their hire, which required their positions to be re-filled. Several years without substantial pay raises was also a contributor for attrition, though next year deputies will be getting step-pay increases.
At the ceremony Monday, the sheriff, according to an agency release, urged his new employees to strive to improve every day and to "always, always have the back of the person next to you," he said. "We're more than law enforcement officers here. We are domestic abuse counselors, we're marriage counselors, we're mental health counselors."Family members and friends of the new recruits had gathered to see them sworn in at the Sheriff's Operations Center in Bunnell. The sheriff also told the deputies that "we'd love to see you spend your
career here."
That may be as much prayer as wish: of the agency's 251 full-timers, just eight were hired in the 1980s (all of them in 1985 or after), and 29 were hired in the 1990s. The remaining 214, or 85 percent, have less than 15 years' longevity with the Flagler County Sheriff's Office (and more than a third have less than three years' service).
Earlier this year the sheriff hired a videographer, in a $40,000 contract, to help produce a recruiting video, among other tasks.
Monday, the sheriff's office highlighted one particular part of the recruiting ceremony: One young deputy, Daniel Malta, was inspired to join the agency as his father, Deputy David Malta, marks 29 years of service here and plans to retire from the Sheriff's Office in mid-2016. Malta (a newly minted grandfather) currently serves as the bailiff for County Judge Melissa Moore-Stens.
The law enforcement legacy goes back further: the younger Malta's grandfather, Jim Schweers, also served at the Sheriff's Office as a lieutenant, retiring after 17 years. Both men attended the ceremony and his grandfather proudly pinned Daniel's badge on his uniform.
Daniel Malta and Patrick Pielarz were both Sheriff's Office Explorers prior to their swearing-in today. The mission of the FCSO Explorer Post is to allow our youth and young adults to explore law enforcement as a possible career choice, develop physical fitness and serve the community. Monday's ceremony kicks off the deputies' careers with the FCSO. Pielarz's previous local claim to fame was his role as Jem in the once-banned then revived production of "To Kill a Mockingbird" at Flagler Palm Coast High School in 2010.
The 10 men and three women had to complete more than 700 hours of basic recruit training at a law enforcement academy. They will now begin seven weeks of in-house classroom training with the Sheriff's Office. The classes are known as the Field Training Evaluation Program. It will include everything from firearms, camera systems, evidence collection, policies and DUI training to intensive crisis intervention training and more. Then they go on the road for three months' training with a field training officer before they will work on their own as they complete their probation.
The new hires are Troy Cavas, 32, of Austin, Texas; Austin Chewning, 26, Bunnell; Blake Colson, 20, Coral Springs; Javia Elmore, 22; Diego Gonzalez, 30, Chile; Daniel Malta, 20, Flagler County; Kyle McLaughlin, 25, Port Orange; Michael Perez, 41, Ocala; Patrick Pielarz, 20, New York City; Crista Rainey, 43, New Jersey; J. Gibson Smith, 27, Daytona Beach; Nicole Thomas, 26, St. Augustine; and Braxton Wall, 30, Palm Coast.