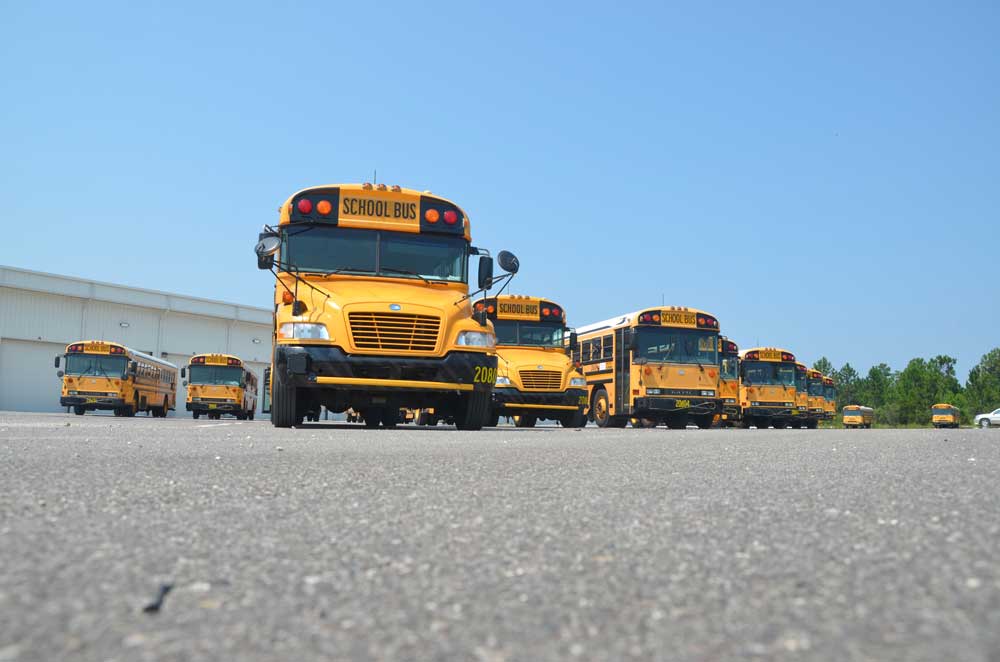 A disconnect is developing between the Flagler County School Board and a proposed state law to push middle and high school start times later. The Flagler board favors a later start time for middle schools. But it's pushing an earlier start time for high schools.
This year in Flagler County, middle schools start at 7:30, ending at 1:40 p.m. High schools start at 8:10, and elementary schools start at 9:10.
Start times have fluctuated over the years, with high schools starting either at 8 or at 7:30 and middle schools fluctuating by as much as an hour and 15 minutes. In mid-January the board asked the administration to review start times, with a focus on moving back middle school start times.
The school board is favoring starting middle school students after high school students, which would require moving up high school students' starting time considerably–just as a vast amount of research, and now various school boards and some states, are doing the opposite. The research shows that younger students can function well early in the morning. But teen-agers do not.
"Quality sleep is also critical to children's learning and mental health, so we will pursue appropriate school start times as a zero-cost way to improve both academic scores and mental well-being," Paul Renner, the Palm Coast Republican and House Speaker, said in his speech opening the session of the legislature last week. It was one of his more unusually progressive proposals. Those later school start times will be one of his priorities.




Two bills have been filed, one in the House, one in the Senate, to enact what would become a mandatory requirement for school boards across Florida, though not before the fall of 2026: High schools would not be allowed to start their day before 8:30 a.m. (for students). Middle schools would not be allowed to start before 8. Charter schools would also have to comply, but not private schools. School boards would be required to inform parents about the effects of poor sleep and the logic behind later starting times.
Regionally, Flagler County has the latest start times for elementary schools, when compared to Putnam, St. Johns Volusia and Nassau, where younger students start as early as 7:35. But Flagler also has the earliest high school start time and is tied for earliest middle school start time.
Based on existing schedules, the district would have to enact significant changes by 2026, if the state proposals become law. But the school board's direction to its transportation department, based on its latest discussion at a workshop last month, is doing the other way, which will make it that much more difficult for the district, if not for students, to readjust.
Nevertheless, the board has a clear majority favoring earlier high school start times, but later middle school times. The exception is Board member Colleen Conklin, who has been pushing for later high school start times for years, unsuccessfully.




"All of the research out there supports a later start time for high schools," Conklin said. "You see other districts moving in that way. The adolescent mind and the neuro development and everything else that just backs up looking at a later start time for our middle and high school students, and an earlier time for the elementary students."
In what may be a developing pattern on this school board, science and data are not the driving factors behind its thinking on school times. Rather, the worry, more anecdotal than documented, is that middle school students let out of school early in the afternoon, when their parents are still at work, could get into mischief, whereas high school students may have more independence and commitments–to extra curriculars, jobs and the like.
"When it comes to the earliest dismissal in my mind, I feel it would be better that it would be the high school," Board member Will Furry said, because a percentage of students can transport themselves by car, and they have more after-school activities. "I've had some people from the community think that was the direction they'd like to see. So from my perspective, if there was a way to make that work with the numbers, that would be something that I would strongly support."
Board member Christy Chong also favors a later end time for middle school students, which would by necessity require the transportation department to move high school times up. Chong favors that approach for students who would otherwise leave school in early afternoon and be left without supervision at home, where "they have all that time to possibly get into trouble."




"If we can get our high schools in before our middle schools, it could definitely be a big help to our community," Cheryl Massaro, who chairs the board, said, even as she acknowledged that the teen brain doesn't function well before 10 a.m.
None of the board members presented data backing up their claims. No such data was presented by the district.
Board member Sally Hunt was of two minds. She did not appear opposed to moving up high school start times, but not without further thinking. "I just would love to know from all across the district what those implications would be specifically for the high schools if they started earlier," she said.
What middle school students would do with themselves after school isn't the only driving factor in the board's thinking. The transportation department's coordination and funding of what amounts to the largest transportation system in the county, by far, is, even though barely half the district's students ride school buses. In other words, high school students' start time may be set at least in part by the demands of a transportation system half or more of them may not use.
"When it comes to school start time," Dontarrious Rowls, the district's transportation director, said, "transportation will be one of the top priorities to review and consider because it will require additional resources should you try to align the time."
The district accommodates a three-tiered bus-route system, which allows the use of a single bus to accommodate 165 students over three routes. That has diminished the number of routs to 57, with buses logging 141 runs for 9,355 eligible students. But the actual number of students who ride buses is much lower: 5,600 ride, or 56 percent of those eligible.
Any change in school start times could have a cascading effect across all start times, if the changes are not adopted with a degree of uniformity, or strict permutations. For example, the transportation department could keep its current method in place almost intact if high school and middle school start times were flipped, which may be the direction the board is heading toward. The board has asked for principals' input on the proposal.
The start times have been honed to the point of reducing the need for buses or routes (as has a decline in ridership).




The district's adopted ratio is 50 high school students per bus, 60 middle school students and 64 elementary-school students. A typical bus capacity is 77. There's been some concern that the district is not sticking to two students per seat, but going with three. "If we have high numbers, we have been intentional in making sure that we balanced the loads and evened those out," Rowls said. But he did not appear entirely aware of such occurrences: "we would appreciate that feedback if that's if that's going on," he said.
The district is not intentionally stacking buses. It won't get more money doing that. It's merely complying with local school board policy, which provides for more busing capacity than state law requires. "This local board has already made decisions to put students on a bus you will not get funded for to bring them safely to school," Superintendent Cathy Mittlestadt said. "Overcapacity does not give us increased eligible ridership for funding. That doesn't happen that way."
Each bus costs $82,000 a year to operate. Of that cost, which includes salaries, wear and tear and equipment, 49 percent is reimbursed by the state. The rest is paid locally. Middle and high school students may not ride buses if they live within a two-mile radius. Elementary school students get a one-mile radius.
The board has no issue with the department's method, which is making it easier for switching start times around. The board hasn't made a decision yet, to be sure. It's only directing the administration to gather further information, but with a switch in start times in mind.
"If high schools started earlier," Hunt said, "I just think about all the demands on high school students today with all the homework with the jobs with the whatnot, and now they have this earlier now start time. I just want to be supporting our students and our families, even if it's just a separate support program to help them adjust to those demands."

School Start Times 2-22-2023.pptx