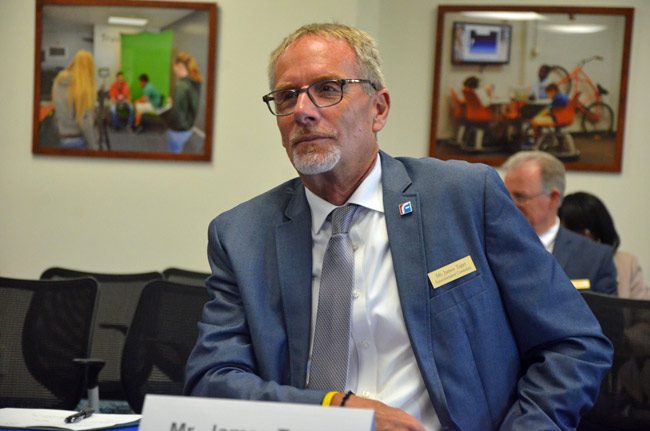 In Flagler County schools, the days leading up to the Christmas break were fraught with high-profile incidents involving a handful of students who did dumb things, ending up arrested, facing charges, or expelled. But the incidents overshadowed a much brighter story affecting many, many more students and faculty members who did great things: the district's graduation rate jumped from 81.1 percent to 88 percent, just shy of two points above the state average and the highest rate in recent memory.
There were gains across all categories, but especially for blacks, whose graduation rate jumped from 69.4 percent to 83 percent, and for students considered at-risk: their rate soared from 59.7 percent to 72.6 percent. The rate for Hispanic students rose two points to 85.8 percent, the rate for white students rose from 83.8 to 89.5 percent, and for Asians from 95 to 96.7 percent. The rate for students of two or more races also rose sharply from 75 to 87 percent.
The rate among students with disabilities rose from 55.6 percent to 75.7 percent. (The district's rate for non-disabled students is 89.4 percent.
As always, wealth, like race, matters: students from poorer homes, categorized as "economically disadvantaged" in the language of the Department of Education, had a graduation rate almost 10 points lower than students from wealthier homes (whose rate is 93.3 percent).
At the school level, Flagler Palm Coast High School saw its graduation rate rise from 82.3 to 87.7 percent. Matanzas High School saw its rate rise from 86 to an all-time high of 92.8 percent.
The school district has made improvements to its graduation rate a priority, dubbing the effort Graduation 100, and hiring Superintendent Jim Tager nearly two years ago with that in mind: Tager was bringing a strong portfolio in graduation-rate improvements, and would speak of his strategies in numerous public appearances over the past year and a half. He also made predictions, saying the district's graduation rate would improve by at least five points.
He beat his own prediction.
"We were real happy with the at-risk students, African-American students went up I think 13 percent, and exceptional student education students went up 20 percent," Tager said. "We worked hard throughout the year and it was definitely a team approach."
The improvements should help the district in its quest to become an A-rated district again.
Is it likely to happen when grades are announced later this year? "Likelier, yes. I wouldn't predict it because we've been a B seven years in a row," Tager said. "It's not all that easy."
But the district's improvements are getting noticed at the state Department of Education.
"One of the first people who reached out to be was Jake," meaning Jacob Oliva, the former superintendent, now the third-highest official at the state Department of Education. "He said it was very impressive work. When I took the job one of the things he and I spoke about was graduation rate, acceleration, so those things could help us to get there," to an A rating.
During his job interview and again during public appearances he would describe what is clearly one of his favorite graduation-improvement strategies: The Bunker. It's a concentrated remediation program that focuses on students at risk of dropping out while also separating them from hourly distractions such as cell phones.
"We took kids that nobody thought could make it, we believed in them, put them in a smaller environment, and we had teachers of all subject areas in there working with them," Tager said. "When I went in and spoke with those kids, I said why are you doing well now? They said, number one, smaller environment, and number two, I know people care."
Tager tells the story of one particular student at Matanzas High who was almost written off.
"Not only did he make it," Tager said, "he finished up, came back to visit the school in September, he's now qualifying to go to school to be a police officer, and he brought in his cousin and said–can you all help him too."
School Board member Andy Dance credits Tager for the significant improvement. "Mr. Tager is awfully modest about his role," Dance said. "Obviously we couldn't do it without staff and the students and everybody who supported the work that raised the rate. But it starts with leadership, and it's really his leadership and guiding that was impressive. When he first was hired, it was one of his top goals to see that improve."
While the district has its sights on a 100-percent graduation rate–nearly impossible even in the very best of schools–it's setting a more realistic goal right now: "The goal is to get into the 90s next year, 90 percent or higher," Tager said.