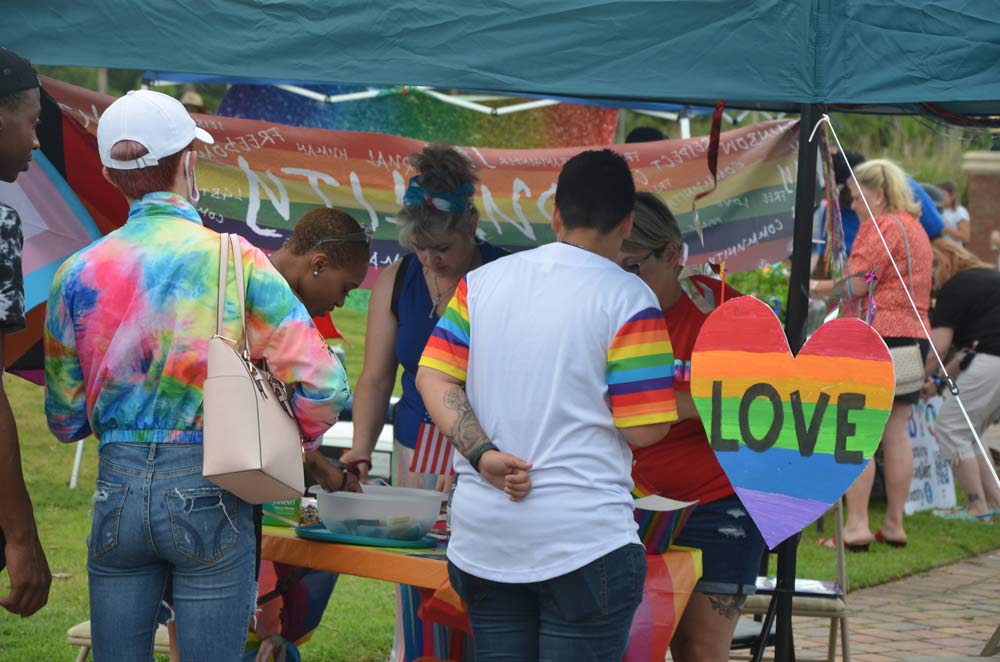 At least three Pride Month events have been cancelled in Florida cities amid a broadening legalization of government hostility. But Flagler Pride is forging ahead with its fourth annual Flagler Pride Fest, a three-day event that will include drag shows at a local pub, a family-focused day of activities and entertainment at Palm Coast's Central Park, and a vigil in commemoration of the victims of the Pulse massacre in 2016.
The event drew some 200 people in its inaugural year, hundreds more in 2021, and around 800 people last year, with expectations that it would keep growing. The event drew 16 vendors last year, and had to start turning away vendors this year after registering 27, including five food trucks. The eight-hour Central Park portion of the festival capped by the customary two-hour drag shows. Those drew big acts, big crowds and big cheers (though last year the drag show was rained out at the park, and also had to be moved indoors).




Not possible anymore. At least not at Central Park in the open. SB1438, the bill Gov. Ron DeSantis signed into law on May 17, eliminates a parent's right to take children of any age up to 18 to a drag performance, which the law inaccurately conflates with "sexually explicit adult performances."
The Saturday event in Town Center will have plenty of family-friendly activities, music, dance, comedy and vendors even without the customary drag shows. Vendors include crafts, local businesses, service organizations, advocacy organizations, including Equality Florida.
The festival was to run from noon to 8 p.m., with the last two hours devoted to the drag event. Instead, it'll be from 1 to 5 p.m., with the drag event tucked off to the night before, at Coquina Brewery in Flagler Beach, from 8 p.m. on. (See the full list of events below.)
"Whether or not we agree or disagree with the law, we still want to make sure that we don't put the organization or anyone involved at risk," Flagler Pride President Erica Rivera said. "We could have easily canceled like some of other pride events, but we decided that we wanted to work around it because we do care about the community. It is a bar after all. We don't usually get many families trying to come here."




Rivera is also the founder of the National Care Foundation, an advocacy organization for survivors of domestic and sexual violence. The foundation has been hosting Pride Nights at Coquina Brewery the second Friday of every month, where a variety of LGBTQ-friendly talents are showcased, from prom night to drag shows to karaoke to bingo. So it was a natural fit for an evening of drag and burlesque  performance, plus a drag king and a drag queen. Music and sound support is provided by Magik Audio, a lesbian-owned and operated company now based in Port Orange but with deep roots in Flagler. Some of the larger crowd at Pride Night have reached 100 people.
The Pulse Remembrance Vigil will still take place Sunday from 6 to 8 p.m. at Veterans Park in Flagler Beach.
The new law will not prevent people in drag from walking around the park on Saturday: it does not go as far as policing what people wear.
According to a legislative analysis of the new law, SB1438, an "adult live performance" is defined as "any show, exhibition, or other presentation that is performed in front of a live audience and in whole or in part, depicts or simulates nudity, sexual conduct, sexual excitement, specific sexual activities as those terms are defined in s. 847.001, F.S., lewd conduct, or the lewd exposure of prosthetic or imitation genitals or breasts." Most drag shows don't fit that definition, as even "prosthetic or imitation genitals or breasts" would not be lewdly exposed. But pubs and organizations that host drag shows are not taking chances. And in any case, when Rivera's National Care Foundation hosts Pride Nights at Coquina, the audience is restricted to those 18 and over anyway. That was true even before the new law.
As Mark Satta, an assistant professor of philosophy at Wayne State University, wrote, "These legislative efforts have been accompanied by inflammatory rhetoric – not grounded in fact – about the need to protect children from 'grooming' and sexually explicit performances. Such rhetoric reveals that those seeking to restrict drag performances sometimes don't understand what drag is or seeks to do."




Still, the new law has chilled Pride Month. St. Cloud, Port St. Lucie and Tampa al cancelled Pride events. Tampa Pride on the River was one of the state's largest when it was first held last year. Such laws have also mirrored other new laws that seem to take aim at minorities. The NAACP issued a formal travel advisory for Florida last month, warning that the state was "hostile to Black Americans" under DeSantis's leadership.
Even in Flagler, Eryn Harris, who founded Flagler Pride and is the vice president of the non-profit, and Rivera, have noticed a difference in the climate this year. It's not that they've experienced outright hate or hostility. That has generally been absent from Pride events, aside from the kind of derogatory comments the Flagler Pride booth at First Fridays in Flagler Beach has experienced from time to time. That's been more along the lines of ideological disagreements that political parties of one side or another also experience. It's not been aggressive hostility so much as opinionated contempt.
There will be three Flagler County Sheriff's deputies at Pride Fest, security hired by the festival, and required for events that draw sizeable crowds.
Where Harris and Rivera have noted a more subtle difference is in the hesitancy of supporters, sponsors and volunteers to come right out from the beginning and embrace the event, as they have in the past. This year many have been more cautious, as if not wanting to stand out right away, like the dancers who don't want to be alone on the dance floor. But once some trickled in, then others followed in larger numbers.




"Our board has had to carry a lot of the a lot of the efforts," Harris said. "Although we have these challenges with the political climate and the new laws, I think people are afraid to be involved. But I think once we announce that, hey, we're going to do this no matter what, then it's like people started to come out of the woodwork and say, okay, let's let's do this. So I think it just took a little encouragement knowing that we're still going to push forward for people to volunteer, whereas last year, there wasn't that worry." And despite the climate, the vendor list filled up.
But there are other, subtle but obvious snubs. Local governments typically devote the beginning of their council and commission meetings to proclamations supporting one cause or another, Women's History Month, Black History Month, this or that heritage, and so on. Local governments have not quite initiated Pride Month proclamations.
Flagler Beach is the embracing exception. Harris was working this week with Flagler Beach Mayor Suzie Johnston to meet a meeting deadline for a proclamation to be read at Thursday's City Commission meeting. Johnston will also be speaking at the vigil on Sunday. The Flagler Beach Fire Department will also be there, flying the Pride flag.
Rivera reached out to Palm Coast Mayor David Alfin, but through the local chamber organization, to read a proclamation at the Pride Event. She did not know if the message had been relayed to the mayor and had not heard back. Alfin said today that he had not been contacted, and was speaking at an event at the Portuguese Club on Saturday.
Harris came up with the idea of a Pride Fest in 2020 just three weeks before hosting it. "The initial idea, which is still the idea of Flagler Pride, is that there was something missing in the community, that there was really nothing in Flagler County to be offered for LGBT people," Harris said. "Whether it be for children, teens, young adults, adults, elderly, there's nothing. So even just having the one festival a year is something for people to come and enjoy, and do and then Flagler Pride ended up turning into multiple events."
Flagler Pride then joined forces with Rivera's Foundation-hosted events and the original organizer of the Pulse vigil to produce what is now Pride Fest. They also host monthly LGBTQ networking events in Flagler, a county that doesn't lack for networking events, but until recently had none friendly to LGBTQ businesses.
"This is like proof that collaborations work and you don't have to compete with other people in the community that have the same vision as you do," Rivera said.