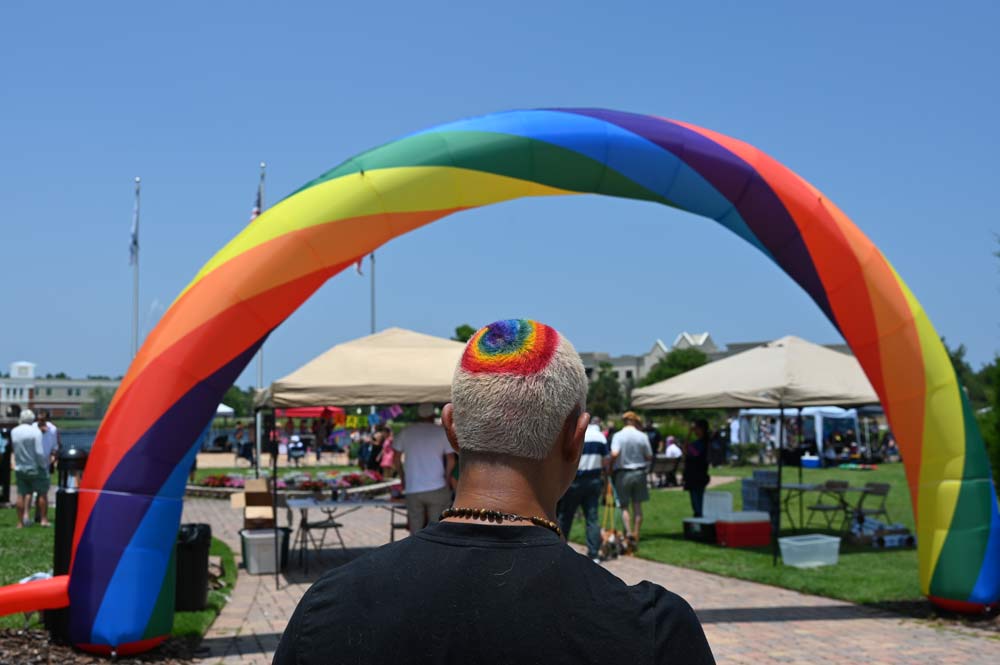 Bookended by an exuberant evening of drag the night before and Sunday evening's more solemn vigil in memory of the Pulse massacre victims, Flagler Pride today celebrated the local and regional LGBTQ community with song, dance, causes and bounties of divergence in the fourth annual Pride Festival in Palm Coast's Town Center, drawing some 750 people.
More were expected, and maybe it wouldn't be as many as last year's crowd of 800, but only because a new law had made previous years' capping highlight of th festival–the evening drag shows–illegal. Constitutionally suspect as it may be (it's facing a federal lawsuit) Flagler Pride organizers weren't going to be their own test case. Moving the event to Coquina Brewery in Flagler Beach seemed like a reasonable alternative.




Over 100 people turned up–and stayed, to the point that an extra show had to be added. "We started at around eight o'clock, and there were still people lingering by 11, 11:15," Erica Rivera, president of Flagler Pride, said. "We actually had a third act. That wasn't planned." Coquina had to stop serving food an our early due to the larger turnout.
"It went fantastic, especially with the political climate and some of the adversities that we've had to face that we've been talking about lately," Rivera said. "We did not see any sign of the support stopping anytime soon. So that was great."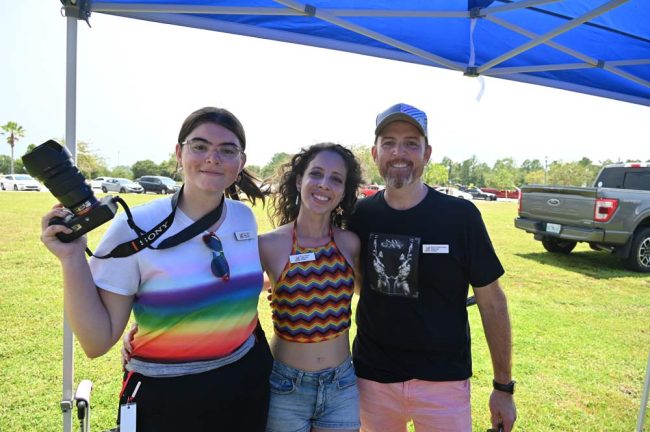 And here was Quinn Vickers, ambling in along Central Avenue as he was getting ready to go into the park, his rainbow crew its own little call and response with the enormous rainbow at the entrance of the park. Vickers was one of the drag acts the night before, performing as Azaria Kimberly Vallium.
"I love performing in Flagler because every time I perform, there's always so many people that just show the same amount of love that I would get at any other regular show," Vickers , 24, said. The act consisted of pop hits, songs from the 80s and new classics. Vickers grew up in Virginia Beach but has been in Palm Coast for the past four years.




"I love the smiles on people's faces when I walk out when I entertain the room," Vickers said. "It makes me feel happy and very joyous that we actually have something in our community that represents LGBT because when I was younger, there was nothing around that represented LGBT, and I was so confused. But now with representation, it's really important."
Awareness, and maybe a little touch of anxiety, is like smog hazing any conversation on the subject in Florida. "We're just going to keep fighting. We're not going to go away. Drag is not going to go away," Vickers said. "Transgender people are not going to go away. We just have to stay vigilant and keep fighting."
Inside the park, the smog lifted, displaced by rainbow-clad cheer and matter-of-fact claimants to any of the half dozen letters of the alphabet that ultimately spell Pride.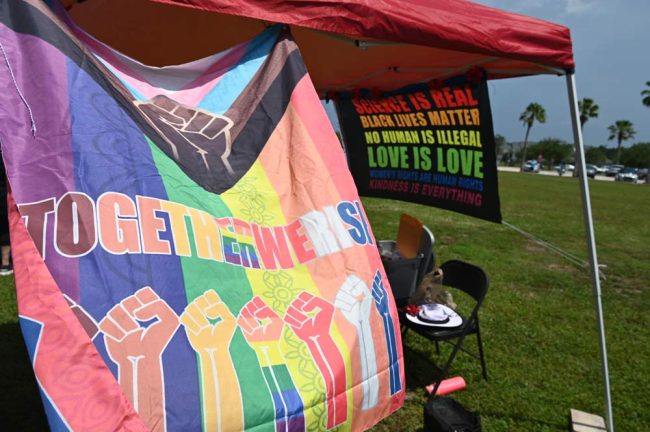 Cynthia Geiges, the creative designer behind Funky Fandom Fashion, had turned over all her wares to the day's occasion, with tote bags, earrings, keychains, drink holders, even a "DeSantis Survival Kit" (to each her-or-their-or-his own survivalism).
"I've been friends with Erica for a while and I really support the whole Pride movement, my daughter has friends, I'm in the theater," Geiges said. "We did this together as a joint kind of thing to kind of help support the community and support the movement."




What on earth was a dinosaur the size of two WNBA players doing there (sex undetermined)? It was that of Cris Rodriguez of Creaturiffic Party, one of Flagler's prominent Pride supporters who last made a big splash during the Flagler Youth Orchestra's performance of "Jurassic Park" last May, appearing there as the dinosaur that was now drawing its own clusters of selfie-snappers.
In a Pride celebration in a less Jurassic state visitors and children would have been able to get their selfies taken–as they had in previous years in Central Park–with the odd drag queen or drag king. You could see the effect of Florida's new law on drag performances chilling those opportunities. Event organizers have been asked a few times whether people in drag could just walk around the park. Of course they could: the law hasn't gone as far as policing garments away from stages yet.
But aside from chickens dressed in drag in one of the booths, no one was so daring today, casting a paradoxically conservative hue on the celebration, but not so conservative as to keep Sandy Alice from leading impromptu groups in song and hula hoops, particularly "Watermelon Sugar Pride," as Alice has at more than half a dozen Pride festivals up and down the East Coast. "I am one little person that loves to spread peace and love and kindness," Alice said.
One counterpoint walked among the crowd, handing out a brochure that looked suspiciously LGBTQ-friendly, its first page announcing "GOD IS LOVE" against a rainbow-themed background. But he and "New Beginning Baptist Church," the Palm Coast-based church sponsoring the brochure, were definitely not part of the Reconciling Ministries Network.
p



Quite the contrary: New Beginning's Steph Richards, who moved to Palm Coast a few months ago, says he lived his life as a transgender woman for six years then reverted. He now equates LGBTQ people with sexual immorality, which he places on the same plane as "adulterers, thieves, murderers," and compares himself to the Apostle Paul. "He was saying, you know, some of you guys were awful, awful people, but God called you out of that," Richards said, Citing some of the Apostle Paul's more rabid words in his epistle to Corinthians. "And so that's why I'm here today, I'm trying to call people out."
His deceptive brochure was finding itself in the hands of numerous people, which was the intention, but the fine print in Leviticus type wasn't going much further than that: At the Moms for Book Liberty booth, Courtney VandeBunte stamped her organization's logo smack on the center of the brochure she too, had been handed. The materials she weas handing out was getting a warmer reception.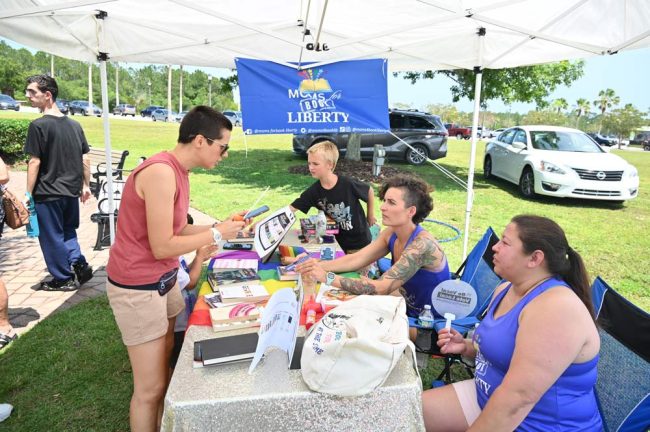 VandeBunte (as Courtney Green), a former school board candidate, and Jennifer Mendoza, who's sat on several school district committees reviewing book-ban attempts, now host the Moms for Book Liberty podcast. Their booth today displayed many of the books challenged or banned in Flagler schools this year (not a good year for the freedom to read in the county). As elsewhere in the country, many of the books challenged or banned have LGBTQ themes. VandeBunte and Mendoza quickly ran out of the 100 podcast bookmarks they were handing out, along with all 40 copies of The Nowhere Girls, one of the titles banned in schools.
Donna Sabatini was among those stopping by the Book Liberty booth. Sabatino was just back from Tallahassee, where she often travels to speak before legislators: she is the director of state policy advocacy for the Tampa-based AIDS Institute, a national non-profit.
"I started joining the AIDS Institute probably about five years ago and worked a lot in Tallahassee, fighting for the rights of people who maybe can't, and equal access to all, no matter what your background or what your sexual orientation or gender," Sabatino, a nurse, said. "It's been a really hard two years. Real hard two years, because the bills that we fight are hateful bills, and they're very difficult on people who have to try to conform, if you would, to make it in Florida these days. So we'll keep fighting. That's exactly what we do with the AIDS Institute, and we focus a lot on equitable health care and freedom for all."




At the other end of the row of tents was Flagler Open Arms Recovery Services (Flagler OARS), where Jill Maloney and Sheila McDonough were handing out free Narcan, the neutralizing agent used to revive people in overdose situations. "Half the people that have come to our table today have already used Narcan or know about Narcan or have some Narcan," McDonough said. "We're always set up all over the community with our tables and our certified peers. And it's interesting, it's good that the word is out there. Then we've also explained to the other half how to use it, when to use it, educating them and telling them about our free peer services and support groups, and they think that it's awesome."
The message, Maloney said, "is that we're all here for each other to support one another and to make a community impact, to be there for others and also to promote recovery." Maloney wore a pair of glasses rimmed with "here comes the sun," the Beatles lyrics. "Recovery is possible, and we are here to listen, to support and to advocate for those and to try to end the stigma in many realms."
Nearby was Equality Florida's tent, the leading statewide advocate for LGBTQ rights, where a familiar young fellow–he is, literally, in a fellowship with Equality Florida–popped out: Cameron Driggers, the Flagler Palm Coast High School student who's spearheaded his own efforts, including protests, on behalf of LGBTQ causes for several years. Equality Florida had signed up some 200 local volunteers who could be mobilized to counteract local activism against equal rights in schools or elsewhere.
"We're really trying to amp up our presence not only in the urban areas where it's easier to get up kind of a progressive majority but also in places like Flagler, where we're definitely outnumbered or out-funded by kind of the moms for liberty folks," Driggers said, citing the vigilante group that's led the battle against the freedom to read and won Gov. Ron DeSantis's ear. "The goal of the organization is to fight back, put up a good, solid effort in each of these areas outside of the major population areas. And that's what we're doing."
"People are here, they're excited, they're thanking us for putting this on in our community," Garrett Marinconz, one of the Flagler Pride board members, said. "People come out because they see that we're going maybe in the wrong direction. That's when they say okay, we have to step up. We have to raise our voices and we have to be there."
"Everyone is grateful that we didn't cancel. That is a common theme today," Rivera said. Some people from communities that cancelled their Pride event–like visitors from Winter Garden–chose to come to Palm Coast, along with a food truck from St. Petersburg, Eryn Harris, founder of Flagler Pride, said.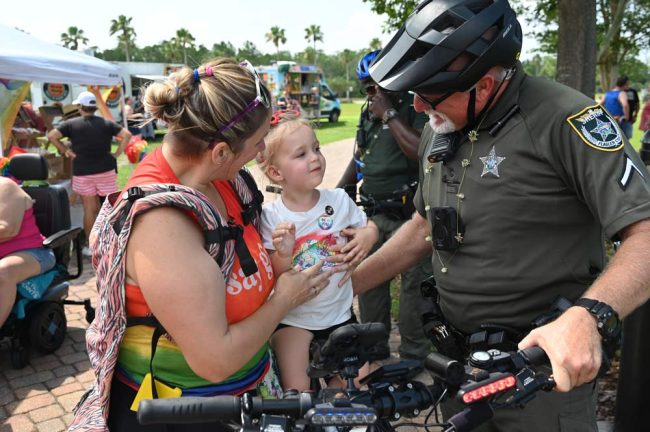 "Just knowing that only within one hour, we're already up to almost 500 people and everyone that's come up and talked to us has been completely supportive," Harris said. "The adversity isn't the greatest but in my mind, that also tells me we're getting the word out there and that we're known."
Ask Leah Lynn, a Palm Coast resident for eight years, who'd brought her 8 and 7-year-old girls to the event. "If we're influencing our kids, we should be influencing them to be open minded and kind and that is what I get from this group of people," Lynn said.
Past the midpoint of the festival outside the park this afternoon, there were two different scenes. Opposite the entrance, here was the lone protester of the day, Dave Richards, who said he was vacationing here for two weeks, from Ohio, "got bored with the beach," heard about the Pride event from his son, was handed a canary-yellow on black sign that reads "For whosoever shall call upon the name of the Lord shall be saved," and held it up from across the street hour after hour.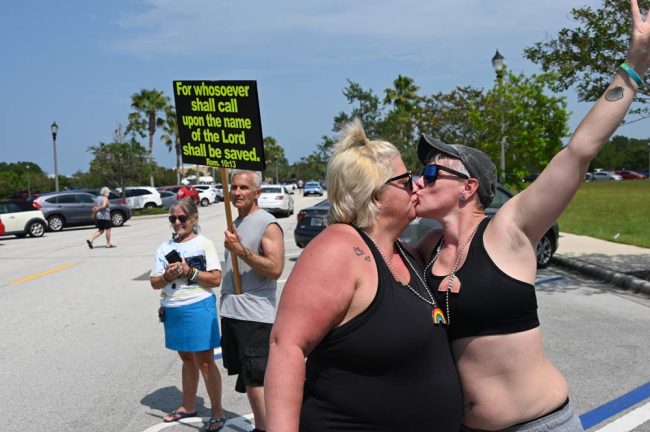 Heidi and Jamie Bell, a wife-and-wife couple from Ormond Beach, decided to park next to him, play rap, dance, wave their pride flag, and occasionally kiss. ""I'm retired army for 21 years," Heidi said, "we moved here to be happy and free."
Further down the street, about 35 yards east, Gracie, 13, and Lucie, 10, had just left the festival with their Mom, stopping by the Flagler County Mental Health and Wellness Advocates' big van with chalkboards for sidings. Advocates had left big chunks of chalk for people to write whatever messages they wished on the sides. By then the panels had gotten pretty crowded. The girls found a little corner for their words. Gracie wrote "Happy Pride!" Lucie wrote "Love is Love," with three hearts.
It was as simple as that.