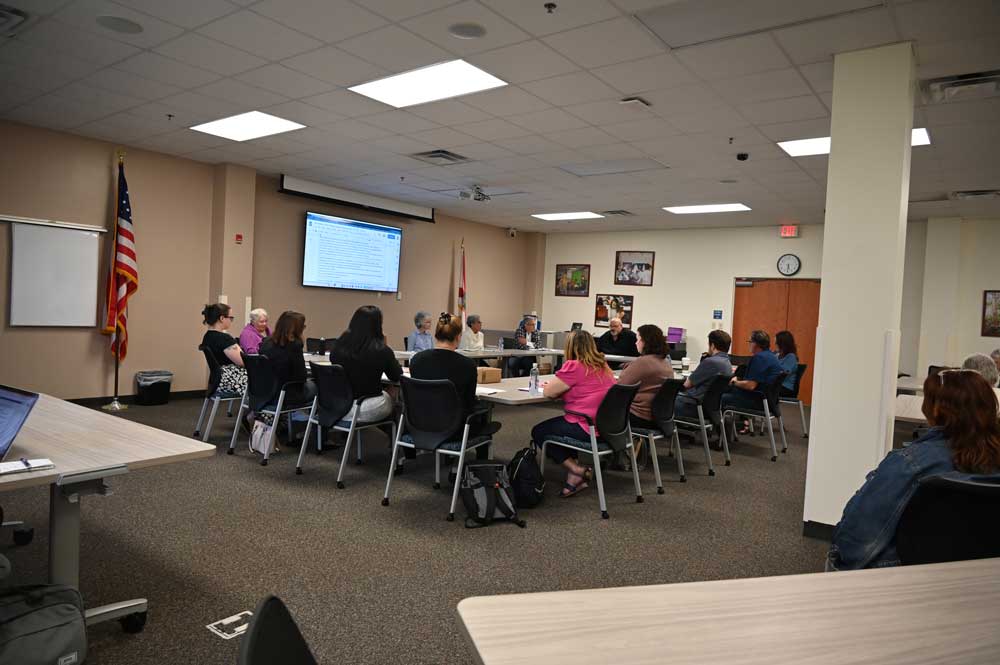 A 14-member district appeals committee voted unanimously this evening to recommend keeping Amy Reed's The Nowhere Girls, a book deconstructing high school rape culture, on the shelves at Flagler Palm Coast High School and Matanzas High School. It's now up to Superintendent Cathy Mittlestadt to ratify the decision or go against it and potentially ban the book.
This evening, the book's fate was never in question from the moment committee members started their hour-long discussion. It only got praise and plaudits for addressing a serious, grave issue common to high school culture in a way teens can relate to–and do something about: the Nowhere Girls of the title are a group of three misfits who improbably start a movement that unravels their school's and community's misogynistic culture, where jocks are heroes who can do no wrong and girls are little more than their playthings. (See: "Challenged in Flagler Schools: Amy Reed's The Nowhere Girls, a Review and Recommendation.")
Shannon Rambow, one of the individuals who sought to ban the book and filed the challenge, told Lashakia Moore, the assistant superintendent who facilitated the panel discussion, that she was appealing the committee's decision to the school board even before the meeting had started because. Rambow claimed to Moore that she knew what the result would be. In effect, Rambow has appealed the superintendent's decision before it's been made, making the appeal likely invalid, at least for now.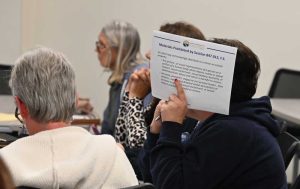 Rambow, who was at today's appeals committee meeting, does not appear to respect the process, elaborate and costly though it's been to address mostly hers and two other people's challenges. She was heard calling last week's district appeals committee meeting a "shit show" as she walked out of the room, a curious irony given her claim that she is challenging the books due to their vulgarity.Rambow has also appealed to the school board the superintendent's decision to keep Patricia McCormick's Sold on the shelves. (See: "Citing 'Reason Above Prejudice,' Superintendent Upholds Recommendation to Keep Sold on School Shelves.")
The committee included faculty members–teachers, media specialists, administrators–and several residents, either parents with children in school or community members without school-age children. The district formed the committee intentionally to reflect as much of a diversity of points of view as possible. The individuals challenging the book were not eligible to serve.




The discussion was lively and always civil, reflecting broadly varied points of view, in contrast with the de-contextualized and shrill, politicized and always theatrical appearances by would-be book-banners before school boards as the movement to censor picked up momentum starting two years ago.
There were a few cautions about The Nowhere Girls.
"It needs content and trigger warnings, it does, even as a self-selected book," an English teacher who is a member of the committee said.
"I would think that if someone were to check this out, the adult would have that kind of check in conversation," a media specialist said. "We don't check books out in the media center robotically. There is a human interaction every time check out.
But when it came to the book's sexually suggestive content–there are a few such passages–the committee members were clear: prurience, or "arousal," was not the intent. It could not be deemed pornographic or harmful to minors, and therefore did not meet state law's criteria for banning.
The 14-0 vote extends a streak of more than half a dozen books that Flagler school committees at various levels have reviewed and opted to keep after the titles were challenged in the last few months.




Committees from each high school had unanimously voted to keep The Nowhere Girls on their shelves as a self-selection for students who wish to read it. The individuals who are challenging it appealed the school-level decision to the district committee. The three would-be banners in Flagler have filed at least 44 challenges to 22 titles since last summer, relying on a national website that caters to groups like "moms for liberty" to cut and paste their challenges from existing templates. The cut-and-pasting suggests that none of the challengers actually read any of the books they're seeking to ban. On the other hand, sitting through the meeting likely gave them an analytical, easy-to-understand summary.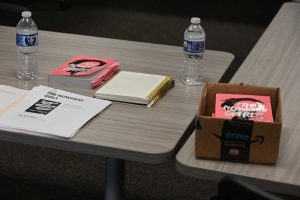 When Moore asked what the purpose of Reed's novel was, the responses came quickly and sharply:"Empowering women to stand up for themselves and for each other."
"When people band together they're stronger and they make a difference."
"I think the material exposes the failure of school, police, general public, so that a person who is going through a trauma like this may have friends and people who support them, but the general establishment does not support and is not open enough for a person to really come forward and feel that they're being cared for."
"It outrages me that we are still dealing with this and is actually even worse than it was before. And I think part of that is social media."
"There is a bias toward a woman's voice, a woman's voice is simply not being heard."
The plot of The Nowhere Girls hinges in large part on the consequences of a girl's fate after she was gang-raped by the high school jocks: she was not believed, and was hounded out of the school and town.
Committee members did not dispute that the book could be difficult to read–not for its language, which is very accessible, but for the candor of its themes, the rawness of the violence and psychological traumas girls endure.




"It was not meant to be a comfortable read, and that is part of the power of the book," a media specialist said. "I cringed many times but that's because I recognize this in the history of the women I know, my students and yeah, it was uncomfortable," but that was the power of the book.
The 2017 novel features a blog written by one of the three "offenders," a former high school student who led the gang that raped girls for points. The blog is written in the most vulgar language, reflecting the character's debased mindset. The media specialist said she'd read identical language in actual blogs.
"Reading those blog excerpts and stuff was really, really tough," one of the men on the committee said. "Like how do you think that way? I have granddaughters. I have daughters. And I'm like, I know there's guys out there that will do that, and that's horrible." The book, he said, would help with awareness.
"This book challenges those self perceived good guys to not just be not sexist, but to be anti sexist," an English teacher at Matanzas High School said, "because there's no such thing as not sexist. It shouldn't be sexist or not sexist. it needs to be sexist or anti-sexist, otherwise you're just a silent voice, and silence always helps the oppressor."
The committee made Moore's job easy: she almost literally only had to ask the necessary questions, fill in blanks, tally the votes and convey the results to Superintendent Cathy Mittlestadt, who will either to ratify the recommendation or go against it: it's her decision.