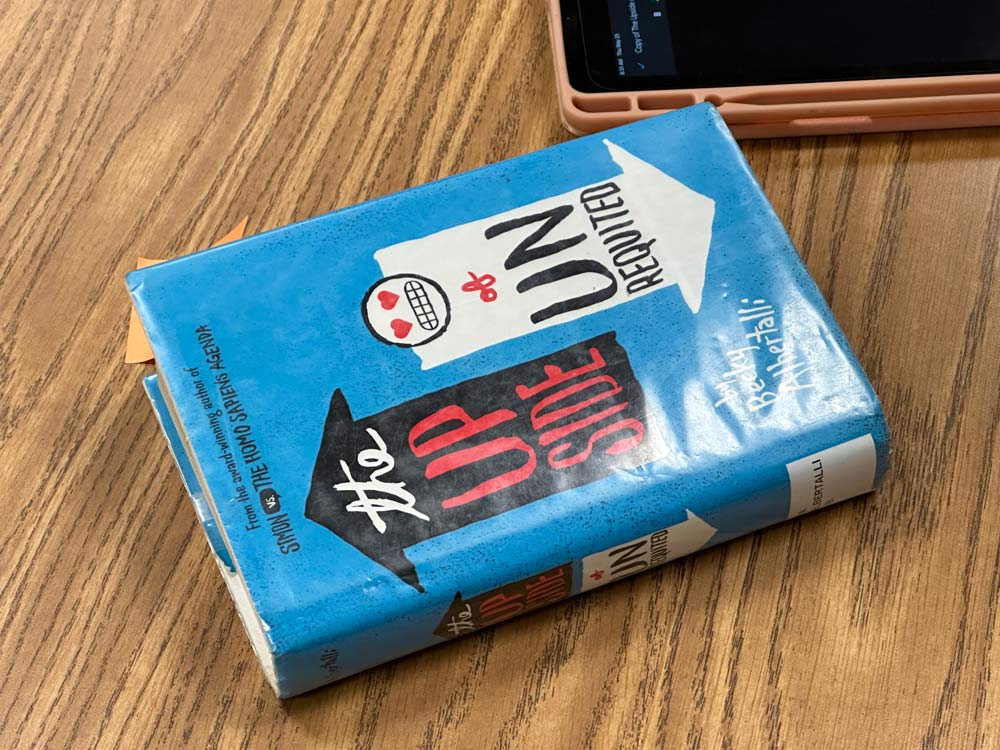 A Flagler Palm Coast High School committee of faculty and residents voted 7-0 to keep Becky Albertalli's The Upside of Unrequited on high school library shelves, rejecting a challenge by two individuals who wanted the title removed. 
The vote on Thursday at the end of a rather brief, 35-minute meeting. The committee had trouble matching listed objections with actual passages of explicit content or depictions glorifying drinking or drugs, strongly suggesting of those filing the challenges had not read the book. 




It was also the last book-challenge committee meeting of the year. It may have ended on a high note for book advocates. But the year as a whole was not especially bracing for the freedom to read in Flagler County schools. 
Just three individuals–Cheryl Lackey, Shannon Rambow and Terri McDonald–filed over 40 challenges to 22 titles last summer. They succeeded in having 12 titles either "weeded" or banned outright, not including All Boys Aren't Blue, which the superintendent banned the previous year, overriding a committee recommendation to keep it. One of the 22 titles they challenged was not in circulation. In effect, the challengers achieved their aim with 57 percent of the titles that had been in circulation last year. 
"Weeding" is the practice among librarians to remove books that are either outdated, have little reader interest or have become damaged. While it is a common and necessary practice for any library, it is also clear, from the list of books taken off shelves this year, that weeding has in several instances been used as a pretext to circumvent the appearance of a ban, though the end result is the same: had the books not been on the challenge list, it is more than likely that they would have remained accessible to students. 
In the words of one of the seven committee members at FPC, The Upside of Unrequited "is about an insecure, teenage girl who's trying to figure out where she fits in in relationships. She's insecure about her weight. There's some familiar themes there with her parents and her sister. It's about relationships and getting through adolescence." 




The novel is told through the eyes of a 17-year-old girl who, like her sister, was conceived in a test tube and raised by two moms. The book, the committee member said, "normalizes what other people may not see as normal,  that people are more alike than they are different. And it doesn't matter that you have two moms or where your fertilized egg came from. A family is a family." 
The book got plaudits for its "modern portrayals of Jewish characters," for dealing constructively with the consequences of underage drinking and safe decision-making, for how the theme of virginity was "painted in a positive light," the way Molly, the protagonist, ultimately accepts her weight. 
"I think the topic of body image is awesome, especially amongst high schoolers," a committee member said. 
"Imagine how teenagers now, reading this now, versus like when we were teenagers," another said. "We didn't have books like this and we just kind of left our questions in our heads and then just maybe made mistakes along the way. Whereas you can kind of learn through reading instead of learning through making those mistakes yourself."
Published in 2017, The Upside of Unrequited was challenged on allegations of containing "explicit sexual nudity and sexual activities, references to sexuality, underage drinking and excessive profanity." 




The challenge was inaccurate. Committee members struggled to find any instance of explicit depictions of sexual activity (there are none, beside the suggestion of a possibly erect but invisible penis). All references to drinking were in the content of almost heavy-handed moral lessons. There is apple profanity (the word "fuck" and its variations appears at least 72 times, the word "shit" 47 times), but that's commonly not an objection by challengers in other books that don't also touch same-sex themes and the like. 
The challenge to The Upside of Unrequited included several page numbers, all of them plagiarized from a national website the persons challenging the book have been using to back up their challenge. The committee went through the challenged pages one by one, with some difficulty. 
"What I see on here that could be considered challengeable, 'my blunt rolling abilities,'" one said. "Which is obviously sarcastic. She doesn't have blunt rolling abilities."
Pages were flagged for the word "pansexual," again inexplicably. Then came page 60. Committee members searched, wondering for a while what was objectionable, until a committee member said: "I think it's the 'big hairless vagina in my face.'" 
In the story, Molly does not, in fact, have a big hairless vagina in her face. She is hearing a conversation between her sister and Olivia, another girl, whose boyfriend hinted that she might want to have a Brazilian wax. "Pretty sure he's trying to police your vagina," Molly's sister tells Olivia. Molly herself has been absent-mindedly flipping through a magazine and wondering what motivates boys to police girls' bodies. 
"Of course, the magazine I'm holding makes me think so," Molly thinks to herself. "Not that there's a big hairless vagina in my face. But it's one of those models with perfect shadowy cleavage. How do they get their cleavage to do that? I'm pretty sure I could drive a boat through my boobs, they're so far apart. I guess it's just this feeling that my body is secretly all wrong. Which means any guy who assumes I'm normal is going to flip his shit if we get to the point of nakedness."
It's an instructive passage about the endless neuroses of self-consciousness society imposes on women and girls, overweight women and girls especially, as Molly is. But whoever wrote the objection to the book only saw hairless vagina, out of its context. 




"But again, it's not a depiction at all," a committee member says. 
"No, there is no big hairless vagina." 
And onto the next flagged page: the occasional obscenity, the word "bisexual," the word "orgy," in a context where there was no such thing, then some kissing. 
"That's the boner page," a committee member said jokingly, a reference to this line as Molly and her eventual boyfriend kiss for the first time: "And there's this sudden, soft pressure against my jeans. I think he's hard." The kissing stops then. 
That was about it as far as the objectionable pages. The committee then analyzed the book as a whole, finding it to have value as a resource for students in many ways. 
"I would want my teen to read this," a committee member said, in the context of the book's content about underage drinking, and mixing alcohol with prescription drugs. The 7-0 vote was next. 
And that was it for book challenges this year in Flagler County. A district spokesperson said this morning that there are no new challenges awaiting review. 
A March report by the American Library Association found that book challenges in 2022 nearly doubled from 2021, to a record 1,269 demands to censor 2,571 different titles. "The vast majority were written by or about members of the LGBTQIA+ community and people of color," the association found. That was also true in Flagler County. 
A report by PEN America, the century-old nonprofit that defends free expression through literature, found that the vast majority of bans are driven by a very small minority of activist organizations that do not necessarily reflect community sentiment. In Flagler County, the three individuals challenging books are from a vigilante group called "moms for liberty" that spread across the country during the pandemic, and that in Florida gained Gov. Ron DeSantis's support. 
Book bans in Florida have been especially frequent, including, last week, the removal of the book containing the poem "The Hill We Climb" from a school library area accessible to elementary-age students. The poem is by Amanda Gorman, who was 22 when she read it at Joe Biden's inaugural in 2021. It includes the lines, 
We've seen a force that would shatter our nation rather than share it,
Would destroy our country if it meant delaying democracy.
And this effort very nearly succeeded.
But while democracy can be periodically delayed,
It can never be permanently defeated.