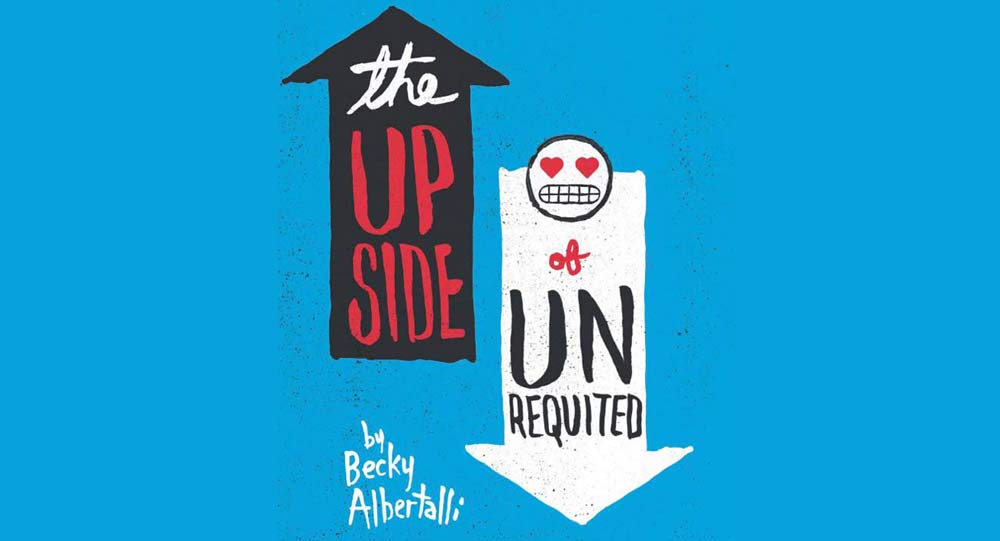 Becky Albertalli's "The Upside of Unrequited" (HarperCollins, 2017), is among the 22 books that a trio of individuals have sought to ban from high school library shelves his year. This title in particular is being challenged by Terri McDonald and Cheryl Lackey. Assuming the scheduled meeting isn't cancelled –the meetings of two previous books under challenge were cancelled, and the books removed without review—the Flagler Palm Coast High School committee of faculty and community members meets at 8:30 a.m. Thursday at FPC to decide whether to retain or ban "The Upside of Unrequited." The meeting is open to the public but not to public participation. The following review by FlaglerLive Editor Pierre Tristam is presented as a guide.

The book-burning brigades are raking the bottom of their barrel with Becky Albertalli's The Upside of Unrequited, a 2017 soap opera of a novel about a self-absorbed, self-described "pretty and fat" 17-year-old girl on her 27th crush without so much as a kiss yet.




This is an awful book in so many ways. "Shitty," really, to use one of the endless stream of low-grade profanities Albertalli seems to think make her insufferably bland characters more hip. (It does not.) But objectionable? Controversial?  Worth considering on the usual claims of "pornography" and "explicit sexual nudity and sexual activities," as two of our three local Mrs. Comstocks challenging this book claim in their index of wails plagiarized from book-burners' version of Infowars? I don't see it.
The book goes on for almost 350 painful pages about Molly Peskin-Suso's safari for a kiss, with a few sparse references to drinking and vague, very vague, dialogue about sex and orgasms. But that's it. There's not a single scene of explicit sex, the supreme eroticism of kissing aside (Amory's revulsion at kissing Myra in This Side of Paradise notwithstanding).
Thankfully book-burners don't get French-kissing, so it never makes it on any of their lists. But their computer-bot method mistakes a joking, hyperbolic reference to an "orgy" as the real thing because it also contains the word "groping" (to which their MAGA-hatted cerebral cavities somehow never object when "groping" transmogrifies into a pussy-grabbing presidential predator).  They also go the usual bonkers at the word masturbate, though unlike that dildo-facilitated how-to scene in What Girls Are Made Of (which rivals Salman Rushdie's take on same in The Moor's Last Sigh, and yes, I keep a list), The Upside of Unrequited lives up to its title even in matters of self-love.
So the school committee that will take up this book on Thursday to decide whether it's ban-worthy–assuming the committee does so: those committee meetings are now themselves on the endangered list–will be doing a lot of head-scratching and not a little eye-rolling at the burners' claims, even about lines like this: "And there's this sudden, soft pressure against my jeans. I think he's hard." That makes one of us.




Of course, there is a reason the burners want this book banned. It has nothing to do with references to booze or non-existent sex scenes, but with something left unspoken: the book handles lesbian and bi-sexual relationships as books have been handling heterosexual relationships since the bison-humping days of the Lascaux and Chauvet caves. Which is to say: as a matter-of-fact norm not worth remarking about, kind of like Walter Cronkite saying that's the way it is about Molly and her sister's two lesbian moms.  It's the book's biggest (its only) strength: a post-obsessive approach to sexual orientation as the fluid and ordinary thing it is. Every book should be so written.
Unfortunately for the burners, aside from a kiss at a wedding between Molly's moms, there's no lesbian scenes they can pound their crampons into. They go at it circuitously, hoping to get at their ban without having to come out and say lesbians should not be normalize. Otherwise it'd be like saying a book should be banned because it features Black people acting like normal, full-fledged citizens of the United States in contemporary metro Washington D.C. They want books banned for that very reason, but they usually clothe their arguments in white sheets embroidered in false morals.)
Freed from the sub-literate reading of the burners, The Upside of Unrequited is the story of Molly and her sister Cassie ("sperm-donor babies"), daughters of two moms: Patty and Nadine. Cassie is thin, pretty and bi-sexual.
"So, here's us in a nutshell," goes one of the rare, socially-observant passages early in the book. "Patty used a sperm donor to conceive Cassie and me. Nadine used the same donor two years ago for Xavier. Strangers have a really hard time wrapping their minds around that. There's this subset of people who like to inform me that Xavier's my half brother, not my real brother. They're the same people who tell me Abby's not really my cousin. Nadine's not really my mother. I'm pretty sure people wouldn't question any of this if Nadine, Abby, and Xavier were white."
Just as Molly having panic attacks and being on Zoloft for four years is dropped in there like one of many untreated threads, the unusual dynamic of Molly's family is flashed and forgotten, or buried under the weight of Molly's self-absorption. The only dynamics that matter to her refer everything, everything, back to her, even when, also early in the book, the Supreme Court legalizes gay marriage and her parents announce they can finally get married. Molly recognizes the beauty of the moment but she can't help making one of the great milestones in American and world history about her: she revels in the joys she sees in couples everywhere, same-sex couples especially, but "sometimes I feel like I'm the last alone person." That's what this girl thought about that wonderful day in 2015?




Her sister Cassie has had plenty of boyfriends. Molly has not. Cassie falls for Mina, a Korean-American girl she meets through Molly (who met Mina in a bathroom: the scatological fixation of these young adult books is beyond me). Molly's quest continues.
The entire book is Molly whining about never having had a boyfriend ("I am a prolific crusher"), Molly desperate for a boyfriend, Molly not wanting to be desperate to have a boyfriend, Molly seeing everyone else with a boy or girlfriend, Molly getting upset about her sister using her so she can have fun with her girlfriend, Molly falling for the geeky and equally bland Reid, the boy who reads Tolkien and works in his family's very cool store in suburban Washington, where the whole thing is set.
Molly thinks she's funny. She's not. The humor in this book is grafted and forced, not organic. We get lines like "once you've shared a uterus, there's no such thing as a secret" (for a high school senior it's odd that she's never heard of  Goneril, Regan, and Cordelia), or puns like "Mina of the labia." The characters are uninteresting, starting with Molly. No wonder she's had trouble landing a boyfriend. She's a bore. The story is uninteresting, which is a feat in itself: how to you set a novel in contemporary Washington and make it dull?
These kids are rich–Mina drives a Lexus–and seem, for seemingly intelligent high school kids growing up in the empire's capital, amazingly indifferent, uninterested and clueless about their world beyond texting, dating, gaming and partying. The Nowhere Girls would be ashamed of these morons.
Molly's self-consciousness about her weight could have been a rich exploration of how one of the enduring prejudices of our society traumatizes women and girls, and at times it is, as in this brief encounter with a boy: "I was suddenly frozen and electrically self-conscious. My thighs felt enormous, and I was acutely aware of the waistband of my shorts digging into the fat on my stomach. It occurred to me that Sean—of course I already knew his name—wouldn't be talking to me if he knew about the shorts and the fat and the waistband." Or: "Under my shirt, there's no flat stomach, and there are no cute little boobs, and there's no hazy lighting. It's just a lot of me. Way too much of me."
There are a few shattering moments like that. But Albertalli keeps it all at the surface, and I'm not sure how Molly isn't herself seeing boys through the exact same shallow prism they may see her: "There's just something about them that looks completely right. Like they're in the right bodies. Max is vaguely muscular, in an understated way, and his anime-boy bangs are actually kind of nice today. Maybe. And Will basically looks like he was born inside an American Apparel."




But this isn't a thought-out so much as a filled-in book, with its entire premise subsumed to its central flaw: Molly and her fatness are not validated by Molly, but by a boy. It takes us those nearly 350 pages to get there.  The question isn't whether it should be banned or not, but whether it's worth the read. A ban would give it too much credit. 

The following questions in bold are reproduced here exactly as they appear on the Flagler County school district's school-based Review Questionnaire for media advisory committees taking up book challenges–or attempts to ban books–at the school level. Committees fill in their answers as they reach a decision on each challenged book, after a lengthy committee discussion. The answers below are provided as an amendment to the preceding review, in the more focused context of the district's question, and are of course only the reviewer's own–in this case, FlaglerLive Editor Pierre Tristam. Committees may reach vastly different conclusions. Those will be appended below, once they are issued.

Title: The Upside of Unrequited.
Author or editor: Becky Albertalli.
Publisher: Blazer + Bray, an imprint of HarperCollins.
Basis of objection: pornography, explicit sex, drinking, drugs.
1. What is the purpose, theme or message of the material?
Molly, the protagonist, is fat. She has crushes. She is desperate for a boyfriend. The central message of the book, while reflecting a prevailing reality, is abjectly self-abasing: that a girl is validated by her boyfriend, or by her relationship. THat's a pretty sad message to reinforce. The parallel, less explicit message is more effective: non-binary sexual orientation is as normal as any.
2. Does the material support and/or enrich the curriculum?
Not at all, except to the extent that it compels respect for people of all races and sexual orientations.
3. Does the material stimulate growth in factual knowledge, literary appreciation, aesthetic values, and/or ethical values?
No. The book is poorly written. The language is crass. The values it projects are shallow, except with regard to LGBTQ attitudes. THat's where it shines.




4. Does the material enable students to make intelligent judgments in their daily lives?
There are a few wise choices about not drinking, good advice on birth control, not drinking after driving, that sort of thing. But it's very basic stuff. Otherwise, the book does not give students a healthy approach to teen relationships, though John Updike would have approved, because the presumption that relationships are primarily an animal competition prevails.
5. Does the title offer an opportunity to understand more of the human condition?
In base ways, yes: relationships as shallow ends.
6. Does the material offer an opportunity to better understand an appreciate the aspirations, achievements and history of diverse groups of people?
For the LGBTQ community, yes. Beyond that, it's just a soap opera.
CONTENT
1. Is the content timely and/or relevant?
No, with the exception that it places the Supreme Court's decision to legalize gay marriage in a broader context.
2. Is the subject matter of importance to the students served?
Relationships are important. The way the author treats the subject is not enriching or thoughtful.
3. Is the writing of high quality?
The writing is awful. The book could be used as punishment-reading for students in in-school detention.
4. Does the material have readability and popular appeal?
Unfortunately, yes, in the sense that tabloid stuff sells.
5. Does the material come from a reputable publisher/producer?
Yes. HarperCollins is using titles like these to make money so it can subsidize its worthier loss leaders.




6. I presented as factual, is the content accurate?
There are no facts in this novel, no attempts at presenting some social realism in any form to readers' benefit. The book doesn't stray beyond Molly's navel-gazing.
7. If the text is informational, is the text comprehensive?
The page numbers are accurately sequential.
APPROPRIATENESS
1. Does the material take in consideration the students' varied interests, abilities and/or maturity levels?
The book appeals to shallow dimwits who think they should be defined by their relationship, their clothes and their playlist. It should be a hit in vast swaths of local high schools.
2. Does the material help provide any of the following:

A resource that represents a level of difficulty accessible to readers at the school? No.
Diversity of appeal? Vaguely, except in connection with its very good portrayal of LGBTQ themes.
Representation of diverse points of view? The characters would have to have a point of view. They do not.
3. Does the material help to provide representation for various religious, ethnic, and/or cultural groups and the contribution of these groups to American heritage?
Barely.




4. Does this material provide representation to students based on race, color, religion, sex, gender, age, marital status, sexual orientation, disability, political or religious beliefs, national or ethnic origin, or genetic information?
A few races are incidentally represented. The author doesn't make a big deal of it, which is itself the value of the approach. But it's a distant frame of a vast wasteland of a canvas.
5. In a Yes or No answer only, do you feel the material has a purpose for a school library collection?
Yes.
Comments specific to the objection: The Upside of Unrequited's characters may be shallow, boring morons, but those challenging the book make the characters and their stories seem Shakespearean in comparison. The objections are not grounded in truth. Not remotely so.
Additional comments: It's a terrible book. But the only thing more idiotic than Molly's whining would be banning it.
Recommendation (retain, remove, other): Retain in middle and high school.