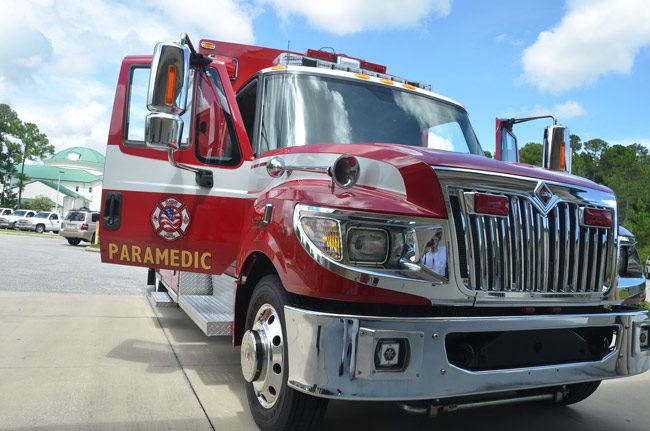 Flagler County Fire Rescue is sending two rescues–or ambulances–and crews totaling six paramedics, and the Flagler County Sheriff's Office is sending 10 deputies and a sergeant to Gainesville as part of the public safety emergency Gov. Rick Scott declared in preparation for Thursday's speech at the University of Florida featuring Richard Spencer, a white supremacist.
Scott declared the emergency earlier this week in an attempt to prevent the sort of out-of-control situation that developed in Charlottesville in August when white supremacists organized a march there. Spencer was among the organizers of the march and a featured speaker at the rally, texting a reporter well ahead of time to tip him off about what would become one of the more sinister scenes the night of Aug. 11: a torch-lit march by white nationalists chanting such things as "Jews will not replace us."
The march led to clashes between supremacists and counter-protesters and killing of one of the counter-protesters when Heather Heyer, a 32-year-old Charlottesville resident, was killed after a driver rammed the counter-protesters. Two state troopers, Lt. H. Jay Cullen, 48, and Berke M.M. Bates, almost 41, were also killed when the surveillance helicopter they were flying in crashed.
In Gainesville, Sheriff Sadie Darnell is not taking chances, calling in mutual-aid help and welcoming the governor's declaration.
"Before he even declared an emergency we were planning on going out there because Alachua County asked for mutual aid," Flagler County Fire Chief Don Petito said. Now that it is a declared emergency, the deployment will be reimbursed. "If a private organization causes this kind of situation where they have to bring in more cops and more EMS personnel, they have to pay for that, so now that they made the emergency it's going to be easier to charge them for it," Petito said, suggesting that either the organizers of Spencer's speech or the university will be billed through Alachua.
"There'll be three people on each ambulance because they'll have to function independently," Petito said. The Flagler crews are part of a strike team of seven rescues from Flagler, St. Johns and Clay County, totaling 21 people. The response is organized through a statewide emergency response plan and its coordinators. Petito is Flagler's coordinator.
Rescues 92, from the station at the Flagler County Airport, and Rescue 22, from the station on Clubhouse Drive in Palm Coast, will be heading to Gainesville. The ambulances will be replaced during the deployments with back-up rigs, with no drop in staffing. Those deployed volunteered to do so (they're getting overtime pay).
"It's heartwarming they want to do it, but I know we can do it with the training that these guys have," Petito said. "We get called on a lot of different instances to go help with different things." Two firefighters just returned from a deployment fighting forest fires in the west.
The initial deployment is for 12 hours. If serious issues develop, the paramedics can be held over for three days.
It's a similar story from the Sheriff's Office.
"All the Florida sheriffs, we all have a mutual aid agreement and when a sheriff calls needing assistance, we send what we can," Sheriff Rick Staly said. "So I worked with my staff. We felt we could send 10 deputies and a supervisor to assist Alachua county, and so that's what we're doing. Alachua county is handling the hotels, meals, and there is costs. Ultimately we'll be reimbursed the cost" as far as personnel expenses are concerned.
The Sheriff's Office has an emergency response team. Volunteers from that team were sought and will be sent Wednesday. "Our hope is that it's a one-day event and everything goes quiet and smooth in Alachua County, and they come home Thursday after the event at the University of Florida," Staly said. "If they need to stay longer they're prepared to do that." Staffing in Flagler will not change because of the deployment.
"It meas the sheriffs of Florida recognized the Flagler County Sheriff's Office being a capable, well prepared law enforcement agency," Staly said. "Any time your peers recognize that, it's an honor. We worked hard in the last ten months to build a strong reputation and relationships across Florida with the other law enforcement agencies." He said other agencies send help to Flagler all the time, whether it's the St. Johns County Sheriff's bomb or hazmat squads or Volusia County's emergency helicopter. Flagler is never billed. "It's just a partnership that we have, so to some degree this is us paying back our brother and sister agencies that help us," the sheriff said.
The Florida National Guard is also being placed on stand-by as part of the emergency.
The commissioner of the Florida Department of Law Enforcement said today authorities are prepared to handle people who commit or encourage violence, according to the News Service of Florida.
"I believe in the First Amendment rights that people have. I do expect people to be safe. I don't condone any violence," Scott said Tuesday. "I'm going to continue to work with law enforcement to make sure all Floridians are safe."
More animated, Attorney General Pam Bondi said such precautions are needed for Spencer and his National Policy Institute.
"This guy is out there espousing violence and hatred and anger," Bondi said. "If we know that he is going to be there doing that, it is our duty as a state, and I commend the governor for having the resources available on the front end before something happens."
"Those who show up to exercise their constitutional rights under the First Amendment, they will have no issues," Florida Department of Law Enforcement Commissioner Rick Swearingen said Tuesday in an appearance before the Florida Cabinet. "Those who show up to engage in or encourage violence, they are going to have problems. We will be prepared to deal with those folks."
"Obviously our hope is that nothing occurs and that Gainesville and Florida remain quiet," Staly said. "It's better to be prepared but if you need the resources you need them now, not hours later when things get out of control."