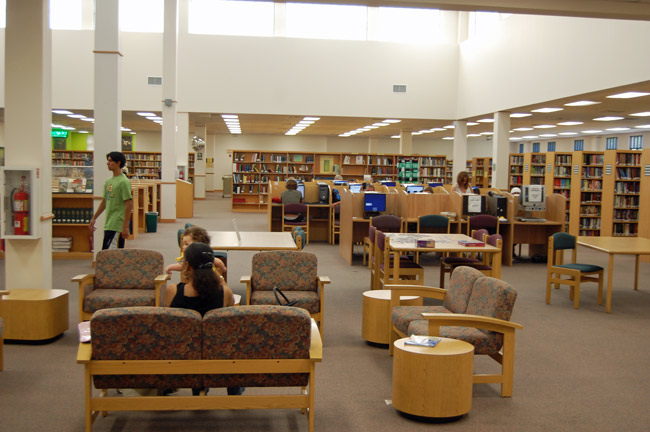 When Jim Ulsamer, who chairs the Flagler County Library Board of Trustees, appears before the county commission this evening, he'll deliver an annual report unlike any he's delivered before. It'll be sullen and frustrated in tone, and at times directly critical of the commission for too stingily supporting the library over the past few years.
Ulsamer's annual report culminates in a proposal that goes to the heart of the commission's inattention: since funding has been short and the commission appears unwilling to make up the difference, the library board is asking for a special taxing district "or some other more stable funding mechanism to operate the library and provide for future capital needs." Ulsamer is asking the commission to "take up this matter and to act on it without undue delay." (The complete text of the report is below.)
The Friends of the Library meanwhile, on whose volunteer ranks the library depends a great deal to run smoothly—and pick up the slack where staffing is short—are themselves mobilizing to fill seats before commissioners and send their own message. They'll all be wearing green shirts when the commission convenes at the Government Services Building at 5 Monday evening.
"For a community our size, the library has pretty much hit rock bottom in what we are providing and can continue to provide based on the current budget and staffing," Terry Jones, president of the Friends of the Library, wrote the 700-strong membership. "Without some considerable changes and additional financial support from the BOCC, we may be looking at a diminishing Library that could easily find its doors closed in a few years." BOCC is the acronym for the Board of County Commissioners. "Sounds pretty drastic and dire, doesn't it? Well, it is," Jones continued.
"We've been told that none of the commissioners have received any complaints about the shorter hours, lack of staff or clean facility. Well, this is your chance to let them know you will be heard," Jones added.
After Ulsamer presented his report, commissioners had few specific ideas on how to ensure that next year's report won't be as dire. But at Commissioner George Hanns's request, the commission will hold a workshop to address library matters specifically.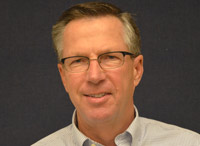 In his prepared remarks to the board, which have been approved by the trustees since early November, Ulsamer begins by warning commissioners that "this year's report conveys a different message and tone than those of recent years. That is because this board believes the library has now reached a tipping point and a new approach and commitment needs to be adopted in order to provide quality library service to the residents of this county."
An essential difference in library operations: The library budget five years ago was $1.5 million. Today, it's $900,000. A third of the reduction is attributable to the reduction in state funding. The rest was the county commission's choice. And it took place in a county that has historically treated its library system as a footnote. St. Johns County (whose schools consistently lead the state in quality) spends $25 per resident per year on its library system. Volusia County spends $38.
Flagler County spends just $9.
Year after year, Ulsamer says, the library system has fallen short of state standards for basic, minimum services regarding physical space, staffing, overall budget, computer access, materials budget and hours of operation. Sunday hours have been eliminated entirely. Beginning in October, hours were further cut back on Tuesday and Thursday evening.
"Over the past 5 years, as tax revenue shortfalls caused the library budget to be cut year after year, the staff did its best to maintain service levels," Ulsamer says. "But now it's gone too far."
The library board had pressed the commission to close the Bunnell branch library in previous years, rather than erode services at the main branch. "For reasons that were political and perhaps socioeconomic in nature, that option was taken off the table," Ulsamer say. He then outlines "a partial list of items that indicate the library is in a sorry state of affairs."
Some 50 to 75 patrons wait for the opportunity to borrow a new release, for example, though that's not necessarily unusual, depending on the title in question: in June, the library had five copies of "Fifty Shades of Gray," the dismally written but hugely popular sadomasochist-porn novel by E.L. James,  with a combined 103 reserves. It had three copies of "Fifty Shades Darker" with 19 reserves, and three copies of "Fifty Shades Freed," with just four reserves.
"The library roof has leaked for several years, but the county seems to be content with letting it go indefinitely, even though we are located in a hurricane prone state," Ulsamer's report goes on. (The county administrator said the roof is scheduled for replacement in the 2014 fiscal year.) The absence of library services in the Hammock is noted, ostensibly in contradiction with the board's recommendation that the Bunnell branch be closed, though Ulsamer's  report explains why: the Hammock is "the source of a generous portion of the county's tax revenue." (It is also, however, where households are less likely to be without an internet connection or easier access to books and DVD's on their own.)
The report also warns that Library Director Holly Albanese "is arguably underpaid, which puts us at risk of losing a highly qualified, well respected professional." Albanese's $70,000 base salary is similar to that of Georgia Turner, the relatively new director of tourism for the county.
Ulsamer sums up with unveiled finger-wagging: "Most of the above problems can be attributed to the relentless reduction in financial support for the library. This has to stop. The county cannot continue to put its hand in the cookie jar every time it needs some dollars. The Friends and volunteers have had their collective finger in the dyke for too long and it is not a long term remedy."
Previous annual reports had focused on relatively positive achievements, planned construction or improvements, revenue innovations (such as the lucrative passport station Albanese created, which generated $46,000 in 2012). The reports also outlined hard numbers showing library usage.
Those numbers are absent from this year's report, at least in the form submitted ahead of time to county commissioners. Some of the numbers show significant declines in library use in the period affected most by declining revenue.
In 2009, for example, the library circulated 514,124 items. In 2012, it circulated 447,450, a 13 percent decline.
In 2009, the library provided services to 487,707 people who visited the library. In 2012, it provided services to 337,659 people, a staggering decline of 150,000 people, or 31 percent.
Even public internet work station sessions have declined, from 75,203 in 2009 to 68,393 in 2012, a 9 percent decline. But that decline doesn't take into account the number of users who take advantage of the library's wireless access: many a patron comes to the library with a laptop to do just that. The library doesn't keep track of those patrons specifically.
The library also issued fewer cards and benefited from more than 1,000 fewer hours of service from volunteers.
On the other hand, its children, youth and adult programs all grew in numbers and attendance (adult attendance almost doubled, to 2,608 people, though the library's meeting space is cramped). And in contrast with the annual report's complaint about fewer dollars available for books and materials, the library added 12,600 new books and materials in 2012, compared with additions of 10,700 the year before and 9,620 in 2009.
The library also has hugely increased use of the library's online databases, an indication of why fewer people are going to the library: they can get many of their resources, and their questions answered, at home, through the library's web page, which includes generous resources, especially for students. In that sense (but in that sense alone), the library is open 24 hours.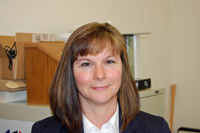 "I would agree that as funds have declined so has our ability to provide the services to meet the needs of the public," Albanese wrote in an email response to questions about the declining numbers. "However all you have to do is enter the library on any given day and see that the library is still the chosen community center. Do you remember what the lines were like during early voting? This is what I can tell you, as the budget declines so too does our purchasing power, hours of access and staff to serve the public. As a result our statistics will decline in direct correlation to the budget cuts."
There's also been technological issues with the way patrons were counted coming in (by way of a security system), which may have inflated the numbers of patrons before 2011. Current foot-traffic numbers, Albanese said, may be more reflective of what they had been in the past as well.
Technological issues may have also skewed prior internet usage. "Previously, if you wanted to use a library computer, you would do this using the PC Reservation system and your library card number," Albanese explained. "The system would assign you a computer for either 30 minute or 1 hour increments. Per Internet Policy patrons are only allowed two hours per day. Prior to the implementation of a pin number we found some patrons were figuring out the accession of library card numbers and randomly choosing a number to gain access multiple times a day. The pin number is the last four digits of the patrons phone number that is on file in our circulation system and is required along with the corresponding library card number to gain access to a computer. In essence a select few were skewing our statistics through use of multiple library card numbers."
In his presentation this evening, Ulsamer cites what he describes as "two inelegant metaphors": that "the ship is sinking, or the library is on life support."
"It's time," Ulsamer concludes, "to set things straight and either support your library properly."
An earlier draft of the address had ended somewhat more accusingly: "It's time to set things straight and either support this library properly, or perhaps we should just close the doors and use the funds to build a prison."
The county commission last year approved a sales tax to do just that: build a bigger jail. The jail, incidentally, had its library closed, too, several years ago.

Jim Ulsamer's Annual Report of the Library Board to the Flagler County Commission