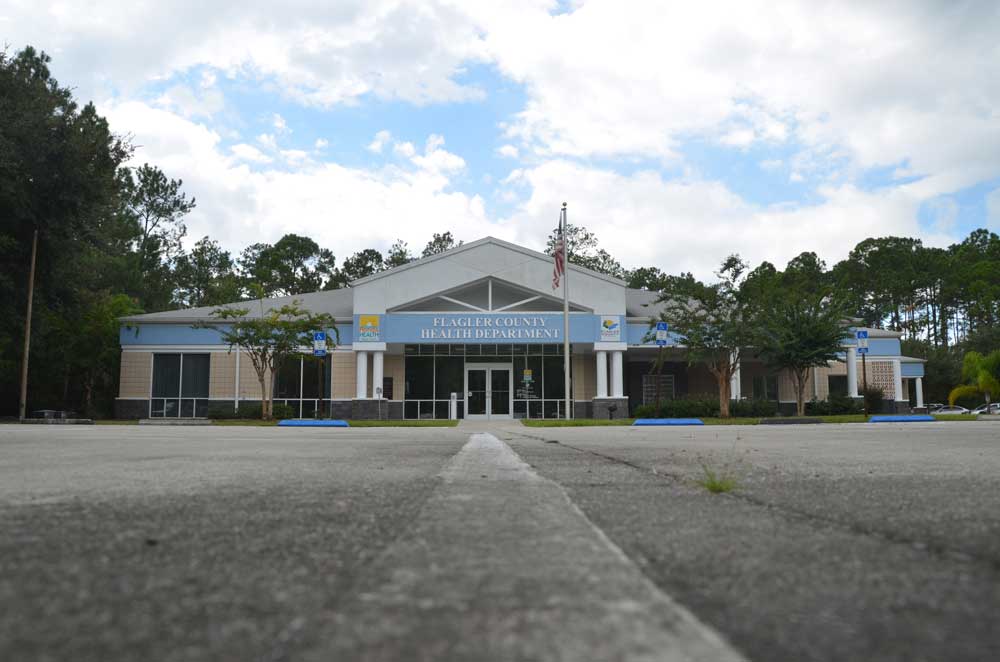 It was as direct an appeal as the Flagler County Health Department could make to its landlord, the Flagler County Commission: "We need your help. We are having some issues with our building," Mark Linde, the department's chief of nursing, told commissioners.
Linde's presentation caught commissioners' attention.
The nearly 30-year-old, 12,400 square foot building is maxed out, and limping along after "a long period of disrepair." Among medium-sized health departments across the state, Flagler's is dead last in terms of square footage per employee. Cubicles and desks have used up all floor space. The department has been buying storage sheds. The parking lot is so small that people park in the grass. "When we get those summer rains, I'm having pregnant people step out into wet grass and try to walk in because our parking lot is just full," he said.
Linde needs to hire an epidemiologist. "But I don't have any room left," he said. The building has had multiple roof leaks, including Linde's own office, forcing him to work from home for several months. "I know the county is doing the best they can with the resources that they have. But we're a medical facility," Linde said. "If you walk into a doctor's office and you see some of the things I'm showing you, people start wondering like what kind of care am I going to get here? So we wanted to talk to you about barriers to healthcare."
The department is a state agency. But its facilities are the county's responsibility, just as it is for all constitutional officers, among some 18 major facilities it maintains.




The Health Department is easier to take for granted: it's high-impact but low visibility, except for those who need it most. Those who need it most tend to be poorer and to vote less, like the 17 percent of the population that's uninsured, like those who seek it out for family planning, for dental care, for cancer screenings, for immunizations, for HIV care, and like the untold number of poorer pregnant women who'll never see a doctor during their pregnancy–unless they show up at the ER to deliver–except for the care they'll get at the Health Department. There's a direct link between that pre-natal care, a high priority at the department, and the reduction in infant mortality.
So county commissioners don't need to pay as much attention: politicians win applause for chest-beating about "supporting law enforcement," but never about the importance of the $1.4 million Women, Infant and Children program (WIC).
That's at least in part why the county just congratulated itself for placing the Sheriff's Office in a $21 million, 51,000 square foot facility, while the only major improvements slated for the Health Department facility is a $22,000 exterior paint job slated for 2026, and an interior paint job, for the same price, slated for the following year.
The county includes an 8,000 square foot, $3.2 million expansion for the facility on its list of needed capital improvements between 2023 and 2027. But it's on the "unfunded" list. "We have limited staff," County Administrator Heidi Petito said. "We've got a backlog of projects. So this has been something on our radar for probably six years but we've never been able to get to it. We were able eventually to put a new roof on the facility so we don't believe that the roof is leaking."




The county is providing just $275,000 in aid to the Health Department this year, $1,000 less than the amount that goes to the Flagler Humane Society. The Humane Society's appropriation has increased 31 percent since 2020. The Health Department's allocation hasn't budged. The department gets no money from Flagler's cities.
Petito said the direct aid figure doesn't reflect the county's total contribution. "We're somewhere probably about a half million right now, when you consider the cost of insuring the building, providing maintenance, things like that," Petito said. The department is also operating out of three condo units.
"I don't think it's reflective of of actuality," Commissioner Andy Dance said of the county's contribution, which he has asked to be itemized more explicitly. He is also looking for a "deeper dive" into how other counties fund their departments.
The Health Department's staff of 75 is mostly paid for with state dollars–another factor that makes it easier for the county to take it for granted. But state aid has also kept Flagler, proportionately, at the bottom of the list among counties its size, preventing expansion of services.




It's not as if the Health Department can up and move to greener pastures. It's legally required to provide the services it does. Its broad mission is clearly prescribed, if generally little known by the public at large: "We impacted over 35,000 lives and provided 156,000 services to Flagler County residents," Linde said. That's a third of the lives in Flagler County.
Its leadership–Bob Snyder, its director, Dr. Stephen Bickel, its medical director, Linde–are eternal advocates for their clients and the department's services, but their role pre-empts any kind of grandstanding or politicking that could up the pressure on commissioners. That, too, makes it easier for the landlord to lavish the department with more compliments than dollars.
On the other hand, it's also notable that the department has not publicly pleaded for additional help from the county as explicitly as it did on Monday, and the response it got from commissioners was nowhere near indifferent. We'll take a hard look at this, we promise," Commission Chairman Greg Hansen said.
That's the context of Linde's appearance before the commission Tuesday (Snyder was out of the country), and of his focus on the physical conditions of the department's building at 301 Dr. Carter Boulevard in Bunnell–about where the appendix would be located if Bunnell were a human body.
If the building increasingly looks like a retread from East Germany, circa 1970, there are other barriers to care for local residents, such as access: "Everyone knows that there is not the best public transportation in Flagler County," Linde said. Fuel costs are an added burden. With 70 percent of the Health Department's clients living in Palm Coast, the department is hoping to have a location in the city. And with belated but increasing attention on addiction treatment–and the Health Department the anchor of that grant-funded attention–the department is just hoping to garner more care from its landlord as it shoulders the responsibilities.
State aid, Bickel said, is based on an outdated formula that has similarly penalized the school system, leaving the Flagler Health Department second-to-last in per-capita funding. "We actually lobbied representative Renner to intervene for us and that's being changed this year," Bickel said. But the department wants to expand into primary care to improve the local safety net. "There's just a lot of opportunities and we think we could really do something pretty special in the county with some extra funds."




Without the support, the lines have been getting long at the department, to the point that a child in pain because of dental issues is told to come back in a few weeks.
"We want to continue doing what we're doing," Linde said, "and we're at the point where we we are starting to not be able to."
County Commissioner Dave Sullivan said the priority should be on expansion of the department's dental facility–an expansion that will take place by June, thanks to a state appropriation, Petito said. "But I think the larger issue is additional space beyond that," the administrator said. The dental expansion fits immediate needs. "It's really the funding moving forward to continue to support the programs that they're being provided or additional programs that need to be provided as well as the additional footprint in the city limits of Palm Coast."
One of the options, Petito said, is to dedicate a portion of the county's property tax to support the health department. "It is being done in other counties," Petito said.
On a commission intent on lowering the property tax, that option may be a long shot.

presentation

Reader Interactions