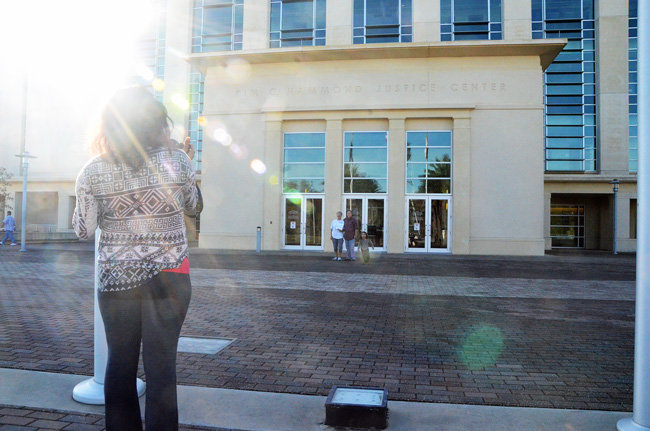 Michele Villa and Dawn Wilcox have been together for 23 years. They've raised three children together and have six grandchildren. In each other's eyes and the eyes of their family, they've been married all these years. But it wasn't until shortly after 9 this morning that they were finally rid of the state prejudice—enshrined in one of Florida's most bigoted constitutional amendments since 2008—that prevented their marriage and their right to be each other's beneficiaries from being recognized by law.
Villa and Wilcox walked into the recording office at the Flagler County Courthouse and became the third couple in Flagler this morning to fill out a same-sex marriage application, joining hundreds, perhaps thousands, of gay, lesbian and transgender couples across the state who did likewise on the first day legalized gay marriage. Villa and Wilcox, who were joined by one of their daughters and a grandchild, then stepped outside for photographs. They'll be back at the courthouse Friday, once the normal 72-hour waiting period has elapsed, to be married in earnest.
Two couples they knew got their license just before them: Mercedes Hall and Corah Raulerson, both 23, who were actually the very first same-sex couple to break the barrier in Flagler, followed by Maria Zavala, 72, and Cheryl Petersen, 50. Later in the day, a fourth couple got a license as well, and more were expected.
"That to me is amazing because we're actually part of a major piece of what is going to be major history in years to come," Villa said, "when they look back, when schools look back and the government looks back, it's going to be a day written in history."
"That really isn't a big deal, it should have been this way all along," Wilcox said. She and Villa work at Walmart, where their status has never been an issue, and where the company a couple of years ago started providing same-sex insurance benefits.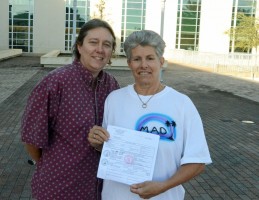 "I always take pride in the fact that I have three highs school diplomas," Villa said, referring to her three children's schooling, "they all have jobs, they're all gainfully employed, I'd say for a lesbian couple we've done rather well. We've been together 23 years, that outlasts a lot. So I don't see any difference."
"We never have," Wilcox said.
But others have, and continue to.
"We're still frowned upon. We can walk anywhere and hold hands and you still get looks," Wilcox says.
"That was one of the comments that I actually read this morning," Villa said, "was, 'as long as they don't flaunt it out in public, I don't see a problem with it,' but yet we have to accept heterosexuals flaunting it out in public, whether it's having sex in public parks or wherever, all over each other in stores, walking down the aisles, hugging, and yet we get frowned upon just for holding hands."
The couple's daughter, Ariana Butkiewicz, there with her 4-year-old son Ethan, said from experience that it'll be a while before acceptance is routine enough to be unremarkable. "Interracial couples are still being judged," Butkiewicz I'm an interracial couple, my husband is white, we get looked at, so I feel that, I've always felt that. It takes time. It'll start to lessen, but it'll still always be there, just like racism, unfortunately. There's people stuck in their ways and that's it."
"I'm not a political person," Villa said, "but you know, right wings and whoever these people are, religious people who are just stuck, they're just not going to no matter what, and then you're going to have the rest of them who are not even going to know who's gay and who's not technically, and who are not even going to give it a second thought."
Same-sex marriage is now legal in all but a handful of states, among them Georgia and Alabama, the Dakotas and Nebraska. In all other states, it is either legal or, in nine states' cases, awaiting court review. (See the map below illustrating the breakdown.)
The end of the ban on marriage equality in Florida is the result of an Aug.  21 ruling by U.S. District Judge Robert Hinkle finding the marriage ban unconstitutional in two cases: one brought by the American Civil Liberties Union of Florida on behalf of eight married same-sex couples, a Fort Myers widow, and SAVE, South Florida's largest LGBT rights organization; the other by Jacksonville attorneys William Sheppard and Sam Jacobson on behalf of two couples. A temporary stay on that ruling expired at the end of the day on Monday, though Miami-Dade issued marriage licenses starting Monday.
As circuit judge Sarah Zabel lifted the stay on her ruling in a case in which six same-sex couples and the Equality Florida Institute, represented by attorneys for the National Center for Lesbian Rights and several attorneys in private practice, challenged the marriage ban. Judge Zabel lifted the stay following a motion by Miami-Dade County Clerk Harvey Rubin in response to Judge Hinkle's order.
"Liberty, tolerance, and respect are not zero-sum concepts," Hinkle wrote in August. "Those who enter opposite-sex marriages are harmed not at all when others, including these plaintiffs, are given the liberty to choose their own life partners and are shown the respect that comes with formal marriage."
While clerks in all 67 Florida counties were issuing licenses today, clerks in several of those counties, including Duval, Baker, Clay, Okaloosa and Santa Rosa, said they would no longer perform marriage ceremonies, as clerks and their deputies often do, at the courthouse. The refusal is a reflection of some of the enduring prejudice against same-sex couples.
"I'm disappointed," Flagler County Clerk of Court Gail Wadsworth said of the decisions in those counties. "But in the autonomy of a clerk, they have choices to make too, and possibly, their community won't accept it. I haven't gotten any negatives since you published the article, not one word."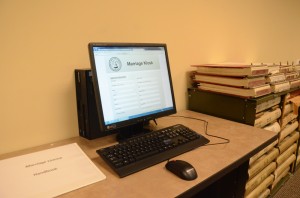 Wadsworth and her deputies will be gladly performing ceremonies starting Friday. Wadsworth herself will perform the first two, and won't perform more of them only because she has to drive to Lakeland for a funeral service later that day.
Tuesday was "calm, very calm, very teary on some parts" at the courthouse, Wadsworth said. The majority of the questions by phone have been about Flagler's recognition of same-sex marriages in other states or other countries (they're recognized, as long as documentation is provided), and whether the clerk can also issue a divorce to same-sex couples. On that one, Wadsworth isn't yet sure but will be soon. But the clerk will not reject marrying couples a second time, if they've been married in another state or another country before and still wish to be married in Flagler.
Wilcox is from Connecticut, Villa is from New York. Friends and family would tell them in the past to go get married there. "But we wanted to do it here," Wilcox says. "This is where we live."
Dawn? "It's where we've paid our taxes, it's where we've raised our kids, our grandkids."
"It's your home," Ariana chimes in.
"I never expected to see it in my lifetime in this state. I really didn't," Villa said.
"I thought it was going to be the last one. Really," Wilcox said, referring to Florida's historically laggard status in civil rights.
Wadsworth called it a historic day for Flagler,  "and for Florida. We opened a door. Judge Hinkle opened a door in Florida for people to be who they are. We opened a door how many years ago for interracial marriages. We opened a door a long, long time ago for women to have the right to vote. This is one of those days."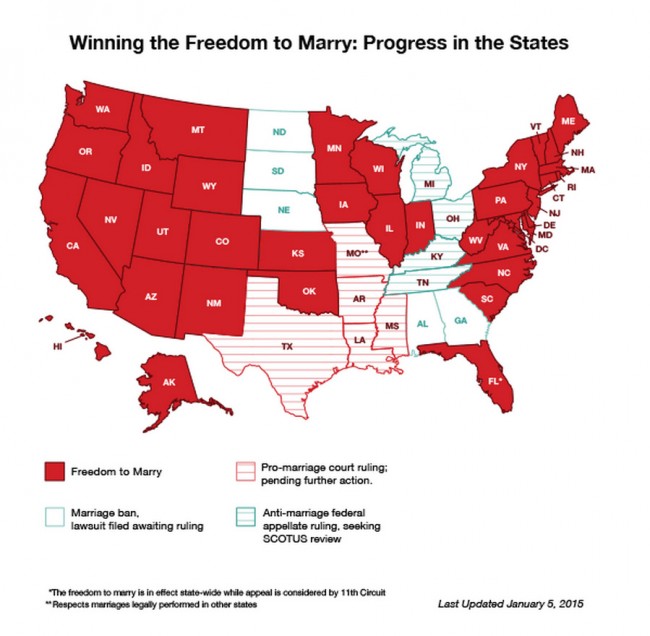 Same-sex Marriage Ceremony at Flagler Courthouse