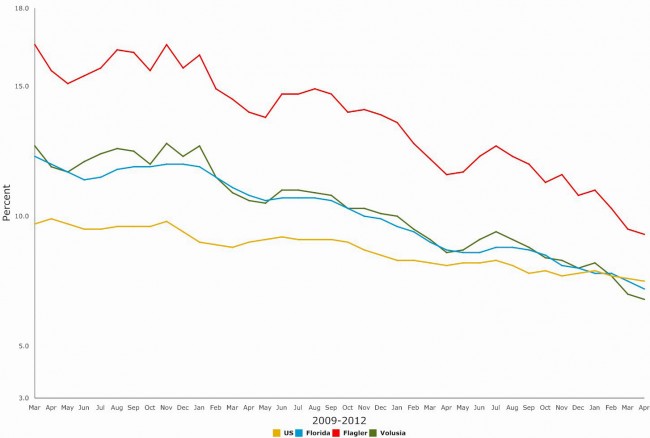 Florida's unemployment rate fell sharply from the previous month, to 7.2 percent in April, as 17,000 jobs were created statewide, bringing the unemployment rate to its healthiest level since September 2008, when it was 7 percent. It also brings Florida's rate below the national rate of 7.5 percent. In Flagler County, the rate fell two decimal points, to 9.3 percent, spurred by growth both in jobs and in the local labor force.
The Flagler labor force grew to just shy of 35,000. That's still 160 workers shy of where the labor force stood a year ago, but employment grew by some 175, to a total of 31,756 people with jobs. Labor force and unemployment figures are key to the county's population numbers, which have been stagnant, and have shown their most precipitous decline in history in public schools this year, with a loss of 285 students overall, in a district with fewer than 13,000 students. Fewer students means two things for the local economy: fewer families with purchasing power, and fewer dollars from Tallahassee flowing to the school districts. The combination in lost dollars circulating in the local economy can be a drag on the recovery.
Flagler remains the county with the second-highest unemployment rate in the state, after Hendry, and is, along with St. Lucie, Miami-Dade and Putnam, still among the most stressed by unemployment.
The improving unemployment numbers were helped statewide by a shrinking labor force, which lost 1,000 workers in April.
From the Center for Business Excellence:
• Nonagricultural employment in the Palm Coast metro area, which includes all of Flagler County, was 20,800 in April 2013. Total nonagricultural employment was up 100 jobs (0.5 percent) over the year. Statewide, employment increased by 1.6 percent over the same time period.
• Four of the ten major industries gained jobs over the year, mining, logging, and construction; financial activities; professional and business services; and education and health services (+100 jobs each).
• Manufacturing, information, and leisure and hospitality (-100 jobs each) lost jobs over the year.
• Trade, transportation, and utilities; government; and other services remained unchanged over the year.
The announcement of the April drop in unemployment came as Scott was in Tampa to sign the legislation (HB 7007) that was his top economic development priority of the recently-ended legislative session. The bill allows manufacturers to automatically qualify to buy new equipment without paying sales tax, starting next year. The tax break will be in effect for three years unless lawmakers extend it.
"Florida's families are getting back to work and our state's economy is growing," Scott said in a statement. "With 16,700 new private sector jobs added last month and an unemployment rate that continues to decline, Florida is once again below the national average at 7.2 percent."
Scott also boasted about the manufacturing tax break legislation and the recent announcement by car rental company Hertz that it would move its headquarters from New Jersey to southwest Florida and move hundreds of workers from New Jersey and Oklahoma to Estero.
"It is clear that our policies to create jobs for Florida families and attract new and expanding businesses to Florida (are) working," Scott said.
In December 2010, shortly after Scott was elected, the unemployment rate in the state was over 11 percent. The year-over-year drop in April was the 30th straight month in which the state saw a year-to-year decline. Economists have projected unemployment should continue to drop, returning to as low as 6 percent in Florida by 2016 at the latest.
–FlaglerLive and the News Service of Florida