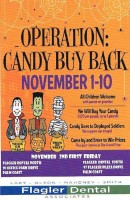 If the Flagler County Sheriff's Office can hold a gun buy-back, and the Drug Enforcemenet Agency can hold periodic drug take-backs, then dentists can certainly hold a candy buy-back, smack in the middle of the year's great candy blooms: Halloween.
Flagler Dental Associates, the county's oldest dental practice, is redefining the phrase "put your money where your mouth is" this Halloween. Starting Nov. 1 and running through Nov. 10, the practice is offering $1 per pound of candy that trick-or-treaters drop off at their two Palm Coast offices.
"Ditch your cavity-provoking candy and get a dollar," says Ryan Smith, one of four dentists with Flagler Dental Associates.
"Visiting your dentist twice a year and brushing daily are great preventative measures, but doing away with excess sweets altogether would really give your teeth a healthy boost," he said. "Kids can still have all of the fun of trick-or-treating, and now their piggy banks will benefit as well."
The National Center for Health Statistics in February released a study that found that boys consumed an average of 16.3 percent of their calories from added sugars, while girls consumed an average of 15.5 percent of their calories from added sugars–most of it from food, rather than beverages, and most of it consumed at home. Added sugars are sweeteners added to processed and prepared foods. World sugar consumption, meanwhile, is at 165 million tons annually. In the United States, a big culprit is fructose such as corn syrup, which goes into sodas: its consumption has increased more than 100-fold since 1970.
Then there's candy: Americans consume almost 25 pounds of the stuff, per person, per year. In addition to hurting children's teeth, candy can also lead to hyperactivity and weight gain. In some cases, certain types of candy can also lead to broken teeth and damaged braces.
Sweet treats will be collected at Flagler Dental Associates from November 1-10 at both Flagler Dental Offices and also at the November 2 First Friday event in Flagler Beach. The candy collected – all of which must be unopened – will be shipped to troops overseas.
Flagler Dental North is located at 30 Office Park Drive in Palm Coast, on Palm Coast Parkway and Clubhouse Drive. Flagler Dental South is located at 97 Flagler Plaza Drive, in the Winn Dixie shopping center, next to Woody's.