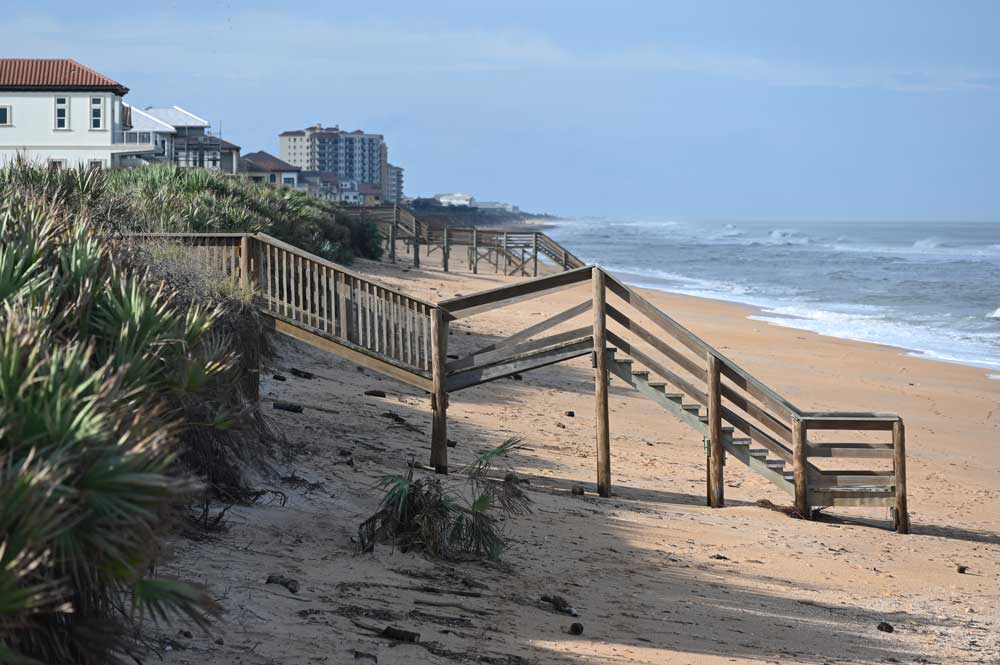 Flagler County was notified on Jan. 18 that it will receive $17 million in funding allocated as part of the 2022 Special Session Funding through the Office of Resilience and Coastal Protection, part of the Florida Department of Environmental Protection (FDEP).
The funding is part of the $100 million Governor Ron DeSantis pledged his support of beach nourishment projects within 16 coastal counties impacted by Hurricane Ian or Hurricane Nicole.
The money is a "drop in the bucket," compared to the county's needs, according to a county official: it is a fraction of what would be needed, considering the county's devastated shoreline. But it will still enable the county to repair several miles of dunes with temporary renourishment, giving those repaired dunes perhaps two to four years against continuing erosion. Flagler is increasingly facing the reality that dune reconstruction will never be a one-time thing, but a continuous and very costly endeavor, year after year.
Of the 16 counties awarded funding, Flagler County received the third highest allocation behind Volusia and Lee counties.
"We are so incredibly grateful to be receiving these state funds to help us with the monumental task of rebuilding our beaches and protective dunes following the devasting damages to all 18 miles of our coastline," said County Administrator Heidi Petito. "We are tremendously thankful for the support of our Legislative Delegation – Senator Travis Hutson and Representative Paul Renner – as well as District 28 Representative Tom Leek."




This current total allocation of $100 million is in addition to the $20 million awarded in November to help several local governments to quickly place sand in areas of high concern to avoid subsequent damage to public and private infrastructure. Flagler County received $5 million in aide then from the Florida Department of Environmental Protection.
"Our beaches are the lifeblood of our communities. They are our identity," said Appropriations Committee Chair Tom Leek, who represents Volusia County. "I was proud to work with Governor DeSantis and Speaker Renner to secure funding to renourish our beaches today and protect our beaches for tomorrow."
Hurricane Nicole compounded the damaging impacts of Hurricane Ian to the barrier island leaving the beach and dune system fragile.
"Beaches are vital not only to the environment and the state's economy, but are most importantly our first line of defense against storms," said Department of Environmental Protection Secretary Shawn Hamilton in a news release. He visited Flagler County in November to assess dune impacts. "I am thankful for the support and leadership of Governor DeSantis and the Florida Legislature to accelerate restoration and further protect these impacted communities from future storm events."

Listening Session
Residents of Flagler County are invited to attend a "listening session" hosted by the State Road A1A Resiliency Strike Team from 5:30 to 7 p.m. Tuesday, January 24, at Santa Maria del Mar Catholic Church in Flagler Beach.
Materials to be produced and discussed can be accessed here:  www.cflroads.com/project/452443-1 and www.cflroads.com/project/452444-1.




The strike team – Florida Department of Transportation (FDOT), Flagler County, Volusia County, the City of Flagler Beach, the U.S. Army Corps of Engineers, and the Florida Department of Environmental Protection – has reviewed and evaluated options to fortify "critical areas of vulnerability" along State Road A1A in both Flagler and Volusia counties. The critical areas include South 28th Street to South 9th Street, and from South Central Avenue to about one-half mile north of Highbridge Road (including the portion to Roberta Road in Ormond by the Sea).
The strike team is in the early stages of the process – concept planning – which will be followed by programming specific projects, a project development and environment study (if necessary), design, right of way (if needed), and finally construction. Ongoing maintenance with continue throughout, as well as coordination with permitting and regulatory agencies up until construction."
Handouts will be provided that map the critical areas of vulnerability. Officials will be prepared to answer a variety of anticipated questions.




Parts of State Road A1A were destroyed in 2016 by Hurricane Matthew. Big storms, including strong nor'easters and king tides, have caused significant damage that has required costly repair to keep the corridor open for safe travel.
Hurricanes Ian and Nicole furthered dune erosion and roadway undermining. Repairs from these two storms alone have cost $11.7 million to date, and the costs are climbing.
The plan envisions different solutions for different areas of State Road A1A as the needs and existing conditions warrant. A combination of options could be used in some areas. Nothing has been determined, yet, regarding the solution or for any specific project area.
Volusia County had its listening session on Jan. 19. It drew some 110 people.
Reader Interactions