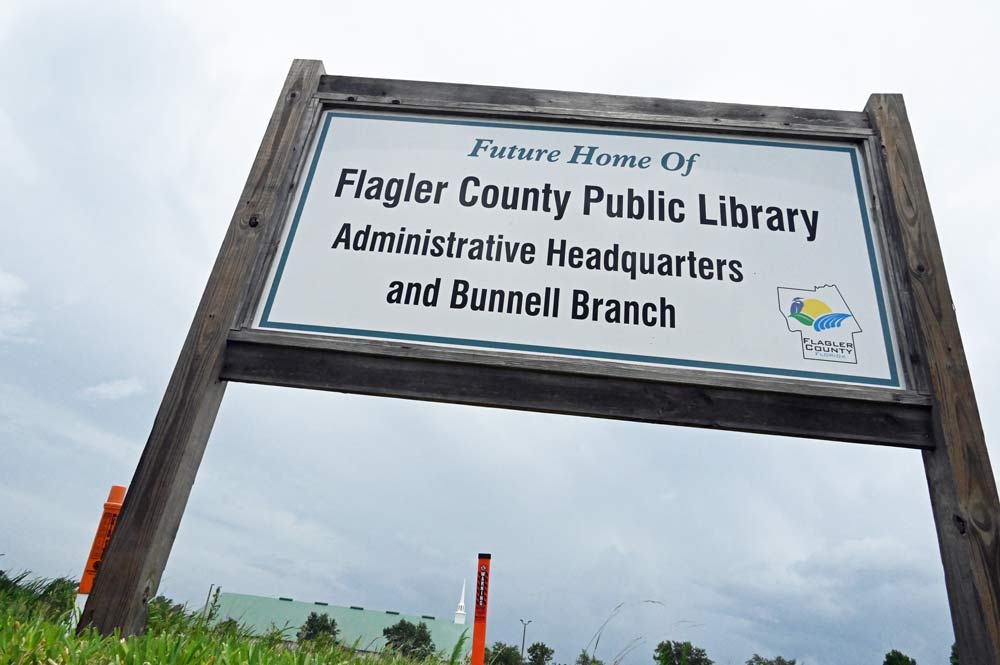 The first time Jim Ulsamer presented the required annual State of the Library report to the Flagler County Commission 16 years ago, the item was "buried deep in the agenda" of the 5 p.m. meeting, as he recalled. He wasn't called up until 9:15 p.m.
"I felt like one of those people on C-Span speaking to an empty chamber of the House or the Senate," Ulsamer told a different commission as he began presenting this year's State of the Library report last month. "I looked at the county commissioners and they were doing their level best, but there was a lot of glassy eyes."




Ulsamer may not necessarily say so, but the experience was reflective of the way the county's public library system has been treated as something of a stepchild over the years–not an afterthought, exactly, but not far from one: going by the numbers (a stagnant budget, capital project delays, the shoving around of the Bunnell branch) the library system hasn't been much of a priority. And in financial support, it's been falling behind.
In 2010-11, several years after the state eliminated a $225,000 contribution, the library's budget was $1.15 million. The adopted budget this year: $1.56 million. It looks like a 36 percent increase. But in inflation-adjusted dollars (using the Bureau of Labor Statistics' calculator), it is, in fact, a 3 percent decrease: merely to keep up with inflation, the budget would have had to be at $1.61 million this year. The library's materials budget has also declined as the prices of books and other resources have gone up.
That's without taking account of the 25 percent population increase from 2010 to today (96,000 to 120,000), though material circulation has been flat since then, growing to 458,477 by 2022, only a slight increase from the 451,741 items circulated in 2011, even as foot traffic has fallen. Database and website usage reached 162,000 instances. "In light of technology I think it speaks volumes that we continue to see the circulation and foot traffic that we do," Holly Albanese, the library director, said. Cutting library hours sharply because of staffing and budget pressures also hasn't helped.
Ulsamer recalled joining the board in 2007, when the county was experiencing nation-leading growth just as the state all but ended its library aid (it contributes only $24,000 annually). That has equated to a cumulative loss of $3.5 million over the years. The housing crash cratered tax revenue. The library reduced its staff and its materials budget and deferred capital improvements. The one bright spot was the library becoming a passport-acceptance facility, generating $1.1 million since.




"That helped us do some incremental improvements," Ulsamer said, from fixing sidewalks to enclosing the library's reading room to fixing a leaking roof.
Meanwhile the Bunnell branch was outgrowing its space on State Road 100. The library board determined around 2016 that a larger branch was necessary. Plans were launched to that end, though ironically–in another reflection of the semi-disposability of the library–the county ended up turning over the Bunnell branch to a mental health access center, and moving the branch to a space less than half its former size (from 3,100 square feet to 1,100 square feet), in the Marvin's Garden shopping center.
A year and a half ago, it looked like the South Side library project was a go, with a $16 million plan for a 33,000 square foot facility that would rise on Bunnell's Commerce Boulevard, across from the new, $20 million Sheriff's Operations Center. The new building was to be a multi-use, hurricane-ready facility, with 23,000 square feet devoted to the library, a 4,500 square foot community room, and 4,000 square feet devoted to the county's Health and Human Services Department. There would also be a 1,637 square foot covered porch. (See the full plans here.)
Current plans are very different. It'll be a total of 22,000 square feet. Health and Human Services' space has grown to 4,500 square feet of that, the community room has bene transformed into a conference room with kitchen and pre-function lobby, at 5,000 square feet, which will be used for library programs and for congregate meals for the elderly, leaving just 12,500 square feet for the exclusive use of the library.




"That said there were more changes other than square footage to reduce cost," Albanese said. "We had to reduce the number of parking spaces, there will be no 'front porch' from the original design as it will not be a raised element anymore but there will be a large canopy in front, and no outdoor amphitheater. This will significantly reduce cost for site planning and preparation." The changes are due to sharply increasing costs of construction. (Either the Palm Coast main library or the Bunnell branch, or both, would have included EV charging locations–until the county and Palm Coast killed that initiative.)
The South Side library will now be called the "Nexus Center," a name Albanese and County Administrator Heidi Petito devised with the help of an artificial intelligence tool to reflect its many uses: "The Nexus Center" conveys the idea of a dynamic, multifaceted facility that serves as a hub for learning, innovation, and community engagement, Albanese said. (The project landed a $500,000 state grant this year. With passport and other revenue, the county has $1.5 million allocated to the project so far.)
Eighteen months ago, the plan was to cut the ribbon at the new center in the summer or fall of 2024. That's "slipped out to 2025," Ulsamer says. (His wish for a library branch on the barrier island, whose tax base disproportionately underwrites county government, remains just that.)
Ulsamer in his ask to the County Commission was to restore the original size of the planned center, so as to be prepared for the near future. "You don't want to be year after year saying, it's a nice library but you know, we really should have built it bigger when we had the chance," he said. He also asked for better funding to serve the growing population.




In the last budget year, the library had again to cut its budget (as did most county departments), reducing hours, with a staff of 17.5 full-time equivalent employees–essentially the same number of employees as in 2010, before subsequent budget cuts. In 2007, the library system could count 21 full-time employees.
County Commissioner Dave Sullivan, who serves on the Library Board of Trustees, said the coming year's budget will increase 15 percent over the current year. "So there is some relief," he said. But that was about it in terms of comments from commissioners, when Ulsamer was done. The silver lining in this case: he made his presentation in the morning, when the commissioners were presumably still on their caffeine kick.
But there are no current plans to restore hours. Library hours had once stood at 65 per week. They are now down to 52. "If you're working stiff and you come home from work and you have dinner and at 7 o'clock you want to take your kid to the library to get a book," Ulsamer said, "well, you're going to get there and probably the door is going to be closed. And I think that's really terrible."
He added: "If your doors aren't open, patrons cannot come in, customers cannot come in and buy your products. If you don't have any staff or you're severely strapped, staff wise, people can't come in find something they need and they walk out the door. And if you have no inventory, then bar the door, you're out of business and so that's not where I want to see this library go."
There are also persistent rumors about the future of the library site in Palm Coast, a choice piece of real estate that the county could sell in whole or in part at great profit, using the proceeds to pay for other capital projects.
"As you know we have been trying to build revenue from the passport service, the Public Library Construction Grant program through the State of Florida and finally the extra land around the library in order to help with construction costs of the Nexus Center," Albanese said. "Unfortunately, there is a reverter clause attached to the land requiring a public purpose for use. I can't speak to the rumors but can promise you if anything were to happen it would be based on public purpose and benefit to the community and the library would have to be relocated not disposed."
That would make the library's current location on Palm Coast Parkway less than set in stone.
Ulsamer summed up the current state of the library as teeing over something of an "inflection point."
"Public safety is paramount importance. I think we all agree on that," Ulsamer said in an interview. "But at some point, you've got to look at the other cultural, educational, social outlets that the county has to offer, and trying to have a decent balance." The library, which offers a lot more than books and DVDs anymore, is a hub for those outlets, which may be diminished every time the library is asked to do more with less.