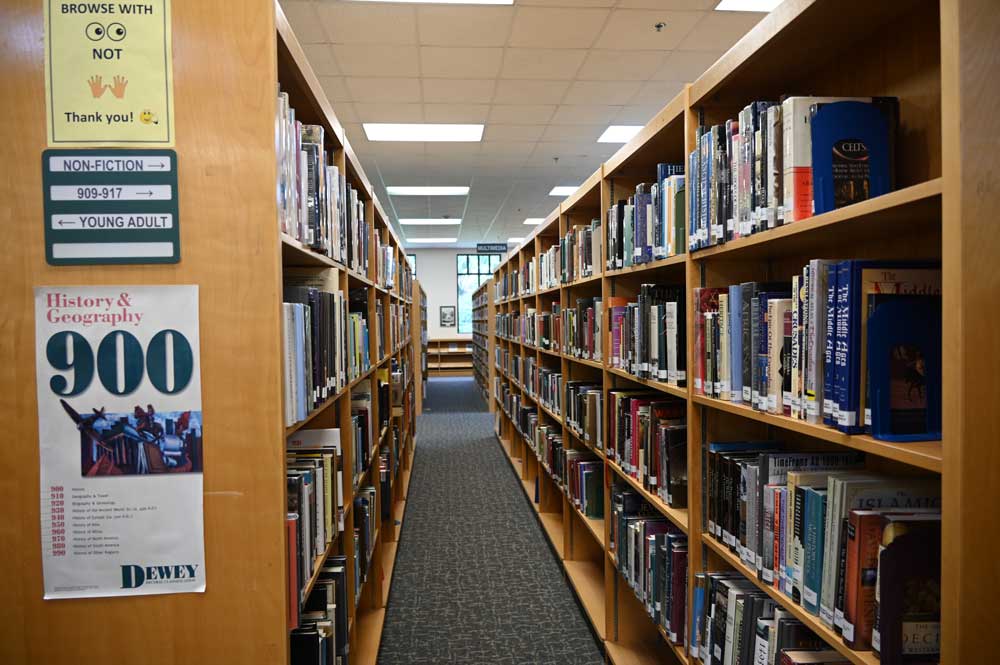 The Flagler County Public Library on Palm Coast Parkway will be open for five fewer hours starting April 3, as weekly total hours will fall from 57 to 52, with a more simplified schedule.
The library currently opens at 9 a.m. six days a week, closing either at 8 p.m. on Mondays and Wednesdays or at 6 p.m. the other weekdays, and 5 p.m. on Saturdays. It's open late on Mondays and Wednesdays, to 8 p.m. Otherwise it closes at 6 on weekdays, and 5 on Saturday.




Starting next month, it'll open at 10 a.m. the first four days of the week, closing at 7 p.m. all four days. It'll be open 9 to 5 on Fridays and Saturdays.
"The reduction was needed to help reduce the stress on our limited staff," Library Director Holly Albanese said. The library division has the equivalent of 17.5 full time employees, Albanese included, to run the main library on Palm Coast Parkway and the Bunnell branch library at Marvin's Gardens, and to manage a half dozen departments in the Palm Coast library, not including such services as interlibrary loans or the volunteer coordinator.
The library could rely on a larger corps of volunteers to full in gaps in the past. Covid retrenched those numbers. "Since Covid our volunteer core has reduced by at least half if not more, putting more pressure on the staff," Albanese said, even though by this time last year patronage of the library had returned to pre-pandemic levels, according to the 2021-22 annual report.
"With all that said, we have selected hours that should benefit the public," said the director–who has considerable responsibilities of her own beyond the library's walls: she is also the county administration's and the commission's legislative liaison, and is the county's chief of special projects. "Through this minor change we will have a single shift each day allowing for more staff on hand which should not only reduce stress on the staff but also provide a better experience for the public."
Albanese has also been coordinating the new South Branch Library project. That library is planned for the acreage opposite the newly opened Sheriff's Operations Center off of Commerce Parkway. Albanese said today that construction is estimated to start sometime this December or in January, with the building opening in the spring of 2025.

| | | |
| --- | --- | --- |
| | Current hours | Hours starting April 3 |
| Monday | 9 a.m. to 8 p.m. | 10 a.m. to 7 p.m. |
| Tuesday | 9 a.m. to 6 p.m. | 10 a.m. to 7 p.m. |
| Wednesday | 9 a.m. to 8 p.m. | 10 a.m. to 7 p.m. |
| Thursday | 9 a.m. to 6 p.m. | 10 a.m. to 7 p.m. |
| Friday | 9 a.m. to 6 p.m. | 9 a.m. to 5 p.m. |
| Saturday | 9 a.m. to 5 p.m. | 9 a.m. to 5 p.m. |
| Sunday | Closed | Closed |
| Total Number of hours | 57 | 52 |