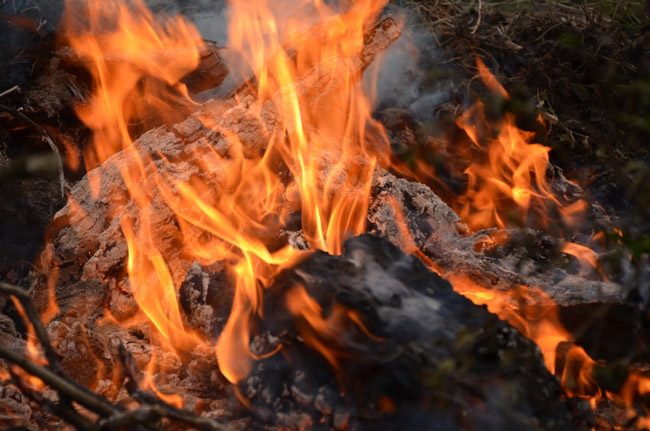 Flagler County will declare a county-wide burn ban effective Monday, joining 21 other counties in Florida that have already done so. The burn ban is to be in effect in every city as well, including Palm Coast, Flagler Beach, Bunnell and Marineland. It also applies in Grand Haven and Hammock Dunes.
"I actually sent the burn ban proclamation and burn ban staff report up to administration for the May 1 meeting, which is Monday," Flagler County Fire Chief Don Petito said, "so once the board they review and everything, they'll approve it on Monday morning."
The ban means that any kind of open-air burning is prohibited with a single exception: gas-burning grills. No charcoal grills allowed: those charcoal grills in county parks will be wrapped or hauled off by county staffers. The reason: people using charcoal grills have been known to dump the used coals in brush or in vacant lots, triggering severe fires.
Penalties for defying the burn ban include a warning for the first offense and fines of up to $500 or 60 days in jail for subsequent violations.
"If we get a call somebody is burning leaves in their yard, we'll roll out there with a truck and tell them they have to put it out, we'll also call for backup from the sheriff's department," Petito said.
"We talked to Forestry, they're in agreement that we need to do it," he said, referring to the Florida Forest Service and the burn ban. The Forest Service is contending with upwards of 100 fires statewide, most of them concentrated in the I-4 corridor region.
Flagler County is not in a dire spot as it was in 2011. No major fires are burning currently, and the countywide drought index is at 338. But that's the average, Petito said. "There's parts of the county that are at 500. Were taking all that in consideration." The drought index is measured on an 800-point scale, with zero meaning that the ground is saturated, and 800 pointing to total dryness. It essentially takes one inch of rain to decrease the index by 100 points.
Even though Flagler County is not in a state of emergency at the moment, several factors led to Petito's decision, aside from the Forest Service's recommendation: the drought index is on the rise in parts of the county, past the 500 mark that triggered the last burn ban, in 2012. Many fires are burning statewide, with local and state firefighting resources spread thin. That means if a serious fire broke out in Flagler, the county would be competing for limited additional resources: better be preventive than deal with a shortage of firefighters or firefighting equipment. Finally, the long-term forecast is calling for little rain. So "it's time to at least put one up for precautions," Petito said.
What does the burn ban affect? "People burning trash or doing bonfires, they light fires to cook, burn in barrels—anything like that we have to shut that down right away," Petito said. "Any kind of pile burn or land-clearing, when we put in burn bans, that's what we typically incur. Basically, a regular propane barbecue grill is what you can do. There's no other open burning whatsoever. Statewide, the Florida Forest service has suspended issuing any type of burn statewide. Once they do that, we're pretty much not going to allow anything other than propane barebecue grills."
All fireworks shows are also suspended for now.
Coincidentally, the St. Johns River Water Management District today, which includes Flagler County, issued a burn ban on all 50 of its properties district-wide. But the blanket county burn ban now will make no distinction between district-owned versus other lands in the county, including state parks. (The district manages the Crescent Lake Conservation Area and the Pellicer Creek Conservation Area in Flagler County.)
Signs will announce the burn ban at the major entrances to the county, including State Road 100 and U.S. 1, the beaches and at county buildings.
The burn ban by law may be enacted only for seven days, with re-enactment required for it to be extended. That's what will happen, even though the County Commission does not meet every week.
"We'll let them know we're going to extend this until it's not needed anymore," Petito said, so the commission will retroactively ratify the ban when necessary: the fire chief has the authority to impose it pending ratification.