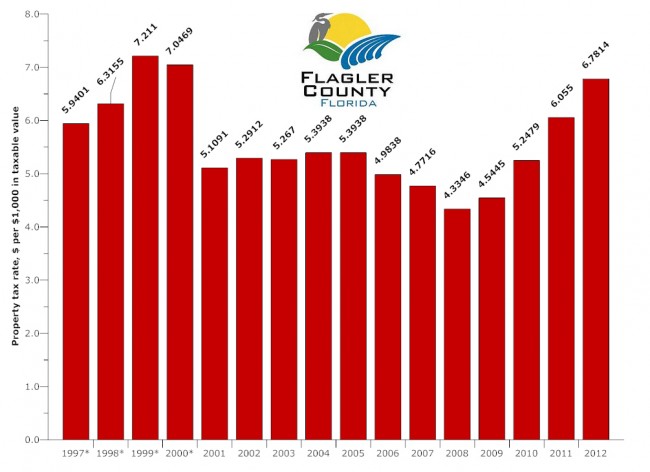 Tax-adoption hearings were notoriously uneventful until a couple of years ago, when the tea party got its training wheels and found government meetings almost as exciting as bingo night. What used to rank among the dullest meetings of the year turned into theater as residents eager to complain about modest property tax increases in one of the still least-taxed states in the union took out their frustrations on city and county politicians, who'd listen politely, sometimes obsequiously, and move on, hoping not to feel the aftershocks at the ballot box.
The fad may have passed. Not a single person addressed the Flagler County School Board at its first of two tax-rate-adoption hearings on Tuesday, though the school board has generally enjoyed a bye from tax protesters, and this year, the school board, by way of Tallahassee (whose lawmakers and student-population formulas set the school tax rate, not local school boards), gave Flagler County residents a substantial tax cut, by keeping the tax rate flat even though property valuations have fallen again by double digits.
Tonight, it was the Flagler County Commission's turn. The proposed county tax rate for 2012 is $6.7814 per $1,000 in taxable value. That would be the highest tax rate in 12 years–or longer, given that, in the late 1990s, the tax rate was bumped up from including that of the Palm Coast Service District, before that city's incorporation. The 2012 tax rate means that a $150,000 house with a $50,000 exemption would be paying $678 in county taxes, up from this year's $605, a 12 percent increase. In reality, the majority of property tax payers won;t see that increase in their tax bills, because property valuations fell on average by 14 percent in the county. Most property owners will, in fact, see a decrease in their tax bills, particularly because the largest portion of that tax bill–the school board's–is going down. That may have explained the relative quiet at the county's public hearing.
Only one person spoke, David McDonald, a representative of the tea party, who was not happy with the response he got from County Administrator Craig Coffey beyond what cuts he already managed in this year's budget below the the $1.5 million cut from the county's general fund this year alone, and the nearly $10 million cut since 2006. "He's not going to agree to much of anything in terms of cuts," MacDonald said, quite inaccurately: Coffey was not going to agree to further cuts, because the county commission had not directed him to do so. MacDonald characterized that as "sort of a stone wall," telling commissioners that the tea party's next alternative would be to come back to commissioners "with specific questions and require that you answer us as to why you chose certain paths."
MacDonald said about 28 percent of property taxpayers would suffer from "a shift" in tax burden this year, citing a figure given him, he said, by Jay Gardner, the property appraiser. "It's not like you're raising taxes, we know you're cutting taxes, but you're cutting a very small amount," MacDonald said, when it could have been higher–particularly, MacDonald said, if the county hadn't spread out the savings over three years from a now-required 3 percent contribution by all government employees to their retirement fund (from their gross pay, which amounts to a 3 percent pay cut for all government employees).
Short of other comments from the public, commissioners, who themselves had no further issues to work out in their budget (they shouldn't have: they devoted about nine very lengthy budget workshops to the matter since spring) fell back on one perennial thorn in their books: Supervisor of Elections Kimberle Weeks's budget, which is still not complete, and is part of what commissioners must approve. Commissioners had requested a set of numbers and information from Weeks, who pledged she would comply with the request. "We got some, but we did not get enough information, it's my understanding, to determine the answers to the questions that we'd asked," Commission Chairman Alan Peterson said.
"I don't thinks he necessarily addressed the questions that were asked," County Administrator Craig Coffey said. He recommended holding Weeks's budget "level" (that is, no increase whatsoever) pending answers to the questions. It would not affect the property tax rate.
"I was not ready to take a vote until we were provided with more detailed information, and I think it was discussed further by other commissioners," Commissioner Milissa Holland said. "I'm still very uncomfortable by voting on a budget item when we've not been provided adequate information, when we've requested, we've done a public record request. I don;t know what other action we can take to get this information, but something has to be done. This is not acceptable in my mind."
Commissioners decided to leave the supervisor's budget level, with more discussions on the supervisor's budget set for the commission's next meeting.
The commission approved the tentative $65.3 million budget in a unanimous vote. (See the details below.) The second and final public hearing on the 2011-12 budget is scheduled for Sept. 22 at 7 p.m. at the Government Services Building (which residents are still paying for, and will be, through their property tax bill).