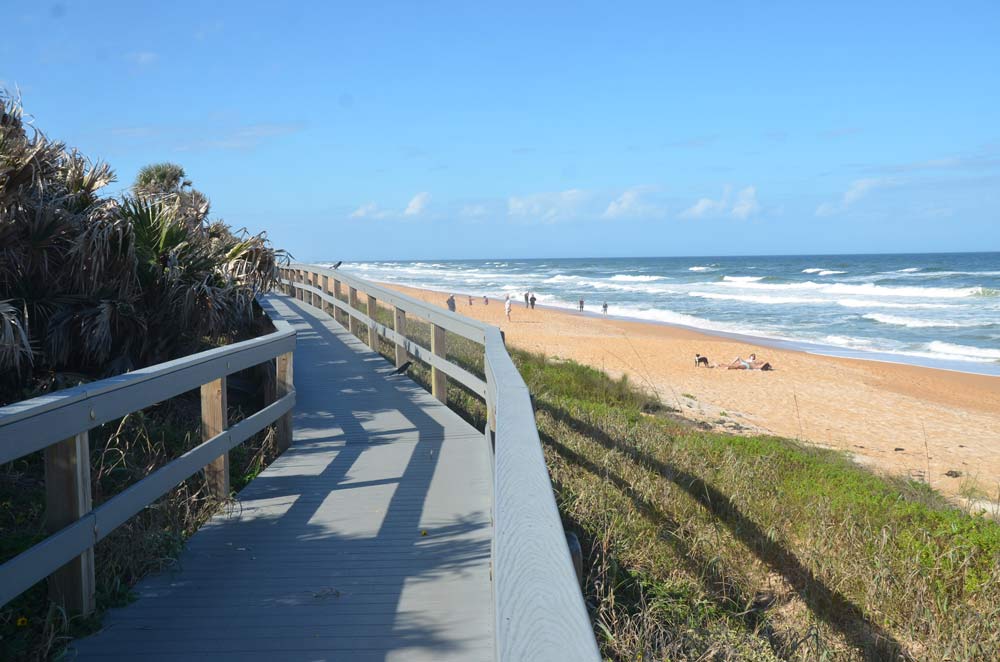 Last Updated: 2:54 p.m.
See:
Flagler Beach government has invited the county and cities to a joint meeting on June 21 where Flagler Beach will make a plea for more money to manage visitors' impacts on its beaches and infrastructure. But the city's invitation got a cold and at times nearly derisive reception when the Flagler County Commission discussed the invitation on Monday.
One of the commissioners suggested the county could take over the city's library. Another suggested consolidation of fire and police services. Another said the city could raise its own taxes. Yet another said it should take advantage of available grants before seeking help this way. And the county administrator enumerated a long list of in-kind and financial support the city is already getting.




"They have to increase their income through" taxes, County Commissioner Dave Sullivan said, trailing off at the word taxes the way people sometimes do when they refer to cancer. "They just have to face that. They've raised taxes, they've lowered taxes, they've tried some things, but they don't seem to want to increase their taxable properties."
"I don't know that I understand their requests for us of what what do they want," Commissioner Andy Dance said.
"They'd like money," County Administrator Heidi Petito said.
"I don't think we should make any suggestions along that particular line," Sullivan said.
[Flagler Beach's commission chairman subsequently denied that the ask was for money: see: "No, Flagler Beach Isn't Asking for Money. It's Asking for Cooperation from County and Cities."]
City Commission Chairman Eric Cooley Tuesday afternoon disputed the county's interpretation: "The assumptions county manager presented to the county body was not what we discussed here in Flagler Beach. We never discussed money as the purpose for this meeting," he said.
In terms of mechanics, the city is asking that each local government appoint two elected representatives to participate in the committee, and to provide one agenda item of discussion. Both the county and Bunnell have declined to provide discussion items. But they have appointed representatives to attend. The Palm Coast City Council will discuss the invitation at its meeting this evening. Flagler Beach appointed its two representatives almost two weeks ago.




"They feel that people come into Flagler Beach and use their city and are impacting their city but the city of Flagler Beach isn't getting a direct benefit of having them come there," Petito told the County Commission. "It's actually degrading their infrastructure and they would like to ask us all to pay into helping them support their infrastructure. So that's the conversation I had with their interim city manager."
The most pressing issue is the beach, but county held is already generous, Petito said, from the county engineering office to the county attorney's office to the emergency management's office to subsidizing the city's emergency radio system and city law enforcement's computer assisted dispatching. "So it's not that we're not providing assistance. I mean, I could go through a list of county staff that provide assistance on a regular basis, but they're looking for financial commitment to them," Petito said. "There's definitely a value that the county is providing that maybe they're they're not aware of. Maybe they are I don't know."
She also cited a local match the county is paying for a $16.78 million Florida Department of Transportation road project. "It's funding that we're getting from FDOT that could be applied elsewhere in the county." Similarly, she said, the county provided Federal Emergency Management Administration match funding on behalf of the city.
There's been some crossed signals along the way. " I did hear from the city manager in Bunnell that Bunnell is not attending," Petito said.
"That's not true," Bunnell City Manager Alvin Jackson said this morning: the commission appointed Bunnell Mayor Catherine Robinson and Commissioner Tina-Marie Schultz to the committee, while other commissioners intend to attend as non-participants, Jackson said.
"The mayor of Palm Coast is not happy to even participate, but will," Sullivan said.




That, too, was not true, Palm Coast Mayor David Alfin said this morning. "I certainly made no reference to my attendance to anyone," he said. "That may be an assumption on their part, but I have had no conversation with any member of the county commission." He said he is a "a big proponent of collaboration," but the decision on who will attend has not yet been made, since it hasn't gone before the council.
He said that the committee could be something better suited for launch after Flagler Beach hires its permanent city manager later this year, but he understood that the city might want to have its financial requests submitted and dealt with ahead of budgeting season, which has begun. Alfin was also concerned about having representation on the committee that also serves on the countywide Tourist Development Council, which could raise issues of conflict. At least two individuals appointed to the committee–Sullivan and Flagler Beach Commission Chairman Eric Cooley–both serve on the TDC. Bunnell doesn't have representation on the TDC.
As for Palm Coast's participation, he said it'll be discussed this evening, "and we'll come up with the best solution to our City of Palm Coast."
Flagler Beach appointed Cooley and Commissioner Scott Spradley to the committee, which will be chaired by Cooley. Commissioner Leann Pennington and Sullivan will attend on behalf of the county, two individuals Commissioner Donald O'Brien referred to as "good cop, bad cop."
The invitation was made by way of a letter by Flagler Beach mayor Suzie Johnston that circulated among local government heads.
"In our strategic planning process the City of Flagler Beach has identified that future growth could have a significant impact on our city," Johnston wrote. "We also recognize the impact of this growth as well as many other issues affecting the future cannot be adequately addressed solely by our individual governments. Instead, we believe they must be addressed collectively by all governments within Flagler County."
The letter contains no reference to money.
Rather than take an agenda item to discuss, the county will, at Pennington's request, carry a document showing "the manpower and dollars contributed by the county to Flagler Beach." Commissioners  had their own proposals for Flagler Beach, none of which are likely to get a warm reception from the city.
"We could save them some money by taking over the library. Holly and I, we've discussed that at length," Commission Chairman Greg Hansen said, referring to Holly Albanese, the director of the county's library system. "I think it's a pride thing with them." Flagler Beach's library budget is $171,000 this year.
Dance said the city should take advantage of tourism grants. "I don't know if you can go asking for other assistance until you've exhausted all possible sources of income that are at your discretion," he said.
"For instance, last year when the they didn't even make a submission and they've got another chance right now," Commissioner Dave Sullivan said. Last year the city notoriously failed to meet a deadline for TDC grant money in the hundreds of thousands of dollars, all of which went to a project in Palm Coast. (See: "Flagler Beach Misses Deadline on $739,000 Tourism Grant. It had 18 Months to Apply. And an Extension.")
"There's taboo subjects like consolidation of fire and police," O'Brien said.
"They'll throw us out," Hansen said.
"If you want to look for the big dollars, it's the same kind of discussion, you know, that the federal government doesn't want to have about entitlement spending," O'Brien said. "I mean, it's like sacred cow. But, I mean, if you want to look at where you could really save money, that's it."
"We're already doing the beach," Hansen said, a reference to ongoing projects to rebuild dunes.
Questions were raised about the county's support for Flagler Beach's lifeguards. Currently the county pays $96,000 of the city's cost for lifeguards, up from $84,000 last year and $72,000 in 2020. The city's budget doesn't detail its overall cost for lifeguards, which is folded into total salaries and benefits for the beach department. The beach department's total budget this year is $365,000, of which $246,000 is for salaries and benefits.
Sullivan threw in county support of Flagler Beach's IT operations. "Last year they were going to get rid of our IT support," he said, recalling a debate within Flagler Beach over whether to abandon its partnership with the county for IT services.  "They thought they could make you know money doing that. Well, when they checked it out and everything, they ended up back with us. Now, we increased the amount of money we're charging, but it was still a better deal that they could get elsewhere is what they found. So they've gone down that road a couple of times."
Then, drawing on his chairmanship of the TDC, he said: "They get more money back than they pay into the TDC."
"There are other folks in the city who feel like maybe the promotion of their community is not what they want," Petito said. "And it's now creating an impact infrastructure. So I guess it's trying to find that happy balance or that middle of the road."
Pennington summed up: "Happy to attend. Not sure we can add to anything. But I'm happy to listen."