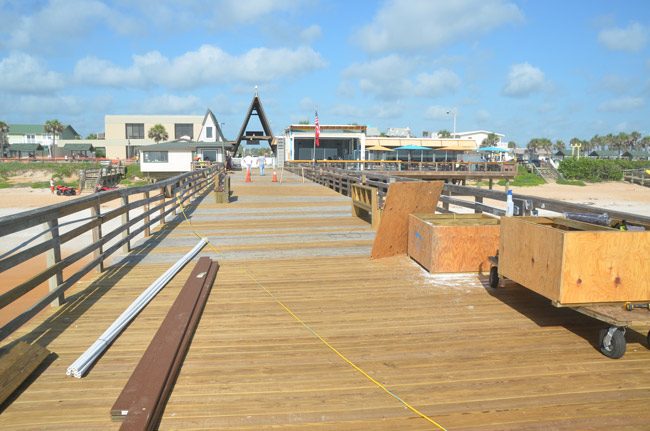 Hurricane Irma's high winds and heavy rains impacted Flagler Beach on September 11 resulting in extensive damage to many city facilities, including the Pier, the public library–which had been heavily damaged by Hurricane Matthew last year–and the Flagler Beach Museum.
The Pier had been significantly damaged by Hurricane Matthew, and some 160 feet of its eastern tip demolished, that the whole structure had to be closed and repaired over eight months. It had been open just three months when Irma shut it again. The city announced on Friday that the tentative date for the Pier's reopening is December 15.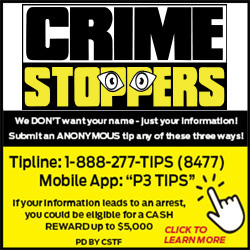 In a briefing on its main structures damaged by the storm, the city said several structural integrity studies have been performed by the engineers from Mott MacDonald and repairs are being made by Construct Co. Inc., the same team that conducted the repairs post-Matthew.
The public library had also been closed since Matthew, undergoing extensive repairs, and was due to open the very month when Irma struck. That got again delayed. Now, the heavy damage to the roof of the city Library has been repaired, and efforts to restore the interior have begun. But the time-frame for the reopening of the library is not known for now. It'll be determined by the contractor's progress.
"We understand the inconvenience this closure has caused, and its reopening is a top priority," the city said in the statement it released Friday. "We will continue to keep the public informed as to a tentative reopening date."
The Flagler Beach Historical Museum at 207 South Central Avenue is normally open Monday through Sunday from 10 a.m. to 4 p.m., but for now it will be open with limited hours at times due to ongoing storm-damage repairs. Museum officials suggest that before visiting, you call (386) 517-2025 to ensure the museum is open at that particular time. The bathrooms inside the Museum are closed for repairs but the bathrooms at the Pier are functional, as are the public bathrooms at the front entrance of City Hall, which is located right around the corner. Those are open Monday through Friday, 8 to 5.