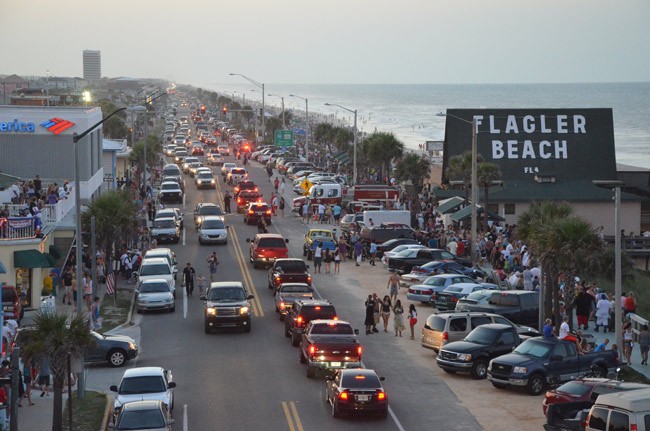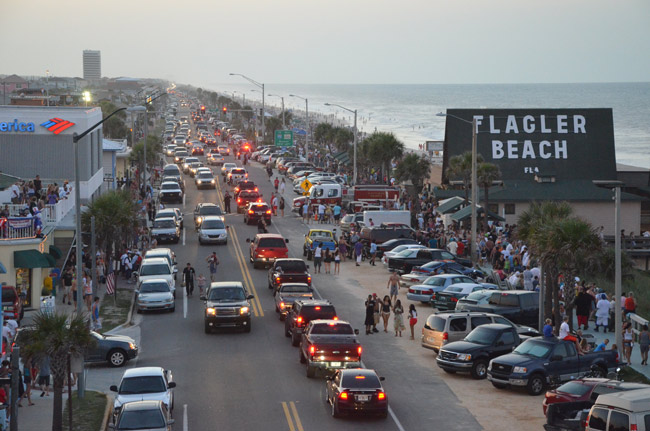 After two years and 26 meetings, including two public workshops, Flagler Beach's parking committee on Thursday will formally submit its recommendation to the city commission: establish a broad, paid-parking plan in the city, transforming all city-owned parking lots and most premium parking streets downtown into paid-parking zones, including State Road A1A. In sum, the equivalent of 662 parking spaces would become metered through kiosks, with an up-front cost to the city of $1.2 million that the city would repay by 2021.
The recommendation only got a plurality, but not a majority, of the six-member committee, which was chaired by Roseanne Stocker and had a split membership of three residents and business owners and three city officials, including City Manager Bruce Campbell, Mayor Linda Provencher and Public Works Director Robert Smith. Attorney Scott Spradley and Shelley Warner rounded out the voting membership of the board, which also included non-voting member Kathleen Doyle, the city's finance director.
The city commission appointed the committee in February 2013 in hopes of finding a solution to a two-decade issue Flagler Beach has yet to settle. The commission has considered numerous proposals over those two decades, from buying lots to building a parking infrastructure with trolleys or shuttles, to parking meters. (See a chronological run-down of that history here.)
While the city has managed to convert several vacant lots to its inventory of parking, it has never resolved the parking issue comprehensively—nor empirically addressed the question of whether there is, in fact, a parking problem in the city outside of special events, when Flagler Beach is unquestionably clogged, with some areas at a standstill.
The city claims that "challenges" ahead are inevitable, and doing nothing is not an option. The committee claims the number of visitors to its beaches has increased from 82,000 in 2009 to 136,000 in 2014. The city cites figures provided by the United States Lifesaving Association. The figures have not been independently verified.
"With the exception of some parking time limits near the pier and on a limited number of streets downtown," the committee reports, "Flagler Beach does not currently have a true parking plan that addresses who parks where nor for how long. Some beachgoers park in the downtown in front of small businesses for multiple hours, which make these spaces unavailable for business customers. Employees of downtown businesses sometimes park for the length of their work-day or work-shift in the most premium parking spaces. Spaces in the most desirable city lots that could be used for visitors and customers are often used by employees."
---
The committee's top recommendation sees an up-front cost to the city of $1.2 million, and assumes considerable revenue, and fines, to pay it all back by 2012.
---
The committee stressed that its findings and recommendation "will not solve every parking challenge faced by the city,"  and that whatever option the commission settles on, it would have to be "tweaked" and would have to include the participation of residents and businesses at every stage.
Flagler Beach has been there before, and almost every time the city commission has either failed to act or found money wanting or run into issues out of its control. By punting to a committee, the commission was again displaying a reluctance to make the parking matter its own to resolve, though with the committee's two years of work, the commission will find it difficult not to take the recommendations seriously and do something. But that process will only begin Thursday, and certainly will not end there.
The committee summed up general proposals outside of its four main options. Those proposals include building a 75-space parking lot on South Flagler Avenue, the present site of the Public Works Department, and another 29-space lot on 4th Street. Both of these plans have been proposed in the past. The committee also suggests considering an actual parking structure, though it has no site in mind, along with buying additional lots and installing more bike racks.
Additional proposals, also considered in the past but never implemented, would study the viability of a trolley or shuttle system and the viability of parking under the Intracoastal bridge, with free transportation to the beach.
The committee then turned its attention to four specific options.
One option is to do nothing. That option is in line with those who think the city has no significant parking problem, but committee members caution that the do-nothing approach will deny the city a new stream of revenue, requiring taxpayers to continue to foot the bill for visitors' impacts on the city, while ignoring challenges that "will only get worse the longer we do not address them."
Option 2: No paid parking anywhere, but enforce time limits more rigorously in more places, including along A1A, forcing beach-goers to park in (proposed) new lots on South Flagler Avenue. The plan implies citations for people violating the time limits, and therefore some new revenue for the city.
Options 3 and 4 revive versions of a paid-parking system Campbell proposed in 2013. Both options would convert all city parking lots into paid parking, except for the lot on South Flagler Avenue. Option 3 would keep street parking free, so that a total of 170 spaces would become metered. Option 4 would turn the equivalent of 662 spaces into paid parking throughout the city, including along A1A.  The system in both cases would be administered through kiosks. Option 3 would generate net revenue (or profit), after expenses are paid, of between $40,000 and $83,000 a year, depending on how heavily the parking lots are used. Option 4, with more streets turned over to paid parking, would generate between $400,000 and $800,000 a year in profit.
But those sums also assume that the city will take a punishing attitude toward violators, generating from $60,000 in fines and forfeitures in the first year of the program, to $81,000 by 2020.
Those options create the sort of potential problems paid parking proposals have imagined in the past: more people might park in residential neighborhoods, creating conflicts with residents. Both proposals require a large up-front investment by the city. Both might have a negative impact on businesses and the city's image. And to get Option 4 operational, the city would have to buy 61 kiosks (as opposed to six for Option 3), with start-up costs of $867,000 the city would have to borrow from its general fund. The five-year maintenance contract for the kiosk system alone would add up to $218,000. Overall capital costs for the program would add up to $1.2 million. To repay that cost, each of the projected 662 parking spaces in the city would have to generate $375 annually.
On the other hand, neither would eliminate free parking in certain areas of the city, and the city could find itself with a new stream of revenue. Additionally, all parking fees would be suspended during the slow season, between Oct. 15 and February 15.
When committee members voted on the four options, Option 4 got three votes, Option 3 got two, and Option 2 got one vote. Doing nothing was no one's choice.

Flagler Beach Parking Committee Findings and Recommendations (2015)