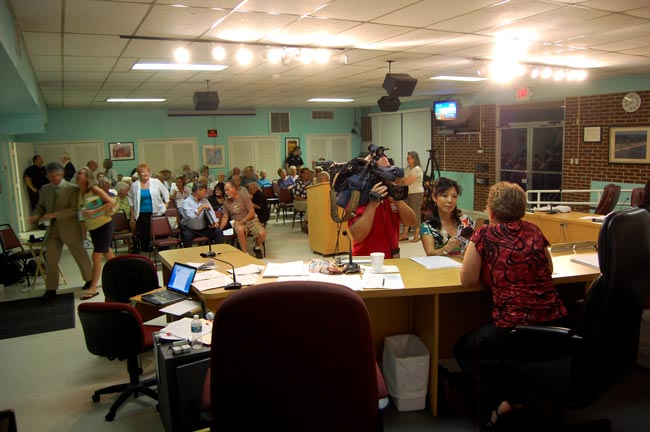 There'll be another round of interviews for Flagler Beach city manager. Three candidates—Bruce Campbell, a local, Gary Word and Edward Sealover—will be invited back for a second round on Sept. 29 at 1 p.m. Scott Janke, who had been the front-runner, is out. (For a minute–by-minute account of the discussion, see here).
In what turned into something of a circus—the full-house chambers interrupting with applause and just a few verbal outburst, one commissioner being piped in by phone and the others alternating between exasperation and consensus—the commission late Thursday evening hobbled forward in its fractured search for a new city manager.
First, the commission accepted candidate Janke's withdrawal from contention. Janke is the former Fort Myers Beach city manager who was fired down there last year when his wife was outed as a porn actress. He was the front-runner here until an X-rated DVD starring his wife surfaced last week, allegedly featuring him (Janke says without his permission).
A majority of the crowd in the chamber, judging from loud applause, wanted Bruce Campbell to be hired. He's a building maintenance worker with Flagler Beach who spent many years as the president of his own company in Ohio. His candidacy literally built into a political campaign. Campbell was ranked first on the two-name shortlists of Commissioners Steve Settle and Ron Vath. Vath, absent since mid-August, decided to make an appearance by phone at tonight's meeting. He did not participate in any of the interviews. It's unclear whether he listened to recordings of the interviews the city sent him. He did say that he'd be back in town on Oct. 7.
But Commissioner Joy McGrew spoke several times, and forcefully, against the political movement behind the Campbell candidacy. "I feel like y'all are jamming Bruce Campbell down my throat, and that if nothing else backs me into a corner and makes me fight harder," McGrew said.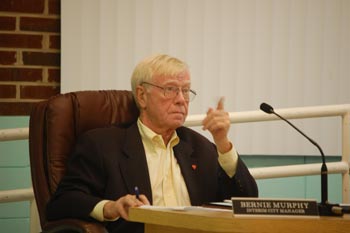 She had support from Commissioner Jane Mealy and County Commission Chairman John Feind. None of them felt that Campbell's lack of public experience would necessarily serve the city.
After several procedural motions, the commissioners agreed to narrow down the list of candidates to Word, Sealover and Campbell. Briefly, Caryn Miller's name and Mike Evans' name, both locals, reappeared on short-lists, but they didn't make the final cut.
Earlier in the evening, Commissioner Settle attempted to hire Campbell immediately, on an interim basis, arguing that he could be hired—that he was willing to be hired—without a contract, and therefore could be fired at any point, the moment the commission decided that he was not cutting it. Settle credited McGrew for the idea, though the commissioners had never discussed that possibility in the open. Settle got support from Vath. But it was at that point that McGrew first jumped in to voice what she later termed as "fears" that Campbell is not prepared to manage the city, having spent his executive career in the private sector.
When Settle's motion was put to a vote, it failed, with just Settle's and Vath's vote in favor.
The Campbell candidacy was kept alive as Feind labored to a consensus on the other option: re-interview the remaining three names at the top of commissioners' lists.
There is no clear way forward. There is a clear split on the commission, and the possibility of a stalemate, with Feind, McGrew and Mealy on one side, and Settle and Vath on the other. The next manager must be hired with a four-vote majority.
"We're not crackers anymore and old Florida is dead," Bob Chase, a member of the public, told the commission after its deliberations. "This is a business. You are a board of directors and we'll have a CEO," he said, words that McGrew, Feind and Mealy don't quite agree with when they make a distinction between public government and private business.
"I don't take this seat lightly. This is my town. I've lived here 30 years," McGrew concluded, saying she won't be making any decisions lightly. She invited anyone who thinks it's easy to run the city to serve their time–to run for the commission.