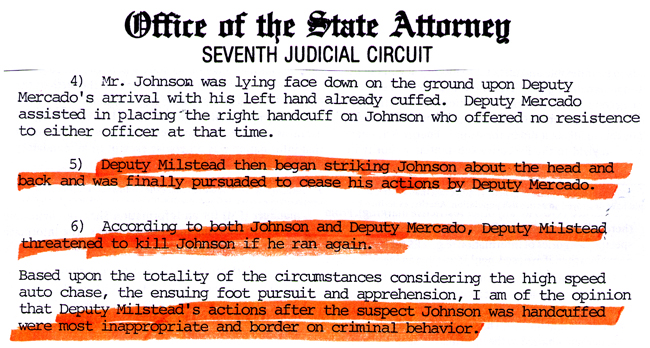 The Flagler Beach Police Department hired Lt. Robert Milstead in October 2007 despite a record of violence and, according to a State Attorney's investigation, actions in the line of duty that were "most inappropriate and border on criminal behavior."
The Florida Department of Law Enforcement arrested Milstead on Monday on charges of physically and verbally abusing one elderly, disabled citizen and on another charge of abusing another citizen, an incident that also involved Milstead repeatedly calling the citizen a "nigger."
At the time of Milstead's hiring in October 2007, the Flagler Beach Police Department was in turmoil. City Manager Bernie Murphy had just fired Police Chief Roger Free in a move backed by the police union. Murphy cited low morale and other issues at the department. Free sued, and the city and Free settled. Free got $10,000. Dan Cody, a sergeant in the department at the time, became acting chief. Milstead was hired on his watch. Cody could not be reached for comment on Thursday (he was in surgery).
Milstead had worked from 1981 to 1983 with the Flagler County Sheriff's Office, under Sheriff Dan Bennett. Bennett's tenure was itself scandalous: Bennett was removed from office two years into his term — paralleling the two years Milstead worked there — after the Florida Senate voted 39-0 in favor of an executive suspension. Then Gov. Bob Graham's special master on executive suspensions had upheld charges that Bennett had exposed his genitals on a boat ride with a deputy and another woman, and had failed to carry out a court order to destroy a pornographic film titled "Black Rape." Instead, Bennett let the deputy who confiscated the tape keep it.
Robert McCarthy was appointed sheriff in Bennett's place. Several incidents punctuate Milstead's record at the Sheriff's Office.
On August 17, 1983, Milstead and another deputy, Paul Mercado, were involved in a high-speed car chase, then a foot chase, following John Johnson, a suspect. At one point, when Johnson fled on foot, both deputies fired warning shots. Then Milstead chased Johnson down, ahead of Mercado. According to a State Attorney's investigation by Lewis Stark, chief of the special prosecution division at the time, Johnson was lying face down on the ground, under control by Milstead, when Mercado arrived. Mercado assisted Milstead in placing handcuffs on Johnson, who offered no resistance.
"Deputy Milstead then began striking Johnson about the head and back and was finally persuaded to cease his actions by deputy Mercado," Stark wrote in a report of his investigation to McCarthy dated Sept. 16, 1983. "According to both Johnson and deputy Mercado, Deputy Milstead threatened to kill Johnson if he ran again." Johnson, the report states, "was totally cooperative with the deputies once he was cuffed and offered no resistance." In subsequent days, Johnson reported blood in his urine and stool, which was verified by a doctor, though the doctor observed no physical bruising.
"Based upon the totality of the circumstances," Stark wrote, "I am of the opinion that Deputy Milstead's actions after the suspect Johnson was handcuffed were most inappropriate and border on criminal behavior." While Stark said criminal prosecution was not warranted "in this instance," he "strongly" recommended "appropriate administrative sanctions."
"His conduct at the scene of the arrest," the prosecution chief wrote, "cannot and should not be condoned."
Other incidents are documented in Milstead personnel file from his tenure at the Sheriff's Office. The file includes a March 1983 letter from a woman documenting her drive late at night through Bunnell with her mother, sister and a friend. Misltead pulled over the vehicle with a loudspeaker–and drove away. "We were filled with confusion and fear," the woman wrote, "confusion because we didn't understand the officer's conduct and fear because it was one o'clock a.m., and such a predicament is dangerous for four unsuspected women." Five minutes later, the woman drove on, and was again pulled over by Milstead, who then cited her for speeding. "I have never heard of a policeman conducting himself in such inappropriate manner," the woman wrote a judge.
A third incident is recounted in a December 1982 letter by Robert Bisesi, president at the time of a Holly Hill-based investigation firm. Bisesi describes going to the Flagler County Sheriff's Office to serve Milstead a subpoena for a deposition in a civil action case (not documented in the file).
"After presenting officer Milstead his subpoena," Bisesi wrote, "his first two thoughts wwere not ones of law and order, but first, 'Is this all I get?" in reference to the amount of the attached check, and 'This is my day off!'" Bisesi then describes how Milstead told the desk officer that "when these people come to the department, he did not want to see them, and later that "I could go down the road." The behavior was witnessed by five people at the time, Bisesi wrote. "I felt this type of attitude was strange for a law enforcement officer."
Milstead left the Sheriff's Office shortly after the state attorney's investigation. There is no record of why Milstead left the Sheriff's Office, which was a small operation at the time. Three years later, he was employed by the Holly Hill Police Department where, according to the Daytona Beach news Journal, "He had a mostly positive career but was suspended for five days without pay in 2003 after he blurted out another racial epithet, records show."