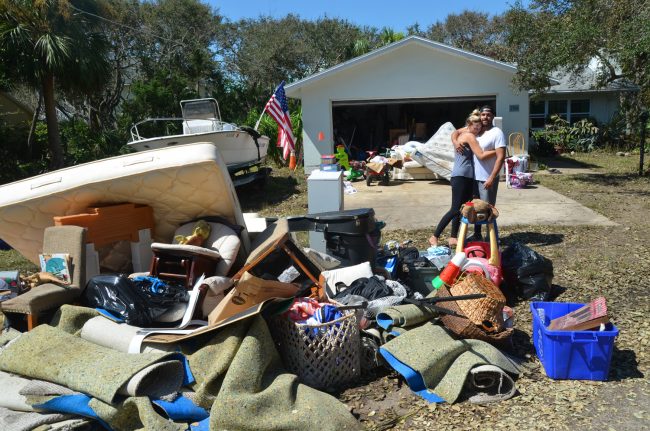 They're not houses anymore, exactly. They're heartbreaks. One after the other. On South Flagler Avenue, on Ocean Palm Drive, on Palm Drive, on Lambert Avenue in Flagler Beach, where block after block of homes were flooded by one, two, three feet of water from the Intracoastal or the salt marsh as Hurricane Irma's lashing remnants tormented the area early Monday.
Today much of the water had receded. But most of the properties along those streets looked dismally similar to houses where a resident who'd lived there for years had just died, where families were cleaning out the insides by piling up musty furniture, carpeting, shelves, clothes and appliances out front or in dumpsters to be hauled away. Except that no one had died. The houses' interiors had. The end result was the same: block after block, pile after pile of lifetimes of belongings lining the road with soaking carpets, couches, beds, mattresses, toys, books, clothes, turn up flooring, musical instruments, like the torn up acoustic guitar glinting in the indifferent sun in front of a house on Ocean Palm.
And that reek. That sticky stench in the heavy humidity, that fishy sewery smell of rot, of regurgitated river-bottom now stagnating in yards and staining living rooms, clinging to every molecule and refusing to budge. No one died, but the smell of decomposition is everywhere.
After Hurricane Matthew last year the piles in front of houses were all tree limbs and shrubbery. You could call it all yard waste. There is some of that today in front of houses, but in smaller, rarer mounds. What saddens, what shocks, what doesn't let up, are those small hills of personal and intimate property that overnight went from cherished comforts to garbage, from storehouses of memories to rubble.
Where power was available, a rarity, fans blew through every entrance as after a fire to dry out the insides. Clothes hung from clotheslines. Residents or people helping them wheel-barrowed back and forth between piles and damage zones. In one driveway on South Flagler, you could glimpse two people hugging for a very long time—again, as if someone, as if something, had died.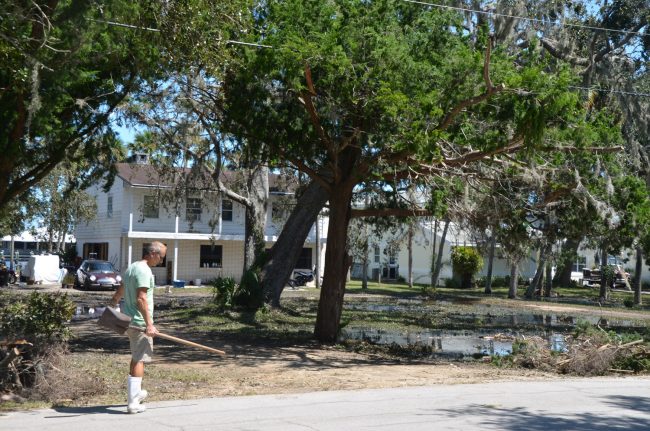 "It's a little overwhelming," says Colleen Conklin, the school board member whose house on Ocean Palm, along the golf course at the south end of town, was among a handful that were spared flooding, enabling her and her family to turn their attention to helping others, as they have since Monday. Her parents' and in-laws' houses were not so lucky, nor were the majority of her neighbors' houses.
The houses are still standing. It's not St. Martin or Barbuda. It's not even Key West. Even so, words fail when residents—or reporters—try to describe the extent of losses , comparatively limited though they are.
"Unbelievable. I couldn't believe it. It's just unbelievable," said Robert Law, whose two-story house at 208 Lambert Avenue became one with the Intracoastal all the way up to Lambert: his back yard disappeared after 4 a.m. Monday, washed over all the way to Lambert. He lost everything on the first floor and in his yard, including his car, his motorcycle, his hot tub, his fridge, his furniture. "My freezer was floating around in the house," he said.
His father, Bob Law, who'd once been Flagler Beach's city manager and its chief building official, had built the house in 1943. Robert has been there since 1971. "I've never seen anything like this," he said—a phrase you hear again and again, like a human echo of those piles of lost belongings. He stuck out the storm upstairs after sending his ailing mother, whom h cares for, to Gainesville. His car, his only means of transportation, is done for, so he has no way of bringing her back. "I've got to figure out how to contact FEMA, get help," he said.
Law's story is grimly repeated up and down those four streets and avenues, so much that two Flagler Beach City Commissioners and the city manager, all on South Flagler, were affected by flooding.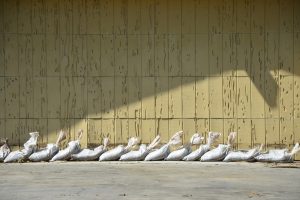 Rick McFadden, Flagler Beach's chief building inspector, was patrolling South Flagler this morning, making a visual inventory of the major problem spots. He said the majority of houses in those problem spots got two feet of water or less, which will require dry walls to be torn out up to the four-foot joint line soon, before mold sets in. FEMA sent word, he said, for homeowners not to touch anything until the federal agency can assess the damages in 10 to 15 days. "Well, by that time it's too late for the mold," McFadden said. His recommendation to those already starting the work: take a lot of pictures, but also "make sure when the adjuster comes in, the adjuster can tell it's a picture of that particular area." In other words, the pictures have to show provable context associating the damage with your property.
McFadden is also worried about unlicensed and uninsured contractors who are preying on vulnerable residents, elderly residents especially. Those contractors may come cheaper, but so does the quality of their work—and the risks they take: if an unlicensed contractor is hurt on someone's property, that contractor can sue the homeowner, McFadden said. "And they're the ones who tend to get hurt," McFadden said of those contractors.
At midday today City Commissioner Rick Belhumeur wasn't waiting for FEMA. He has several properties along South Flagler—including the house he rents to City Manager Larry Newsom, plus his own, plus one next door he rents to someone else. He was giving his "drywall guy," Tom Merrill of TRM Drywall, a walk-through the house next door, where the water had gone up just under a foot. All the carpeting had already been torn out. Much of the furniture, all the kitchen cabinets, all the drywall below a certain point was done for. "Obviously, the kitchen is destroyed," Belhumeur said. "I'm probably going to have you work on these two rentals first," he tells Merrill, who thought the drywall could be replaced at the 2-foot mark.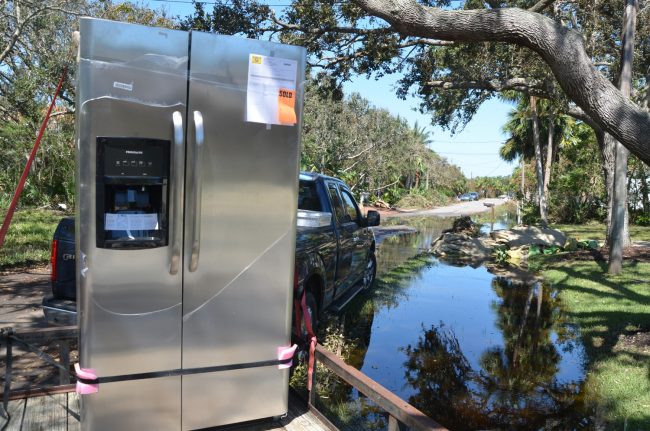 Outside, in front of the house Belhumeur occupies, a pick-up truck with a trailer was backed in, with a brand new refrigerator ready for delivery: Belhumeur's fridge had to be replaced. And there it was, next to that pile of belongings.
He could afford that immediate replacement. Many won't be able to. But that's where a different sort of lifeline has also become even more visible than the piles of lost property: human lifelines, neighbors helping neighbors, strangers streaming in from beyond the stricken areas to lend a hand, offer a place to stay, wash laundry for those who need their damaged clothes cleaned before mold sets in, offer storage space, offer muscle to move furniture, to rip out carpets.
Just listen to the photographer A.J. Neste and his wife Megan, who rent a house on South Flagler with their three young children—ages 7, 5 and 2—and whose property was as devastated as anyone's: they lost around 75 percent of their belongings, a small mountain chain of which sat in front of their house, with more to go. Yet they never spoke as if they'd just lost everything.
"It's hard to be bummed out when so many people step up to help," A.J. said.
Megan said she was initially "a puddle of tears" when she saw the house—the couple and their children had stuck out the storm on 23rd Street, at A.J.'s parents' house—"I'm bawling my eyes out and then I'm, like, come on Megan, put your big boots on and get it done."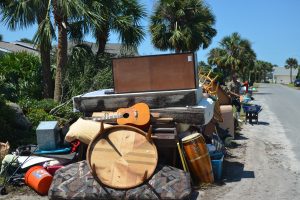 It was pretty shocking when we went into the house," she said. "It looked like someone had taken our property and set it into a pond."
But she put on her boots and got it done, with among others Leah Fasano, one of her friends—who lives at 20th Street and South Daytona, and was spared flooding—helping this morning. "Flagler is very unique with the community unity, everyone is coming together," Fasano said.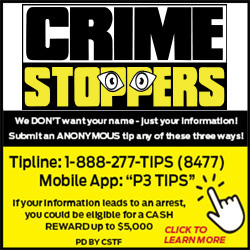 The Neste's church, Coastal Family Church, was immediately asking them what they needed and made a three-month storage unit available to them. Barbara Revels, the former commissioner and owner of Coquina Real Estate, a contracting business, also the owner of several rentals, made one of her rental properties available to them, as did Helen Kramer, another neighbor down the street, who was offering a house there. The Georgia-based owners of the house the Nestes were renting have also stepped up: they were so grateful that the Nestes had done so much to clean the house—unlike many renters faced with that situation–that they're sending money to compensate them. "A lot of people are leaving," A.J. said of other renters. "That's not what true Flagler people are about. We'd be lost without our friends, that's for sure."
Even the Neste children have helped with their humor: one of the children was gleeful, boating over shortly after the storm—when the entire neighborhood looked like "a boating community," Megan said, with people in boats, canoes, kayaks, and the Nestes themselves in an actual motorboat—and saying of the boat ride: "Can we do this every hurricane?" Seeing the house, the 5-year-old boy then said: "Well, I guess we need a new house." Today, many of his toys were among the things piled up front.
The Nestes aren't done: as they wind down the work on their house, they plan on joining a team of helpers and going to other people's houses and yards to clean them up.
"My husband and I got lucky, but really the biggest reason we've been thankful to have been spared is we have time to help our friends with our resources," Fasano said.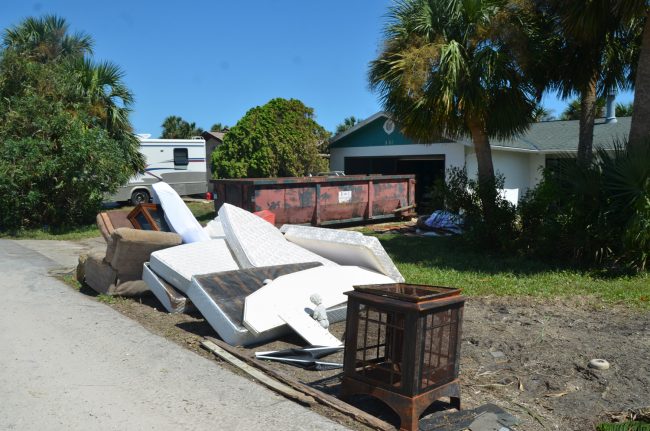 A few houses down, Revels was speaking with Kramer in front of one of the two houses Kramer owns around there—a 1970s house Kramer said did not flood because of the work Revels' contracting did there. "There's not a leak in that house," Kramer said.
Revels was not as lucky, though only her garage flooded, because the rest of the house is elevated. "My house is elevated so my house is fine," Revels said, "but the garage, where I had tons of tools and equipment that I had lifted up—it was not enough. But I'm way better off than all these people with nowhere to go." And so she stepped up and offered the help she could: actual live-in space for those in need.
And she made a telling observation that tells a story all its own: Revels has lived in that house, off the salt marshes, for 30 years. It was 15 years before it first flooded. She'd known three floods before Irma. The first one was 4 to 6 inches. The next two, both in the last eight years, were 12 inches. And this last one? Two and a half feet. "If that doesn't tell you what's happened in the last 10 years…" Revels said, the thought trailing to the obvious.
In other words, if you don't think the rising sea levels have anything to do with it—rising seas because of melting glaciers and ice caps, because of human-induced global warming—just look at Flagler Beach's ecological history from those who've lived it in the past 30 years.
At 12:07 p.m., Revels and Kramer suddenly cheered an clapped: the power had just come back on.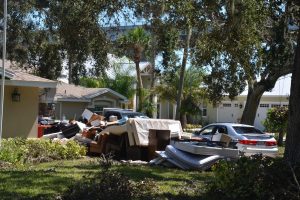 Further south, they were still not that lucky, and they didn't have the huge shading canopy of South Flagler Avenue to shield them from an increasingly punishing sun. It was a scene of toil and sweat and soggy belongings still dripping under the cloudless sky, of oddly moving sights, like Chris Baiata's broken guitar on a pile of lost belongings, or the sign that screamed to the waste-removal folks, "FEMA/INS CLAIMS—DO NOT TAKE YET."
That's the neighborhood where Conklin, the school board member, lives, where just days ago she was boating around to see if anyone needed help, when the water was still thigh-deep in places. She and her family haven't stopped helping since. Today it was a different sort of help.
"It's just kind of trying to bring bins and baskets for people," Conklin said, things for people to carry stuff in, people who never thought they'd have to move, or move anything. But help has been forthcoming. "The support has been amazing, community members have come out, teams of people have come out to help people." Some drop off supplies. Others pick up things that need to get taken away. "Everybody is trying to help where they can right now. We're trying to scrape out mud from neighbors across the street's house. But everybody is helping." Now it's all about those scrapes, the tearing up of carpets and flooring, the emptying of houses' demolished furniture. The next phase, as she sees it, will be more heavy-duty cleaning, bleaching out homes, battling mold. "I'm concerned about the older folks and the mold."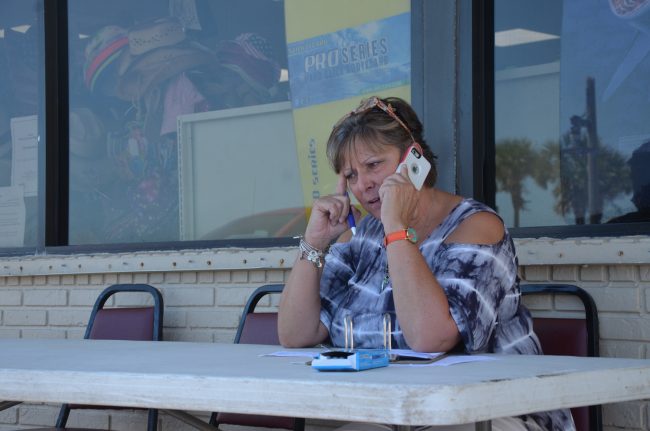 That's where people like Kim Carney, the Flagler Beach commissioner, are stepping in. Carney was sitting at a table outside Eric Cooley's 7-Eleven on State Road A1A in downtown Flagler Beach, one of the most heavily trafficked areas in town. Carney can't lift heavy things or move furniture, but when she was helping people register for FEMA assistance at the Flagler County Assistance Center that opened at the county's public library in Palm Coast this morning, she realized she could be doing more effective intake for people in Flagler Beach by placing herself in the middle of town, and helping people most heavily hit with filling out intake forms. The forms were prepared by Flagler County's Volunteer Services, whose volunteers will then organize in teams and respond to those homes to do whatever cleaning up is needed.
"It's not tree debris now, it's house stuff," Carney said. "Anything, debris, house, they'll do anything." Carney will be siting at that table Wednesday, Thursday and Friday, helping to coordinate the effort (and reminding residents: if you're putting damaged goods on the curb, avoid the ditches and swales at all cost: it's still going to rain, and those ditches and swales must be left clear. Avoid the road, too. Placing the stuff in yards is fine. "We'll try to get as many people out as we can," Carney said, and was willing to give out her cell number for anyone who needs guidance: 386/846-5493 (See the form here or below.)
Stories like that are emerging out of Flagler Beach with inventiveness and flair, the way Liz Williams, the Flagler Beach police detective, set up Flagler Storm Swap, a Facebook page for residents to connect and exchange surplus items ("It takes a village and we are that village," she wrote in an introductory post), the way Scott Spradley, the attorney, is offering to fly his drone above the properties of people who have not yet made it home, and send them the video so they can see for themselves how their houses fared.
So it's been all day in those terribly hit areas of Flagler Beach. No, it's not the Antilles, it's not utter destruction, but there's a point where the hierarchy of loss loses its meaning, when losing a house's interiors can be just as poignant as losing a house, whose walls and roof are not there for their own sake after all, but to protect those interiors.
Still and yet, the words so often heard are those Megan Neste spoke to her young daughter about her lost toys: "It's just stuff."
"I know we're not the only ones," Megan said, standing by her mountain of loss. "Flagler Beach has a lot of people who have been affected. We're trying to stay positive, being uplifted by friends and prayers. It's been amazing, the community coming together."
Flagler Beach's icon is its pier, which powered through Irma unscathed. But at least these days, Flagler Beach's icon is the phoenix–nesting, most likely, on the pier.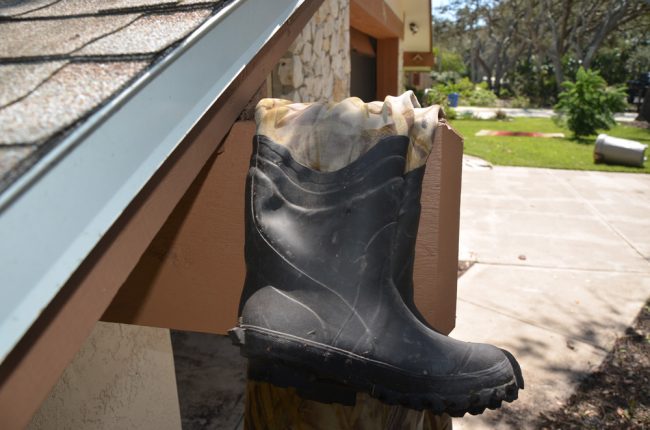 Do You Need Help? Fill Out This Form