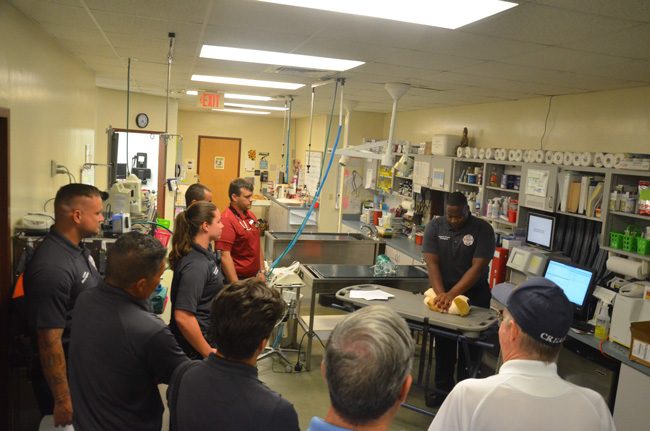 Last month the Flagler Beach Fire Department responded and was first on scene at a Beverly Beach house fire where the homeowners were absent, but their pets were not. They were stuck inside.
Flagler County Fire Rescue's Christopher Kendra and Justine Stone rescued two dogs from the structure, and fire rescue's Jared Parkey and Mary Ann Huston treated them. One of the dogs had seemed lifeless but was brought back to life by his rescuers, and the other, less damaged by the fire, also made a good recovery, thanks to pet oxygen masks.
Flagler Beach's firefighters could have done the same, but they're looking to have extra capabilities. "After receiving much positive feedback from the community, we took much thought into the service we could extend to the community," Flagler Beach Fire Department Captain Stephen Cox said. "We have teamed up with the Flagler Animal Hospital and are proud to announce that we will be training all of our firefighters with Flagler Beach Fire Department on pet CPR."
That was at the beginning of August. Last Thursday (Aug. 8), most of the Flagler Beach Fire Department's personnel and some of its volunteers gathered at Flagler Animal Hospital for a tutorial with Dr. David Rosiek, who trained the firefighters on pet-CPR techniques using a small plush dog), with a couple of the firefighters trying their hands at it. ("One third to one half of the depth of the chest," Rosiek tells them. "You're not cranking on it, so you're not going to break a rib.") Rare as the occasion to exercise the skill may be, the team left the hospital with all but the certification papers signed.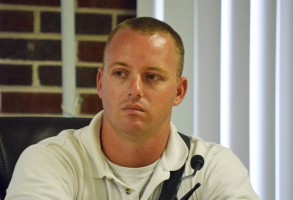 There were a few pointers about quickly checking the animal's airway before starting the oxygen, positioning the animal certain ways during CPR depending on size, finding those places to check a pulse, judging when to bring a cat or a dog to the hospital, which–like an ER–is open 24 hours. The session lasted less than half an hour. (It was one of two: a few additional firefighters were to get their own session a few days later.) "I'm glad you guys wanted to come in and do this, this is great," Rosiek told them, wrapping up.
Farm animals aside, individuals on occasion bring the odd, unusual animals to the hospital–stray tortoises and turtles, baby opossums, baby squirrels, "but we usually do contact a rehab facility once we've assessed those," Rosiek said. Flagler Beach firefighters once brought in a squirrel, and others have brought in deer. Otherwise, it's an even split between cats and dogs. (Firefighters advised the owners of the dogs in the Beverly Beach fire to bring them to the hospital, but they did not do so.)
We can make a difference early on," Cox said. "People care so much about their pets. They view it as an extension of their family. If we can provide that little bit extra service to the community, I feel like it could go such a long way, so it came up to me like–if we can get our guys and gals pet-CPR certified and we're on a fire and presented with that, we can do everything we can to make a difference."
The service will only be provided if a pet is pulled from a house fire by a firefighters operating at the scene, Cox notes. Residents can't call 911 just to request a pet rescue. On the other hand, the Flagler Beach Fire Department is disseminating free "pet alert" stickers residents can affix to their windows to alert firefighters of the number of cats, dogs or birds in the house, in case of an emergency. (It's not just fire: gas leaks, flooding or evacuations ahead of storms are not uncommon, and homeowners aren't always home when such emergencies occur, though their pets might be.)