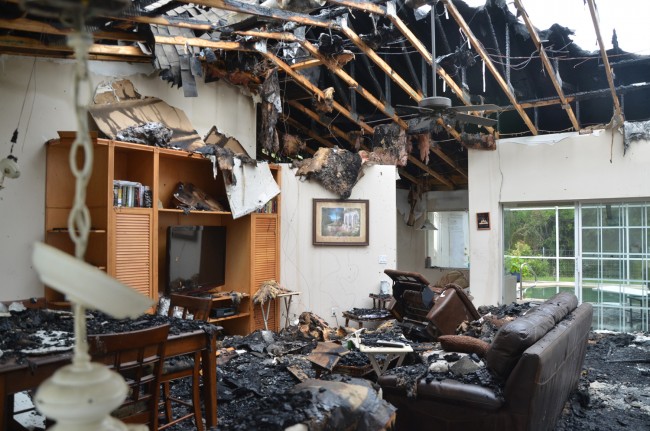 Last Updated: 12:23 p.m.
A fire that started around 2 this morning in a wooden house built on stilts at 208 Ocean Palm Drive leveled the house and spread to the house next door at 210, gutting it. The five occupants of the wooden house managed to get out but were all hospitalized, two of them, including an 11-month-old, in critical condition.
The occupant of the second house was unhurt. The cause of the fire is unknown, and being investigated, with the state fire marshal at the scene this morning.
By daybreak the Flagler Beach Fire Department, which was first on scene and took command of the situation, had put out the fires, with just charred, skeletal stilts left of the wooden house. The house next door was molstly a burnt wreck and was likely a total loss but for the walls.
Three family members had been taken to Florida Hospital Flagler. Two of them were released by daybreak, while a third was taken to Orlando Regional Medical Center with smoke inhalation. Jessica Johnson, the mother of 11-month-old Landon Ghomely, was flown with Ghomely–in separate helicopters–to ORMC shortly after firefighters arrived at the scene.
Bob Nierstedt, 74, who's lived at 206 Ocean Palm Drive since 1997, heard something odd at 2 a.m. "I heard these noises about 2 a.m.," he said, "boom, boom, I thought what the heck was that. I came out, I saw the flames about 200 feet in the air. I thought holy shit, I went back inside and called 911. I asked them, do you know you have a house fire in Flagler Beach? She said no, where about?"
Nierstedt couldn't believe no one had called it in yet, though there were people in the street already. "It was noise, and the flames, the flames alone," he said, trailing off for a moment. "Well, that house is wood, plus all the shit underneath, we'd have had to pack up and leave if this empty lot next to us caught up." Nierstedt's wife took no chance: she packed up suitcases for her and her husband, and they were ready to leave if need be. That proved unnecessary, as fire crews contained the conflagration. Nierstedt said he was amazed at the speed at which fire crews arrived after he called 911.
The first fire crew–led by Lt. Stephen Cox and Capt. Shaw–arrived at the scene at 2:09, Flagler Beach Fire Captain Bobby Pace said. "First initial house at 208 Ocean Palm Drive completely engulfed," Pace said. At that point the house is a total loss. Radiant heat from that house ignited the second home here at 210. Fire crews upon initial arrival deployed a two and a half inch exposure line out, we were trying to keep the fire off this home," but it was already ignited. The fire crews then took defensive positions to keep the fire from spreading further, which they did successfully.
Besides Flagler Beach, fire crews rushed in from Flagler County, Palm Coast, Ormond Beach and Volusia County. The majority of the operation, Pace said, with "complete knockdown," took an hour to an hour and a half. "You can see, it's rubble," he said of the two-story, wood-frame stilt house. The 900-square-foot house was not homesteaded. It was valued at $114,000, according to property appraiser records.
"These crews did an excellent job to keep it just to what you see here," Pace said, "because it had the potential, especially with that wood-line there, to just keep going up the block."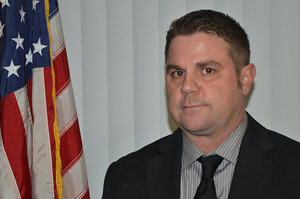 At one point City Manager Bruce Campbell arrived at the scene and he and Pace spoke about how "it would have been real nice to have an aerial to drop some water on this," Pace said. "Well, we got one coming in the fall." There was no aerial on scene during the night, though there was plenty of manpower. "In my mind I feel like it's a good save." The Flagler Beach Fire Department went through some wrangles over the past year to convince the city commission to acquire a fire engine that combines the capabilities of a regular engine with aerial capabilities. That truck will be delivered later this year.
The inspectors will continue their investigation. "As far as the fire department is concerned," Pace said around 8:30 this morning, "We're going to go through one more time and totally saturate the grounds." After that and for the rest of the weekend, police and fire department will be parolling the street every couple of hours to guard against any potential flame-up.
"This is a tragic event that happened in our city," Police Captain Matthew Doughney said. "We';re going to help throughout the weekend to prevent a rekindle."
Marshall Shupe, a Flagler Beach city commissioner, a volunteer fire fighter with the Flagler Beach Fire Department and a past fire inspector in the city, said that based on his experience, a fire of that severity would not just flame up and engulf the house. The investigation will have to trace back the origin of the fire by looking into "what the occupants had been doing five or six hours prior to when the fire occurred," Shupe said.
Colleen Conklin, the Flagler County school board member, lives nearby. She heard thudding noises that compelled her to come out at one point, but she didn't see anything: she lives some blocks away. A short time later, the fire trucks poured in, and Conklin and her husband could see the glow of the fire. They went to the scene. Conklin knew the children, particularly 5-year-old Madison, who liked to wave at her and other neighbors. She was frightened. Conklin picked her up and comforted her before Madison and her 2-year-old sister Elizabeth were taken to Florida Hospital Flagler.
A county news release noted in late morning that James Ghomely and Elizabeth Johnson were treated and released from Florida Hospital Flagler, according to spokeswoman Lindsay Rew, while Madison was transported to a different facility. "Madison Johnson was transported to Arnold Palmer Hospital for Children in Orlando where she is in stable condition, according to on-call media relations manager Desmond Jordon," the county said at 12:17 p.m. Jordon also fields requests for information at Orlando Regional Medical Center. "Jessica Johnson and Landon Ghomely do not show up in the system."