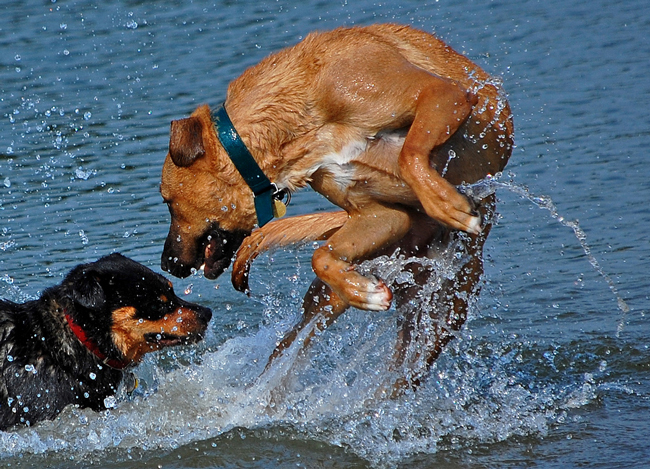 This much was a foregone conclusion even before the Flagler Beach City Commission began hearing the latest complaints—closer to the singular than the plural—over dogs on the beach: commissioners were not going to extend the dog ban beyond current boundaries (no dogs are allowed on the sands between North 10th Street and South 10th Street). But the complaint could, ironically, spur the commission to actually liberalize some of its rules while tightening others, because the issue triggered a slew of ideas.
And that's as far as commissioners agreed to go: more education, more enforcement ("self-patrol," in Commissioner Kim Carney's words, but also possibly letting lifeguards issue summonses), an invitation to more ideas, but no changes in the rules, though Commission Chairman John Feind cautioned: "It is a privilege, not a right, to have your dog at the beach," and dog owners should be working toward preserving that privilege, not undermining it by flouting what rules are in effect.
Long-time Flagler Beach resident Vicky Mulvaney opened the discussion, with a jammed commission chamber behind her, by speaking about 10 minutes about the problems she's encountered with dogs on the beach—being assaulted by dogs and insulted by their owners, issues with waste, issues with safety.  She asked for "a safe and feces-free beach," and spoke of numerous health hazards posed by dogs on any beach.
It's not that many of the 37 people who followed her–an apparent record on any issue at the commission–didn't sympathize. But the majority disputed her claims that dogs are as serious a problem in Flagler Beach as she made it sound, or that more rules are the solution. The proposals ranged instead from improving enforcement of existing rules, increasing fines for those who break rules, and giving dog owners at least some room, somewhere, to let their dogs run free, so they'd be less tempted to do so in leash-only zones. Mostly, residents spoke of preserving Flagler Beach's relative freedoms and the "free spirits" it attracts.
"If we wanted more rules we'd go to Palm Coast," Phyllis Carmel said. "Please let's not make another rule."
An undertone of humor and earnestness colored many speakers' words, though no dog spoke, and only one was in the audience (one dog sent an email to commissioners earlier this week). Some of those who spoke recognized the absurdity of a city commission meeting so well attended over this issue that people were barred from coming in because the chamber had an 88-people limit, per fire marshal rules. "I'm amazed that we're all here for this reason, it seems kind of ridiculous," David Massey, a Flagler Beach resident and dog owner, said. He suggested the city focus more on improving its downtown area, making it a more fun place to live, preserving its originality, and exploring the idea of a leash-free zone, as proposed by Commissioner Jane Mealy.
"I have never received so many emails on any issue since I've been on the commission," Mealy said.
Two former city commissioners, one of whom helped write the original dog ordinance—Jackie Mulligan—said tweaks, not bans, are in order.  "The ordinance is good, we spent a lot of time with it, we were trying to find that balance between the dog owners, and I happened to have a great Dane at the time, so I understand their plight," Mulligan said, not quite finishing her thought about the other side of the balance. But she summed up in terms frequently repeated this evening: "This is a violation problem, not just a dog problem."
Former commissioner Joy McGrew, attending her first meeting since leaving the commission earlier this year, opened her moment at the dais with this: "I'm so glad I'm out here and you're up there." She then admitted to not having one of those $5 dog licenses Flagler Beach residents are required to have—a scandal that would not necessarily have ended her commission tenure, had it been disclosed earlier—and also admitted to letting her dogs run free, without a leash (when people aren't around, anyway), and inviting cops to cite her if caught. Her suggestion: "We all have to help police each other. Increase the fines." Including the licensing fee. "Five dollars for a dog city license in Flagler Beach is ridiculous," she said. And she endorsed a leash-free zone, at least for a couple of times a day: "How about two hours after sunrise, two hours after sunset, you can take your dog to the beach."
Only one person seemed to verge closer to Mulvaney's complaint, though not entirely. "I'm afraid of dogs," Sherry Eppley said, ridiculing those who claimed they'd never seen feces on the beach. More enforcement would be a good idea, but not if it means spending more money, she said. "It's a ridiculous use of taxpayer money, so I think there could be more of a campaign that comes from the chamber of commerce who wants to develop this area and who wants to create a community where people can enjoy coming and bringing their little kids without the possibility of running into a dog that's running loose or stepping into dog poop. So I think it is a question of who's more important, the humans or the dogs."