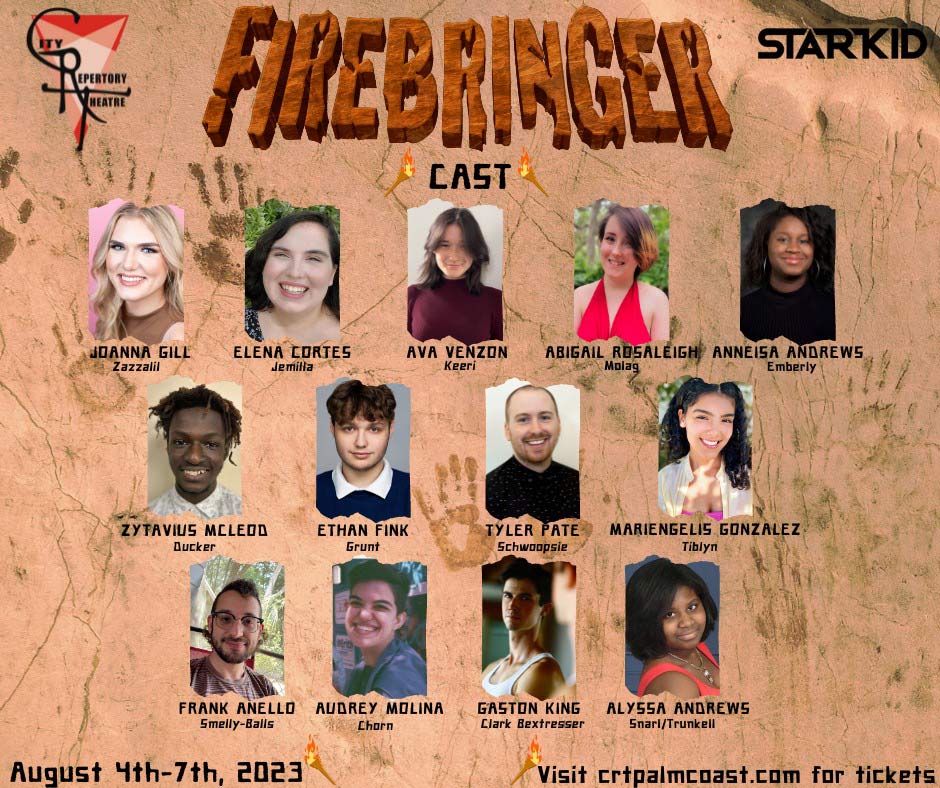 A unique collaboration of comedians and song writers comes to the City Repertory Theatre (CRT) in August with a robust production of "Firebringer." The production is noted as a hilarious take on what happens to the stone age when a life-changing discovery is made.
Tickets are on sale for $30.00 and $15.00 for students. Tickets can be purchased by calling 386-585-9415 or by visiting www.crtpalmcoast.com. The play runs on August 4, 5, and 7 at 7:30 p.m. and on August 6 at 3:00 p.m. The production contains adult language and themes.




"Firebringer" was first produced in 2016 by Chicago's famous StarKid Productions, with music and lyrics by Meridith Stepien and Mark Swiderski, adopted from a book by Matt Lang, Nick Lang, and Brian Holden. The play is set as the age of humans begins; a tribe of cave-dwellers struggles through prehistoric life under the wise leadership of Jemilla The Peacemaker, played by Elena Cortez. But the misfit Zazzalil, portrayed by Joanna Gill, turns the tribe's fate and rocks the known world. Eleven starring actors round out the cast.
This is the second StarKid production for CRT. Says Director Beau Wade, "This show is sure to deliver even more laughs and more heart than before. With a star cast featuring the best of CRT, and insanely talented and diverse production crew, we will deliver the best show of the summer."
Now in its thirteenth season, the CRT has received significant critical acclaim not only for its bold repertory, but also for its superb production values and acting. The CRT is located at the City Market Place, 160 Cyprus Point Parkway, Suite B207, in Palm Coast.