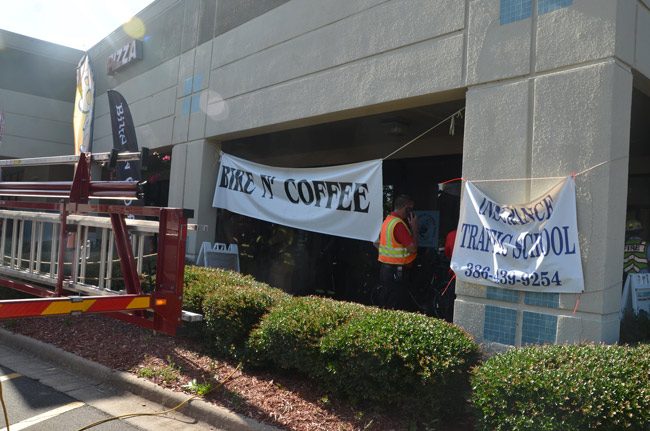 Flagler County firefighters from three agencies, responding rapidly to two fires in 12 hours, pulled off two saves in both instances that within minutes could have led to far more serious damage: a $1.2 million home was saved in the Hammock after a lightning strike Thursday evening, and a shop at Flagler Plaza was saved this morning after an electrical device had started a fire, when the shop was unattended as it had not yet opened.
Firefighters occasionally note that only fires that gut and demolish properties make the news while more common saves never garner attention even though they show firefighters at their best.
This morning's fire broke out around 8:30 p.m. at the Bikes 'N Coffee shop at Flagler Plaza–better known as the Winn Dixie plaza–a relatively new shop sandwiched between a pizza parlor on one side and Insurance Traffic School and the Steel Beauty parlor on the other.
It isn't yet clear who called in the fire to the 911 dispatch center, but when a Flagler County Sheriff's deputy arrived at the scene, he reported seeing flames within, through the shop's glass panes.
Flagler Beach Fire Department Captain Steve Cox said the county's Rescue 92 was first on scene following the deputy. Firefighters broke through the door, and when the county's Engine 92 arrived, "they pulled a line and when they were doing a search in the building they found the source of the fire which appears to be a battery charger for one of the bikes. They ended up knocking it down." The fire was contained to four-foot-by-four-foot area, damaging the charger and a stretch of carpet.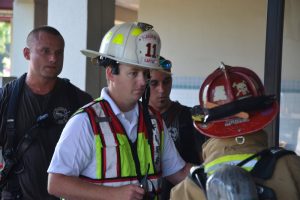 The business was not due to open until 9:01 a.m.
Flagler Beach's and Palm Coast's fire departments also sent their units. "It's a big strip mall. It could have got away quick," said Flagler County Fire Rescue Captain Richard Bennett, who now operates out of the county's new station out of Bunnell. "That could have been a big call, being how it's a strip mall, side by side businesses. This is a commercial structure, obviously, that always provokes a big response."
The Palm Coast Fire Police had cordoned off large sections of the Flagler Plaza parking lot during the response, but by 9:15 the emergency was over, so was the clean-up, and Cox and Bennett said the business would be able to open as normal. The owner had just arrived on scene.
"Our guys went in with the brooms and swept everything up and cleaned the floors," Bennett said. "We leave it as good or better than when we found it even after a fire. They took all the bikes out, arranged the bikes so they wouldn't get hurt in the process. We take a lot of care of people's valuables. That's also something a lot of people don't know we try and do."
The fire in the Hammock broke out between 7 and 8 p.m. Thursday evening, possibly during a lightning storm, at 46 Hammock Beach Circle, a three-level wooden structure built in 2008 and owned by Kenneth and Lisa Dakdduk. Kenneth Dakdduk called 911 at 7:48 p.m. and told the dispatcher he heard a loud bang then started smelling something burning–an electrical smell. There were three adults and a 2-year-old child in the house at the time.
Flagler County Fire Chief Don Petito said the fire was in the ceiling and walls between the first and second floors.
Captain Jimmy Shaw was in command at the scene. "They investigated first the first floor, found no smoke but heat and the smell of smoke," he said of Engine 41 county firefighters, who were first on scene, followed by Palm Coast's Engine 22. "They then went to the attic to confirm it hadn't traveled up to the attic and worked their way down to the third and to the second floor." A ceiling was pulled in a kitchen, where the fire was stopped. Palm Coast's Engine 21 and Ladder 25 also responded. The house was saved with "minimal damage," Shaw said.
All engines cleared the scene at 9:06 p.m.